Three-time World Duathlon champion, Ironman competitor and grandmother-of-four.
At first glance, these words may look out of place. But that is before meeting Edwina Brocklesby – or 'Eddie' as she is known to her friends.
With her bright red hair, Eddie is a remarkable 73-year-old tri-athlete, who, at the age of 72, became the oldest British female to complete an Ironman.
An Ironman triathlon consists of a 2.4-mile swim, followed by a 112-mile bike ride and finishes with a marathon.
Eddie only took up running at 50 after watching a friend run the Nottingham Half Marathon.
The Vauxhall resident said: "My husband said to me I couldn't run the 3-4 miles to Northampton and I replied 'Oh yes I can!' And I did."
The loss of her husband of 30 years two years later was devastating, but the support of her friends at her small, tight-knit running club was invaluable and helped her to cope with her grief.
"I knew I was the lucky one and that hasn't escaped me ever and to make the most of life and live life to the full," she said.
Her running club offered her a place in the London Marathon at the age of 53 and that was just the beginning.
"The feeling of finishing the London Marathon was absolutely fantastic. The crowds, the atmosphere, the support, absolutely brilliant quite a privilege to feel that you are doing it," said Eddie.
Eddie subsequently joined Serpentine Running Club after moving to London and has become a longstanding member.
In 2001, aged 58, she completed her first triathlon in London and got hooked – preferring the swimming, cycling and running than just pounding the streets.
In 2003, at the age of 60, Eddie tried her first Duathlon race because her swimming was her weakest element.
She promptly qualified for the World Duathlon Championships in her age group.
The World Championship race took place in Affoltern, Switzerland and Eddie was crowned World Champion in the 60-65 age group.
Eddie says this first World Championship gold medal in only her second ever duathlon race is her greatest sporting achievement.
She said: "It was cold and wet and a lot of American women had come over from Florida and of course they were wimping out because it was so cold.
"My son was supporting me and I remember him saying 'God mum I don't think there is anyone ahead of you'.
"The feeling of being World Champion was unreal, unreal, totally unreal."
Further World Duathlon Championship gold medals followed in Newcastle, Australia in 2006 and Rimini, Italy in 2008.
By 2008, at the age of 66, Eddie did her first Ironman at Lanzarote Ironman, a tough hilly course with 2,300 metres of climbing.
Eddie said: "My son was doing it so I thought I want to have a go at that too.
"I love the atmosphere there because people are in the bars cheering you on when you are finishing."
Later in 2008, Eddie competed in the Race Across America (RAAM) – a 3,089-mile cycle race.
She was the oldest member of her four-woman team – the Serpentine Golden Girls – with a combined age of 237 years.
Eddie finished two more Ironman races the following year, a second Lanzarote Ironman and the world famous Kona Ironman in Hawaii.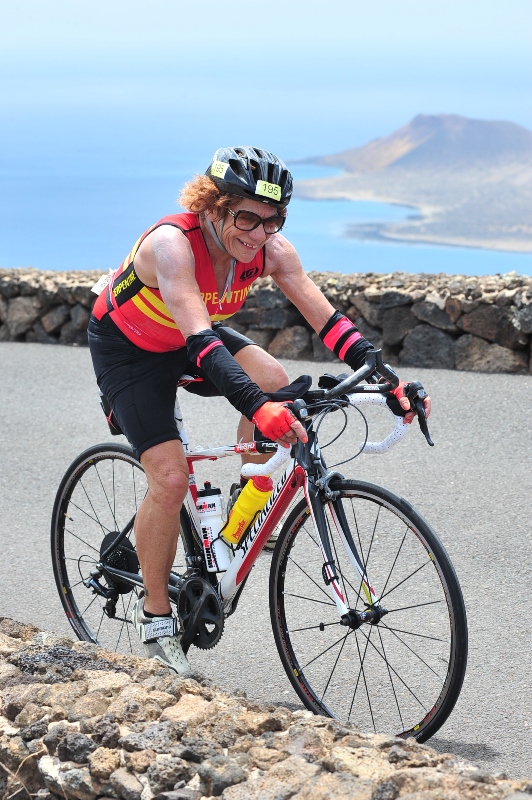 In 2013, she completed her third Lanzarote Ironman to become the first British woman over 70 to complete an Ironman.
But it hasn't been all plain sailing, last year she failed in her fourth Lanzarote Ironman missing the time cut on the bike leg.
Her response to that 'failure' was decisive, immediately signing up for the Vichy Ironman in France which she completed later that year in August 2015 – and at 72, was the oldest British woman to do so.
This response didn't surprise her friends and family who once witnessed her finish the London Marathon covered in blood after falling face first and knocking a front tooth out.
Eddie said: "We had to find my tooth in the gutter. I can still visualise my kids' faces, they were waiting to see me at mile 20 and their faces as they saw me covered in blood.
"They had a banana for me and obviously they knew there was no way I was going to eat it."
Eddie shows no signs of slowing down. Next up is either the Hamburg Ironman or Maastricht Ironman in 2017 where more records may fall.
Featured image courtesy of Gavin Edmonds, with thanks