By Sophie Donovan
January 17 2020, 12.00
Follow @SW_Londoner
Many add giving back to their list of short-lived resolutions, but for Crisis volunteers this is one goal they manage to uphold.
The nationwide charity for the homeless operates Skylight centres throughout the year, offering support for education, training and support.
At Christmas they increase their workload, opening temporary centres throughout Christmas week when 12,300 volunteers served 35,957 meals to over 4,000 guests.
For volunteers at the west London Christmas centre, it's both a challenging and rewarding experience, but one that will continue to be a part of their festive traditions.
For assistant shift leader Lydia Loxton, 35, the frustrating thing is how misunderstood the volunteering role is: "When I say I do Crisis, people are 'oh yeah, you just give soup to people on Christmas day' and I'm like 'it's a little more complex than that'."
What the volunteers do, in her own words, is create a safe space: "It's just that safe space where you can chat to people, get to know them, be nice to them, make eye contact with them but not just as you're passing."
Speaking to a host of 2019 volunteers, we asked why so many continue to fit it into those five festive days of the year.
To event specialist and fourth time volunteer Jane Porter, 53, it's an ongoing area of concern: "I have always had an affinity with homeless situations and, as a young child, was taken to London Bridge with my father who made my sister and I sleep with the homeless overnight.
"Ever since I've wanted to get involved."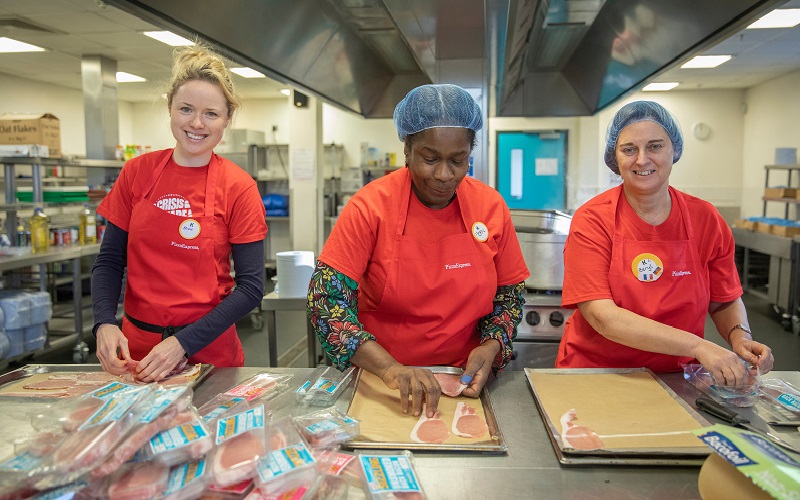 For music supervisor and sixth time volunteer Laurence Kaye, 62, it's the precarious nature of homelessness that pushes him to continue helping.
On his thoughts after a shift, he said: "What I'm always reminded of, as I sit here in my ever so comfortable, warm home, is that I am only a few steps away from being one of those guests.
"We all are – it's a divorce, it's a job loss, it's a bit of a breakdown."
Yet for graphic designer Gavin Sanctis, 37, it's because Christmas can be overtaken with indulging: "Christmas for me, it's so commercialised," he said.
He added: "People always want rather than to give. It's sort of depressing in a way that there's so much global consumerism, and there's not that much where people actually stop and think about others who may be less fortunate. Who may not have a roof over their head." 
A poignant conversation
As well as their own personal reasons, volunteers explained that each Christmas a single conversation encouraged them to return year after year.
Despite Ms Loxton's 15 years as a volunteer, it's a recent event she says shows the hope these temporary centres provide: "There was a guest last year who'd obviously stumbled upon Crisis and couldn't believe it, so she said she was going to donate some of her monthly benefit to Crisis," she said.
"She was so grateful, saying 'last night I was on a park bench, and now here I am being loaded with a toothbrush, toothpaste, clothes'."
For Ms Porter, an alcohol-dependent guest came after she lost both her brothers to suicide.
She left with far more than a hot meal, including Alcoholics Anonymous support and a place with a running group brought in to encourage mindfulness.
Ms Porter said it summarised what Crisis does: "That girl went there desperate and there was an answer for her.
"The fact that she got the drying centre was absolutely amazing, but the fact that she fell back in love with a hobby that could actually realistically help her, it was just amazing."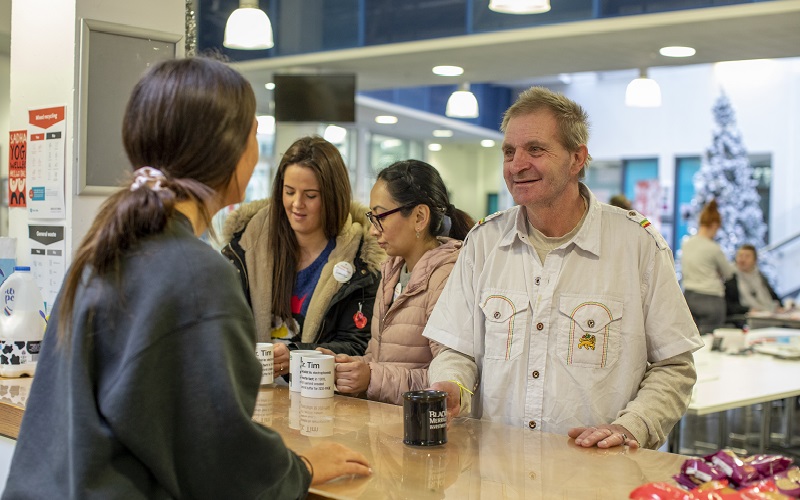 For corporate lawyer and eight time volunteer David Owen, in his 60s, he didn't have much else to say apart from a message he shared with other volunteers: "I will be there, God willing, next year."
Crisis' head of Christmas Ian Richards said: "Everyone deserves a safe and stable home where they can thrive.
"Sadly, low incomes and high rents across Britain create a constant pressure that forces people into homelessness.
"At Crisis we work all year round to support people affected by homelessness and volunteers play a key role.
"Whether this is helping us deliver advice or well-being services in our Skylight centres across the country, volunteering in our shops or at our Christmas centres, we are indebted to them.
"Over the festive period, we welcomed 4,030 people affected by homelessness at our Christmas centres in London. This is a 12% increase from last. They were supported by 11,672 volunteers.
"Our volunteers make a real difference to people's lives. Their hard work and dedication supports us to change people's lives and ultimately, end homelessness."
To find out more about how you can volunteer at Crisis, visit www.crisis.org.uk/volunteer.