Five London cab drivers have vowed to lose 25 stone collectively and climb Mount Kilimanjaro in September while raising money for a veterans charity.
The five men, affectionately nicknaming themselves the 'Fat Cabbies', have taken on the mammoth mission of scaling Africa's highest mountain to finally kick a lifetime of bad habits and lose weight.
It all started with Rosham Varma, 49, sending out a tweet after his sister Rhea suggested taking on Kilimanjaro so he had a goal in mind to help him lose weight.
Rosh, who has a 19-year-old daughter, weighed 19st 4lbs at the beginning of September 2018.
He said: "I've always struggled with my weight as far as I can remember.  I don't actually know why I've always been a bit on the chubby side because all of my family are fit and healthy."
He developed type 2 diabetes and high cholesterol as a result of his lifestyle.
He said: "If there is a stereotype of a walking heart attack, I am it.
"If I don't do this now, I will never do it.  This has to work for me and I'm quietly confident about the whole thing."
Now, Rosh has decided to kick the cigarettes after 30 years of smoking.
Joining him on the journey is 53-year-old Brian Heffernan, who is a father of three and a grandfather.
He said he is tired of the work, eat, sleep repeat lifestyle.
"That's been my life for so long," he said.
"But now I have a chance to change it, now I have a target in mind.  To lose weight, to improve my lifestyle and to give me confidence in myself."
Throughout the process, they are aiming to raise £20,000 for The Taxi Charity for Military Veterans which helps war veterans by providing entertainment, outings and specialist equipment.
The cabbies are being trained by Be Military Fit, Bear Grylls' notoriously difficult military style bootcamps.
Paul Watts, 52, who has been a cabbie for 26 years, immediately jumped on board when he saw Rosh's tweet.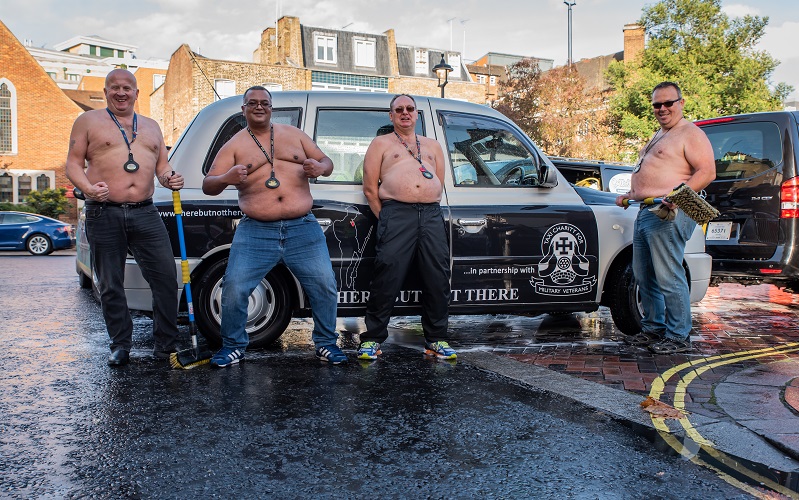 CAR WASH WITH A DIFFERENCE: The cabbies have also hosted fundraisers to reach the £20,000 goal. Photo credit John Cox.
He said: "I've never attempted anything close to resembling this challenge but it is now or never, it's time to lose weight, get fit hopefully add years to our lives and raise a ton of cash for the Taxi Charity."
John Dillane, 54, was told by his GP that if he didn't shift the weight then he would need replacement knees in the future.
He has been a cabbie for six years, and since then has been diagnosed with asthma.
He said: "This profession can be unhealthy if you don't look after yourself.
"I have a gorgeous wife and two young sons aged ten and five. Together with my four grown-up daughters and seven grandchildren I have a lot to live for!"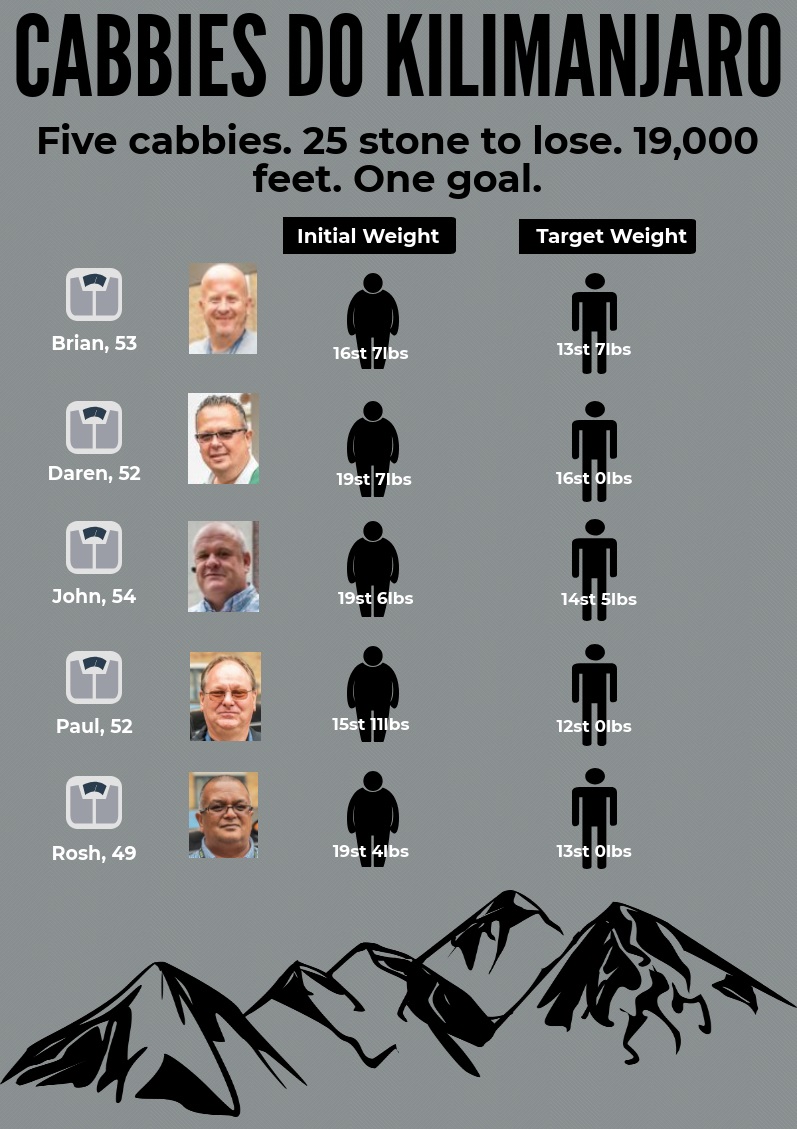 Daren Parr, 52, who climbed Mount Baker in Uganda ten years ago, has been nicknamed "Sir Edmund" after Edmund Hillary who was famously in the first party to reach the summit of Mount Everest.
He said: "But I'm far from worthy of this because 14 years driving a black cab has caught up with me and to be honest, I'm ashamed of myself."
He added: "My weight is stopping me from fully enjoying my grandkids and something has to give."
The five have already lost a huge 82lbs between them, with John topping the leader board with a 28lb weight loss so far.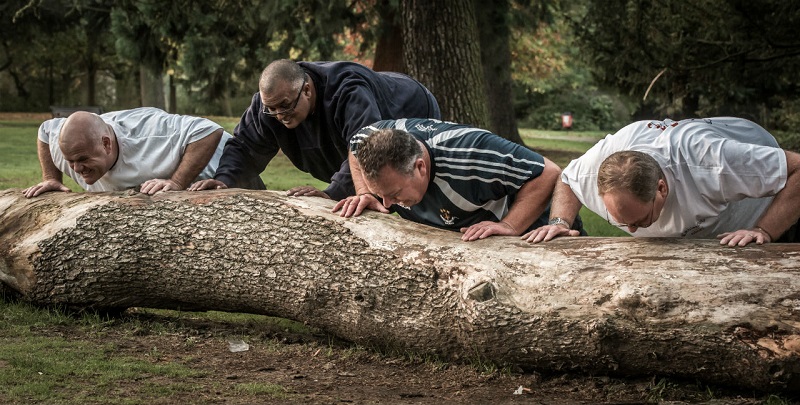 PUSHED BEYOND LIMITS: The cabbies were put through their paces by Be Military Fit. Image credit: John Cox
Each cabbie has given up their favourite treats such as curry, cake, fish and chips, and beer.
They have traded lunch breaks for workouts in the park and are all pushing on to reach the goal.
They will attempt the climb on 26 September 2019, and are anticipating the elation and tears that will come when they reach their goal. But for the fantastic five, the climb has already begun.
Find out more at their website, where you can donate and learn more about their journey. You can also follow them on Twitter at @cabbiesdokili.