My grandma is an Irish Catholic and a post-war baby. She used to have a car with a hand-crank start.
She lives in Wiltshire and I hadn't seen her for a year until I took her to Madame Roxy's Erotic Emporium for no real reason at all except I thought it might be funny.
Soho's felt sex shop is the brain child of artist and ex-stripper Lucy Sparrow who has spent the last five months, with the help of her supportive mum, hand-stitching thousands of condoms, dildos, porn mags and S&M equipment.
The result is a bizarre parallel universe where, if it wasn't for the graphic illustrations, the products would be more suitable for sale in the Early Learning Centre.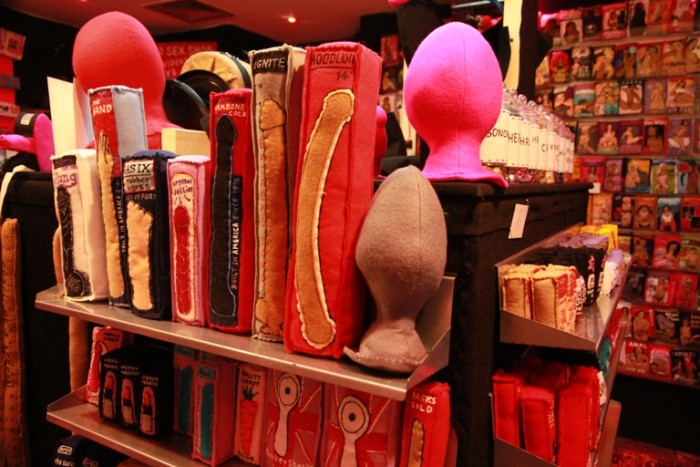 DILDO DISPLAY: Artist Lucy Sparrow carefully crafted each of the items in the shop
My grandma and I perused the shop floor where a centrepiece of various sex aids is surrounded by four walls brimming with explicit porn magazines and DVDs that cater to every fetish imaginable.
A pneumatic sex chair in the corner really sets the room off, and yes that's received the felt treatment too.
The fuzzy products are on sale with prices starting at a wallet-friendly £2 for a cuddly condom.
One of Lucy's one-off magazines – which she admitted are her favourite things to make – will set you back £250.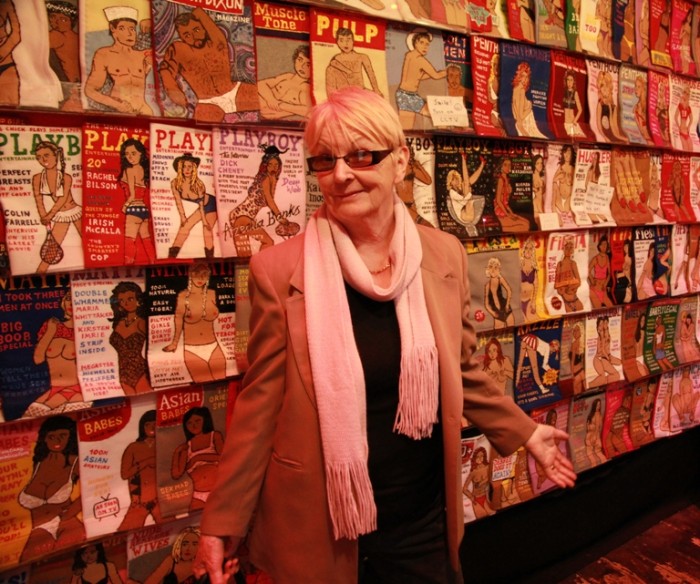 MUCKY MAGS: Sara's grandma poses with the pin-ups
My grandma wasn't so keen on buying a souvenir though.
Lucy created the sex shop to challenge porn censorship and defend the rights of sex workers by exhibiting products that would be illegal if they weren't made from felt.
"It's a celebration of what Soho used to be, and in some ways still is, but is quickly disappearing," she explained.
We ventured downstairs by a stairway lit by a red glow and lined with textile porn posters and adverts.
"Call me now! Tell me how much you want me to sit on your face," one read.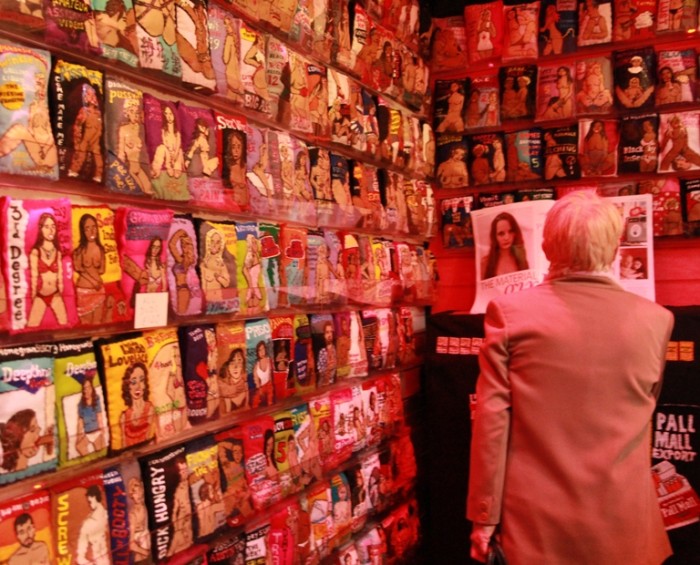 BEMUSED: Sara's grandma peruses the rows of felt sex magazines

It turned out to be a very brief excursion for my grandma who made a quick u-turn when she realised this was where a stock-animation porno was being screened.
"This was always going to be a bit niche," explained Lucy.
She admitted that the sex shop had (unsurprisingly) attracted a younger demographic than her family-friendly corner shop installation last year.
I was starting to suspect my great idea for a hilarious day out was either going to end in my grandma disowning me or having a coronary, but when we left she started laughing.
"I was starting to suspect my great idea for a hilarious day out was either going to end in my grandma disowning me or having a coronary."
"I just don't get it!" she said.
"I was looking at all those people who were so interested and I thought – I've missed something here!"
Well grandma, they do say art is subjective.
We sat down for lunch and de-briefed (so to speak).
"What struck me most was how people were discussing it and they didn't seem a bit embarrassed," she said.
"Everything was taboo in my day – a shop like that would have been unheard of."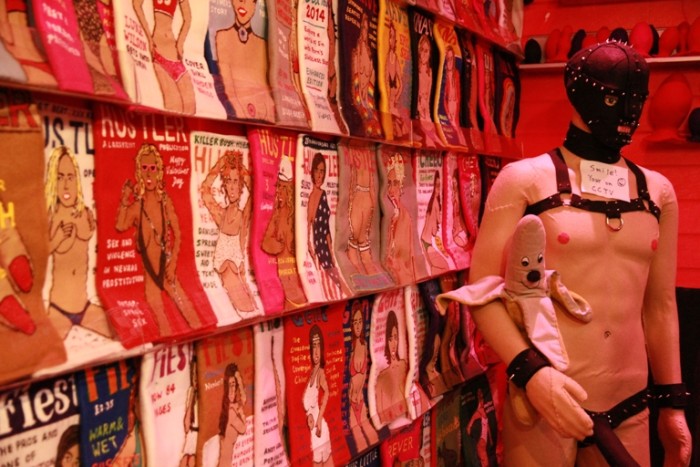 STILL TABOO? Chatting about the sex industry is first step in changing attitudes
My grandma thought she'd missed the point but I think she hit the nail on the head.
Talking about the sex industry is the first step in changing public attitudes.
"It's instigated a lot of conversation. People might not usually go into sex shops – they're seeing a side they are not aware of and it's keeping people open-minded," Lucy explained.
"[The industry] gets a lot of bad press but plenty of sex workers enjoy their jobs.
"People can get forced into any job – it's not just the sex industry."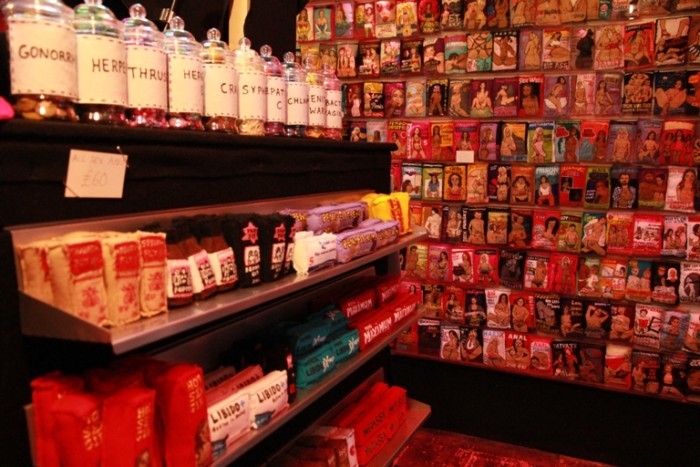 STI STORAGE: Lucy also delves into the riskier side of sex work
Over starters, my grandma told me about a man she'd noticed lingering outside when she was desperately trying to look at anything other than felt sex paraphernalia.
"He was in his sixties I'd say and staring in, obviously disapproving," she told me.
"A woman went up to him and said 'what right do you have to say what people should or shouldn't be doing?'
"She was quite right – things are far better now things are so much more open."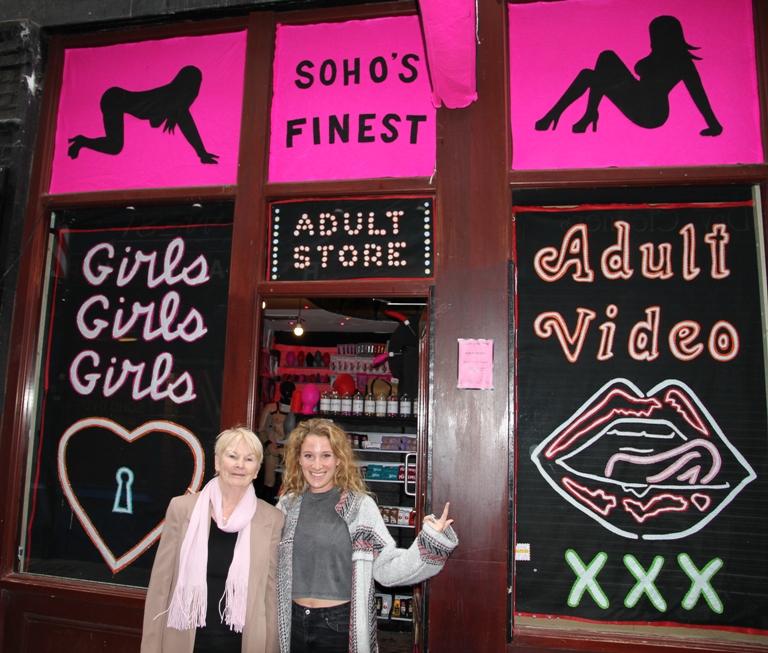 FAMILY AFFAIR: Sara and her grandma's trip turned into a bonding experience

As she negotiated her way around her main course of ribs, she revealed her traditional upbringing, her prudish mother, her experiences of the era when nothing was ever discussed and the changes she's seen.
It was the first and last time my grandma will visit a sex shop, and she may well feel the need to attend a confessional booth because of it, but it really was worth it.
Scraping below what some might deem the superficial and seedy surface of our day out I learned more about grandma in two hours hours than I had in my whole life and it was fascinating.
To test your relationship with your grandma, Madame Roxy's Erotic Emporium is open until October 17 at 2 Green's Court, Soho, London, W1F 0HB.