It is a moment many of us will have experienced when using the tube. As the train left Oxford Circus, a rough sleeper came onto the London Underground and appealed for money.
"I promise I'm not a drug addict or an alcoholic, I'm just looking for some help," he confessed.
The feeling of guilt was evident from people's faces and that is exactly how Angela felt when she walked on the streets in Finsbury Park.
Angela is an accountant, in her 30s, who felt the need to make a difference to homeless people now.
"There was quite a shocking number of people sleeping rough under the bridge in Finsbury Park," she said.
"I was getting frustrated just walking past people every day and even though I donated a monthly amount to various charities, I just felt useless going past these people every day."
Angela looked online for volunteering opportunities and applied to be an outreach volunteer with St Mungo's, a charity providing help for homeless people, but they told her becoming a first response volunteer could be better suited.
"I probably find seeing homeless people less uncomfortable than I used to because there's a sense I'm doing something to help, whereas before I used to avoid eye contact and just feel really guilty," she said.
"But now I treat them like anyone else on the street, with a smile and if I've got some spare change in my pocket I might give it.
"At least I am doing something."
In 2018, the Kensington and Chelsea borough had one in 29 people sleeping rough or in temporary accommodation, while Croydon also ranked in the top 20 boroughs with the most homeless people.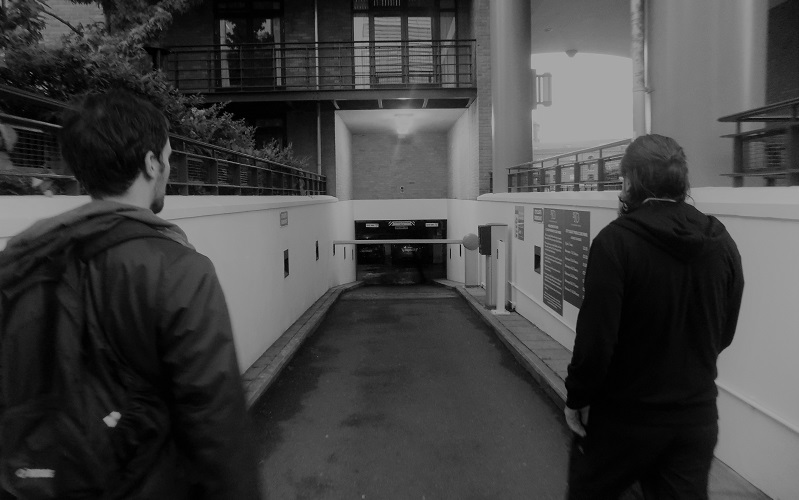 REMOTE SEARCHES: Volunteers often have to look into secluded places in London to find rough sleepers, such as this car park in central London
Fellow first response volunteer Lisa, a massage therapist and also in her 30s, felt a similar level of guilt when she saw rough sleepers on the streets.
Lisa said: "I guess I get frustrated because there's so many empty properties in London, like when I was walking here and that gets me frustrated about the situation homeless people face.
"I was thinking about what difference I can make and when I started volunteering for Crisis at Christmas, that's what really shifted it for me."
Crisis is a charity supporting homeless people. Their annual project, Crisis at Christmas, sees 11,000 volunteers supporting almost 4,500 homeless people across the country during the last week of December.
Alice, who is in her 30s and works full time as the first response team organiser for St Mungo's, said: "We have to thank Crisis because a lot of our volunteers have helped at Crisis at Christmas and want to do something all year round, so First Response is a really common way to get involved."
First Response is a programme, launched nine months ago to help the work done by Outreach volunteers.
First response volunteers check whether people who are reported as homeless are actually homeless and in the location they are reported to be in, rather than constantly moving to different locations and changing their living situation.
This work used to be part of the job for outreach volunteers, but too much of their time was being spent on this and it took them away from their core role; helping homeless people getting to the service that most suits their needs.
Now, more than 80 first response volunteers from nine different countries, including Spain and Romania, are helping St Mungo's make sure the time spent by the outreach team is for providing homeless people the help they need.
In particular, one moment for Lisa stood out when she did some morning shifts for St Mungo's, which usually take place between the hours of 6-8am.
They found a young immigrant in his early 20s from Russia who came to the country with the promise of a job, but after it fell through, he ended up becoming homeless.
Thanks to their empathy and understanding, the Outreach team was able to find him a place to shower at Passage, a charity which runs a day centre for the homeless, for the first time in a long while.
"That really stayed with me, hearing the stories first hand and it really did impact me," recalled Lisa.
"I've done a couple of early morning shifts and you would see lines of people in their sleeping bags and you think my goodness!
"It does make me really sad of course since everyone has got a story as to why they've ended up becoming homeless.
"That lady or that man you see on the street is somebody's daughter, son, mum, dad, husband or wife."
Angela said: "I feel there is an element of getting used to seeing homeless people on the street with what we do as volunteers, and that is sad.
"It could become a common thing to see homeless people on the street and that's not how it should be."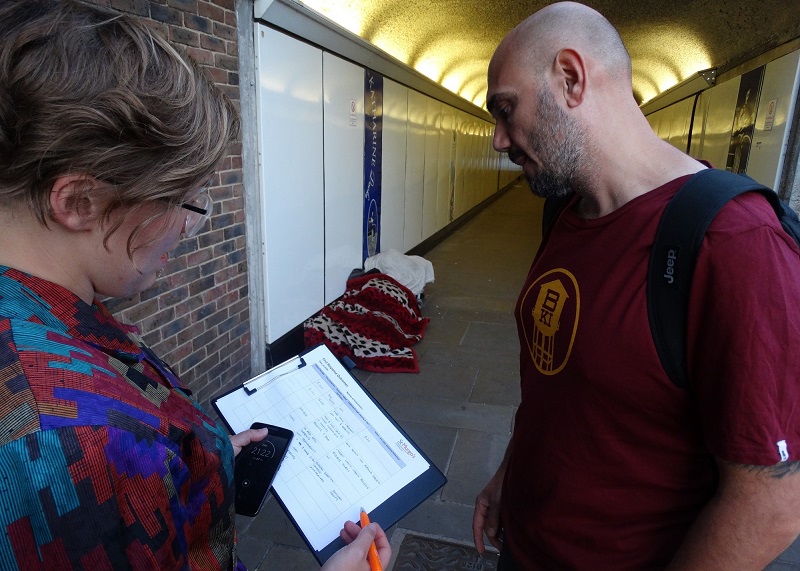 A NEW BEGINNING: Once a homeless person is identified, the outreach team get in contact with them to provide help for their needs.
While walking the streets with them, discussions with Angela and Lisa made it clear taking rough sleepers off the streets is not the end of issue.
There needs to be consistent contact with these people to ensure they do not go into a relapse and are able to cope with the demands of life after being homeless.
But Alice believes there is hope in the shape of the volunteers she works with and the time given by the them will pay dividends.
Alice said: "I think I'm really inspired by the volunteers that have come on board.
"Over 70% of first response volunteers are in full-time employment so they are working a job and then going to shift work and they're making an effort to come out and help us.
"That's massive and that really inspires me to know there is a will within the community to come together and find a solution.
"I think when we ask the question on how do you resolve something like homelessness, I think it's really important that we come together as a community.
"We need to humanise who we are dealing with."
Angela added: "I think we need to deal with the problem of why homeless people are on the street in the first place and work from there."
Each homeless person identified is recognised to be in need of a referral to get further help, and between October and December 2018, the first response team of St Mungo's successfully checked 17% of referrals in Westminster and 21% in Tower Hamlets.
Alice makes sure her team know the statistics of how many people they have helped, and it helps volunteers such as Lisa and Angela to realise what they are doing.
Lisa said: "The statistics help us to see what we're doing and it is worthwhile to see how Outreach have been able to go and deal with those individual cases."
Angela said: "It's rewarding to see that you're making an impact."
Alice, Angela and Lisa recognise the need for more to be done with regards to homelessness, but with their continued efforts, an end to this problem may be in sight.