By Samuel Draper
July 14 2020, 11.35
Follow @SW_Londoner
Neighbours, the long-running Australian soap, continues to make headlines in the UK.
Whether it's the full-time return of Annie Jones – "plain Jane Super Brain" – or the wedding anniversary of Scott and Charlene, the show continues to be news here.
But younger fans, or those old enough to forget, will not be aware of the large gap between Australian and British transmissions that used to be commonplace.
While Neighbours started in Australia on March 18th 1985, it was nearly 20 months later that the BBC started broadcasting the adventures of Ramsay Street, on the last Monday (27th) of October 1986.
During the show's huge popularity in the late 1980s and 1990s, the gap between the show's episodes on either side of the world shrank slowly, as the BBC would broadcast all year round, whilst Australia's Network Ten took seasonal breaks.
Scott and Charlene's famous wedding – between characters portrayed by Jason Donovan and Kylie Minogue – took place on July 1st 1987 in Australia.
But the 20 million British fans who tuned in to the BBC's broadcasts of the centrepiece wedding will remember November 8th 1988, 497 days later.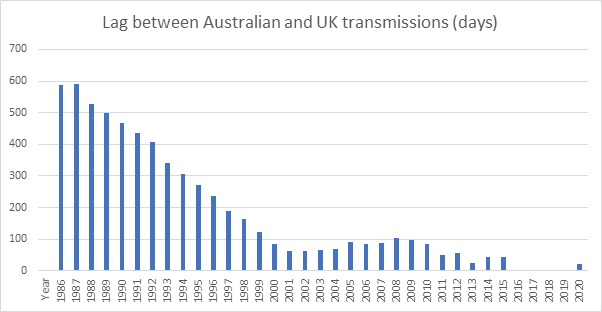 The UK spent most of the late 80s and early 90s catching up by a month or two every year, allowing the transmission gap to be less than a year by the summer of 1992.
By the new Millennium, it was less than three months behind Australia, but it never really got any closer than that.
This break largely stayed the same even as Neighbours left the BBC, when it moved to Channel 5 from February 11th 2008.
This gap was maintained until the start of 2016 when Eleven – the new host channel in Australia – and Channel 5 decided to show episodes on the same day in a bid to fight piracy and spoilers.
This allowed fans in the Southern and Northern Hemispheres to follow the joy – and in some storylines anguish – of Erinsborough.
The 35th anniversary of Neighbours starting in Australia was recently celebrated with an intense week of storylines combining three deaths and five weddings.
Shortly after this, Covid-19 forced a break in production, and Channel 5 reduced the number of episodes it showed every week from March 30th.
They increased it back to three a week a few weeks later (April 20th), and then returned it to its usual five a week by the 11th of May.
It now means the show is three weeks behind in the UK – the first time it has been behind in over four years.
In an official comment, Channel 5 said: "Due to COVID-19 and uncertainties around production, we initially took to the decision to reduce the number of Neighbours episodes on Channel 5, ensuring dedicated viewers could continue to enjoy the soap for as long as possible.
"We're pleased to now once again be offering Channel 5 viewers their usual weekday dose of drama on Ramsay Street.
"Our priority has been on getting Neighbours back up to five days a week and it is too early to determine when its TX on Channel 5 will catch up with 10 Peach's scheduling of the soap in Australia."
Neighbours was the first mainstream scripted show to resume production during the pandemic after a four-week hiatus.
However fans have had to juggle with spoilers online, and the fan podcast Neighbuzz has had to specify which episodes are for which weeks in the UK.
While this is only a recent change, it's something that new viewers will have to deal with.
There were 588 days between the show's premiere in Australia and its start date on BBC One. In comparison to a year, seven months and nine days, 21 days feels largely insignificant – although obviously a lot has changed with TV viewer habits since the 1980s.
Although everyone still needs good neighbours.
Main image credit: Channel 5