"At the moment I have to work such long hours and I still don't earn enough to sustain myself – John Lewis is treating us like second class citizens."
This was the shocking admission that one cleaner at the retail giant's flagship store on Oxford Street made.
Colombian-born Guillermo Mejia joined scores of cleaners outside the store protesting in the rain earlier this month.
But unlike many other employees of the company he doensn't receive the London Living Wage.
He earns £7 an hour – £2.15 less than the recommended amount – and revealed he is struggling to survive.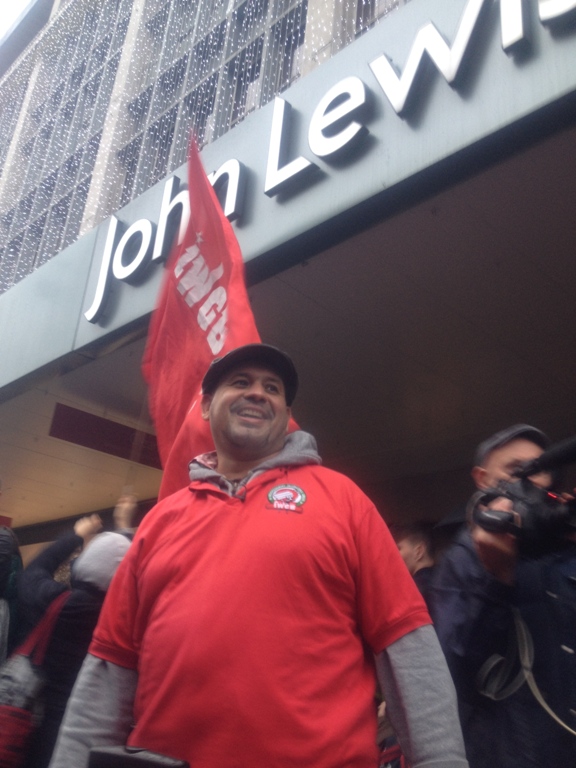 John Lewis brands itself as a company that is committed to treating its suppliers, customers and partners with fairness.
The retail giant's Christmas campaign, fronted by Monty the Penguin, cost a staggering £7m.
And after achieving the highest market share in the retail sector John Lewis staff received 14% bonus payments.
But because John Lewis contracts out its cleaning services to another company its cleaners are not entitled to the same benefits as those employed directly, including pay or yearly bonuses.
Now campaigners and customers alike are urging the retailer to contract their own cleaners or insist on a rise in their basic pay.
"The extra two pounds would make a big difference to me," explained Mr Mejia. "It would change my life."
Cleaners like Mr Mejia were supported in their Oxford Street demonstrations by the Independent Workers Union of Great Britain (IWGB).
This is not the first time John Lewis cleaners and the IWGB have joined forces to protest for the living wage.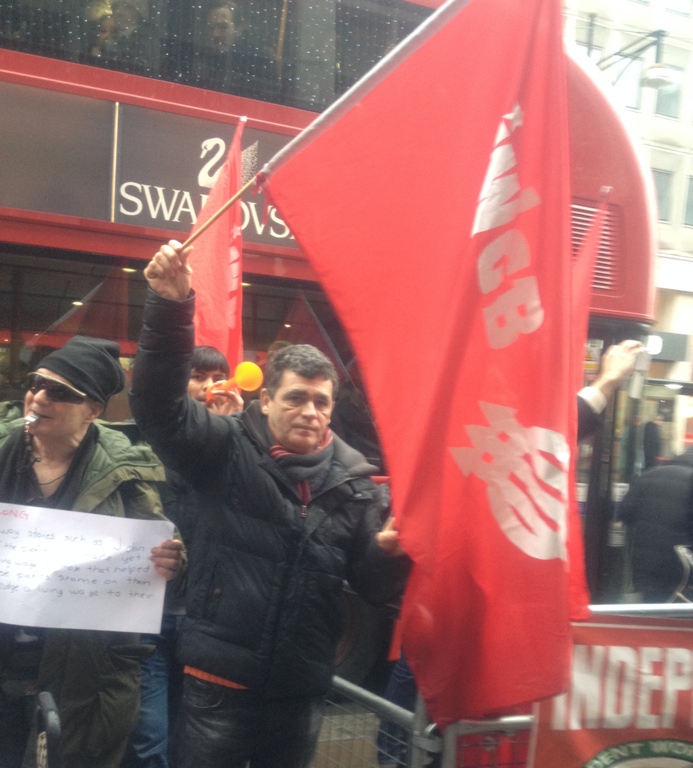 In December 2014 the union led a protest inside the same flagship store and three people were arrested.
Alberto Durango, an IWGB campaigner, who has attended both protests, said that John Lewis' 'should be ashamed' of the way it's treating its cleaners.
"It is not as though they are asking for extra benefits – they just want the same as everybody else," he said. "All they want is enough to live on."
Now the campaign is beginning to gain momentum with the IWGB's petition gathering more than 127,500 signatures.
The John Lewis Partnership were forced to issue an official statement regarding their stance.
It read: "Fair pay is one of the core principles of the John Lewis Partnership and we share the Living Wage campaign's objectives to pay employees fairly.
"However, we do not believe it is right for us to insist our suppliers or managing agents adopt pay policies that are different to our own by setting base pay levels well above the market rate."
The London Living Wage is not a legally enforceable minimum level of pay like the national minimum wage however it has received widespread political support and companies such as KPMG, Nationwide and Tate and Lyle have all committed to the rate.
Just last month Boris Johnson praised Chelsea Football Club who recently became the first Premier League club to pay employees the London Living Wage.
"These are real achievements by companies who are looking ahead and doing the right thing," he said during Mayor's Question Time.
Green Party London Assembly member Jenny Jones, who first introduced the living wage policy, told SW Londoner that she's mystified by the retailer's reluctance to pay the living rate to its cleaners.
"We are talking about a company which is renowned for its ethical values and also has extremely high profits," she said.
"All they need to do is to stipulate the London Living Wage in the contract with the company responsible for the cleaners. I just don't understand."