Women are being urged to take symptoms of ovarian cancer more seriously as research from a London based charity shows more women are ignoring the signs during the current lockdown.
March marks Ovarian Cancer Awareness Month and the nation's leading charity Target Ovarian Cancer is working to raise awareness of the symptoms of the fourth most common cancer among women in the UK.
Only 17% of women say that they would book an urgent GP appointment if they were experiencing persistent bloating – a common symptom of ovarian cancer – while fewer people are visiting their GPs to get themselves checked during the lockdown.
Early detection can lead to successful treatment for many sufferers, but because symptoms are inconspicuous and often mistaken for irritable bowel syndrome, stomach upsets or period pains, two thirds of women are diagnosed in the later stages when treatment is much more difficult.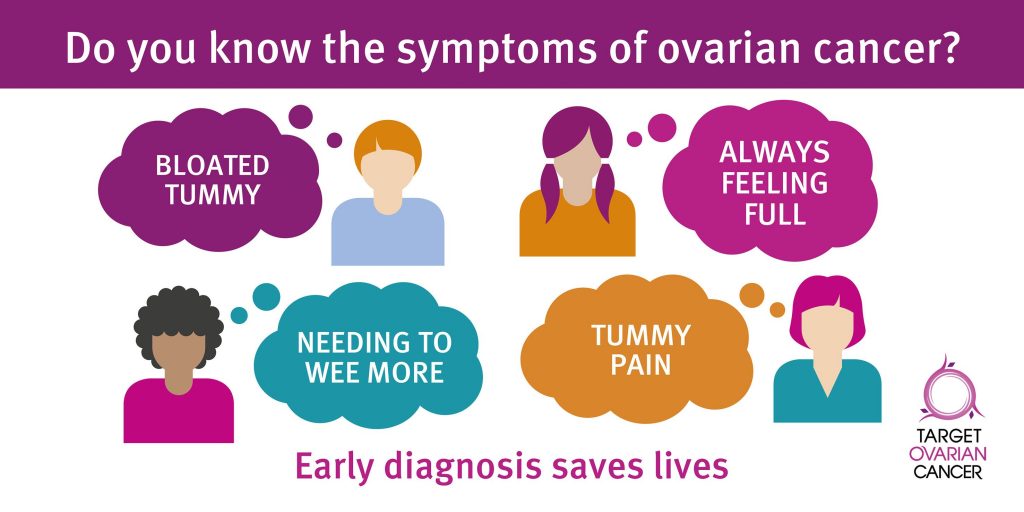 One of those women was Sunita, who was diagnosed with mucinous ovarian cancer after experiencing persistent bloating at just 33 years old. She had to have a nine-centimetre cyst, one of her ovaries, her appendix, and 11 litres of fluid removed.
After chemotherapy, Sunita was free of cancer but was closely monitored with regular tests and ultrasounds. Doctors then found a cyst on her last ovary which had to be removed following fertility treatment.
Sunita said: "I was devastated. Finding out that the cancer had come back was so difficult.
"It was a really difficult decision to have my second ovary removed; I knew that if I kept delaying the surgery, I could be less likely to survive for longer, but my fertility was really important to me.
"I also didn't want to lose my periods because for me they're an important part of my identity.
"As a younger woman it's been so hard – no one wants to have a hysterectomy, but once you've completed your family, it's a less complicated decision to make.
"I have eight eggs frozen and still have my womb but am still getting counselling for everything I went through."
Early last year, Sunita underwent her second round of chemotherapy and then tested positive for coronavirus.
She said: "I was in shock. I felt like it was never going to end. I just didn't want to go into hospital anymore."
Luckily, Sunita was able to recover quickly from coronavirus, but the effects of chemotherapy took their toll on her physically and mentally.
"I've now lost my hair, which I've found really hard. Sometimes I'm in the shower and I'll start to cry thinking 'where's my hair?'"
Sunita used writing as a way to cope with her cancer and treatment and manged to publish two poetry books as a Punjabi British woman to express her emotions.
She said: "I feel it's important to talk about cancer rather than shy away from it, so that's what I've decided to do.
"Writing has been a way for me to cope – raising awareness and sharing my story really empowers me.
"I want to dedicate my next book to the hospital and everyone who took care of me."
There are many women like Sunita who have to face the devastating effects of ovarian cancer. Their strength and perseverance are inspiring, and their stories are powerful to share.
More women die from ovarian cancer each year in the UK than all the other gynaecological cancers combined and as shown by Sunita, it is not only an older women's issue.
The Office for National Statistics states that 15% of women with stage 4 ovarian cancer will survive their cancer for five years or more after being diagnosed, while 11 women die every day from the disease.
One in five women mistakenly believe a smear test can show ovarian cancer, but there is currently no screening programme to show it, and so it is important to know the symptoms, and visit a doctor if they appear consistently.
Ovarian cancer can be devastating. But there is hope. When diagnosed at the earliest stage, 9 in 10 women will survive for five years.
Target Ovarian Cancer currently receives no government financial aid and relies on funds and awareness to train GPs to spot ovarian cancer, spread the word about the symptoms, and support women like Sunita with ovarian cancer.
Symptoms can include:
Persistent bloating – not bloating that comes and goes
Feeling full quickly and/or loss of appetite
Pelvic or abdominal pain
Urinary symptoms, such as needing to use the toilet more urgently or more often
For more information on ovarian cancer, visit www.targetovariancancer.org.uk.
Sunita's poetry book 'The Barging Buddhi and Other Poems' can be bought here.