A train guard who has worked for South Western Railway for 16 years is embracing his Freedom as he embarks on a UK tour as George Michael.
Steve Mitchell is taking a year sabbatical to tour with the George Michael Story to relive the Amazing career of the star who died nearly two years ago.
Mr Mitchell, 48, is hoping to give a Flawless performance, accompanied by an eight-piece live band, after answering an advert for the part.
"A lot of people in the show ask if I'm miming, but I've worked really hard on the voice," he said.
"He is such an amazing musician, so I really studied how he sings his songs and his backings and everything."
The show, which includes interview footage and video of the best-selling artist, is thought to be the only show to perform George Michael's music in chronological order spanning his best hits from Club Tropicana to Jesus to a Child.
Mr Mitchell said: "It really draws people right in to his life and his story. It creates a little bit of closure, they can get really happy with the Wham Bits and then in the more emotional songs I've actually seen people crying.
"I think it's everything together the sound the vocals and all the real footage in the background."
He was surprised to get the part as the advert asked for a 'young George Michael'.
"I mean I am 48 so it didn't look likely but I thought hey I have nothing to lose," he said. "They had already found a guy to do the second half but I sent all the audio I had anyway.  So, I sent all the audio and they called me back within a few minutes saying is this you? And went from there really."
Mr Mitchell was so popular that the tour manager and co-producer decided after a few shows that he would do the whole show.
A spokesperson from the George Michael Story said: "It is uncanny how much he sounds like George, even when he speaks!"
Now touring the UK, he said it was a dream come true and he felt he could Waltz Away Dreaming.
"It is lovely to see their reaction, the most important thing for me is to do it with passion, they can feel it straight away," he said of the audience.
"George Michael wrote songs that are very easy to interact to. The lyrics, the melody, just everything makes people want to engage."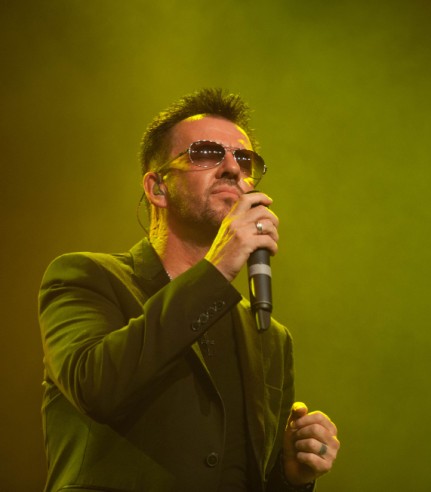 A long-term George Michael fan he has been Waiting For That Day he can follow his musical dreams.
Born in to a musical family, he has been singing George Michael songs since he was 15 and always wanted to go in to music, going in to his first studio at aged 18.
However, his musical Father Figure was not keen on him pursuing a musical career.
"I started writing songs and I went to Neasden Studio. And you know they saw me from a mile off and thought we can make some money from him. My Dad actually had to bail me out as I had racked up all this money at the studio at 18. He turned around to me and said son you need a proper job.
"I always felt that they were against it. My Dad passed away but I hope that he is looking down and is proud of what I'm doing. He can see that I'm happy and passionate about what I'm doing, that I made something of myself."
He said his family was coming to his Maidenhead show and he couldn't wait to dedicate a Different Corner to his Mum.
"I think because my Dad's not around anymore and the lyrics really reflect about missing someone and I really love the vocal on it, that's the song I would want to dedicate to her."
This is not the first time that Mr Mitchell has gone on tour. He's gone stateside with a show band to take on the Louisiana casino circuit, and then performed hundreds of gigs with south east cover band Funkle Pie.
He said: "We would actually go behind the bar as all of us were wireless apart from the drummer and pour drinks for customers.
"The bartenders would be like what are these guys doing but I think that's what the crowd wants, they want the interaction, they don't want someone who is going to just stay on stage."
So, can we expect him to be pulling pints as George Michael?
"I really want to go out and get in to the crowd, but I have to be very careful and it is a stage performance, but interaction is really important," he said.
"The interaction on stage is really key, the interaction with Ray and Berri (backing vocalists), James Crofts (bassist) and Kev on guitar and Sam on the guitar really makes the show."
The show is proving to be popular, partly due to South Western Railway's (SWR) help with all the promotion.
"They have been so supportive. Not only have they sponsored the show, but they've given me a year's sabbatical.  I am really indebted to them, what other company will give you a year off let alone sponsor you!"
Although he is following his dreams he does miss his SWR crew. "I think the best thing about working on the trains was the camaraderie with the wonderful crew at Staines," he said.
"It really was like a big family. We would do stuff outside of work like play football and go on bike rides. I think meeting the public and dealing with their problems was also great. I do miss the camaraderie."
Asked if he brought his love of George Michael to the trains, he said: "I didn't sing on the trains. I didn't think people wanted to hear some guy singing George Michael at 5 or 7 am in the morning!"
Although passengers may not have appreciated George Michael on the commute, what would Steve have sung if he could?
"In the first half out of all the Wham stuff I would have to say my favourite song it Everything She Wants. It was the first George Michael song I heard so there is a lot of feeling there.
"From the second half, well my partner says the Jesus to a Child is my best vocal, the one where I sound most like George so I will go with that one.
"But all the songs are really good, there are no songs that I don't like. There aren't any songs that I really can't be bothered to do."
We hope his enthusiasm continues on the rest of the tour, SWR have got to have Faith that he'll come back!
Here are our suggestions for a SWR setlist:
I Knew You Were Waiting For the 10:53
Wake Me Up Before You Choo-Choo
Praying For Time (Before My Train Arrives)
Oyster Card Baby
Battle Stations to Waterloo
Careless Tripster
I want your flexy ticket
Heal the Train
One More Try (To Get Home)
For more information go to: https://www.thegeorgemichaelstory.com/and https://www.youtube.com/watch?v=Xg7gCbTXwAk