A Herne Hill filmmaker hopes his short film This is ME will bring awareness to those living with a common invisible disability.
Josh Pickup, 29, was diagnosed with myalgic encephalomyelitis (ME), which is also known as chronic fatigue syndrome, at the age of 21.
ME is among the most common invisible disabilities, with up to 1 in 250 people living with the condition in the UK, and some feel that the name chronic fatigue syndrome is inaccurate, furthering its stigma.
Mr Pickup said: "Someone explained to me that calling ME chronic fatigue syndrome is like calling stomach cancer chronic upset tummy. It's not just tiredness, it's a fatigue on the cells of your body."
The film was entered as part of Herne Hill Free Film Festival's 48 Hour Film Challenge, but due to its length of 5:51 was too long to be considered for any awards.
Despite this, festival organiser Tom Worth felt it was important to screen the film at the ceremony on Sunday 26 May, where it received an excellent reception.
The film's crew shot and edited the short within just two days, and Mr Pickup was overwhelmed by the number of people who wanted to get involved, including 400 young actresses applying for the lead role.
Actress Lily Walbeoffe ended up securing the role of Ally, whose experiences in the film mirror Mr Pickup's struggle with the disease.
"Almost all of them had written long, inspiring letters. Lily's audition tape blew me away and I knew I didn't want anyone else to play Ally," he said.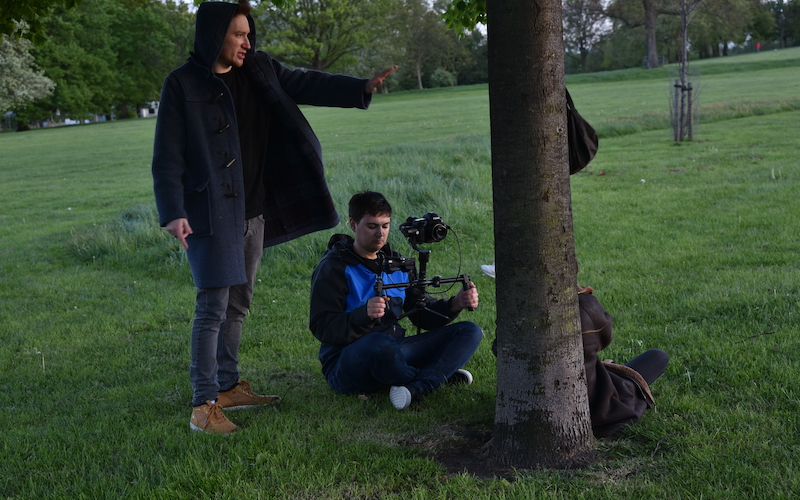 ACTION: Mr Pickup on set during filming of This is ME.
As well as bringing attention to ME in hope of destigmatising current attitudes towards hidden illnesses, This is ME also explores 'spoon theory', a common point of discussion in the UK's disabled communities.
The term was coined by Christine Miserandino, a blogger with Lupus, who used spoons as a metaphor to describe units of energy.
Mr Pickup said: "Healthy people have essentially an unlimited number of spoons. They do everything Ally does in the film, and they don't really think about the energy.
"People with chronic illnesses have to think consciously about how to delegate spoons for everything they need to do that day."
There is currently no grant for disabled filmmakers in the UK, and Mr Pickup is in the process of finding more funding to extend the film beyond its short runtime.
He said: "The result of it has been life-changing. It turned out to be the best thing I've ever done."
This is ME is available to watch on Vimeo.
Feature image shows Lily Walbeoffe and Josh Pickup.