By Gaelle Legrand
March 6 2020, 19.01
Follow @SW_Londoner
The art of immersive technologies is to be showcased at Mitcham VR Festival in Merton this weekend.
Closing FilmMerton, the year-long community arts project in south west London, the free one-day festival will present virtual reality and 360-degree films, four specially commissioned short films made in Merton and a historic augmented reality installation.
While augmented reality and Virtual Reality being this year's trendings technologies to watch for, the two concepts are slightly different: virtual reality takes over the vision through a headset whereas augmented reality adds elements overlaid onto the real world through an accessory.
Mitcham VR Festival's curator and industry expert Mária Rakušanová said: "VR and AR are here to stay, not just to entertain us but to help us understand the world, educate us and connect us.
"The brief for the festival was to find broad experiences that would showcase the best in the medium, but equally experiences that are family-friendly stories, inspirational stories and very uplifting stories that could inspire especially the younger generation."
On the day, visitors will be able to immerse themselves in four interactive experiences: Gloomy Eyes, a multiple award-winning Tim-Burton-esque love story, Memoria: Stories of La Garma, a historical and educational journey with palaeolithic hunters, The Curious Tale of the Stolen Pets, a heartwarming hide-and-seek tale and Bro Bots, a comedy investigation led by two British robots.
An augmented reality installation All the Fun of the Fair, created by Digital Drama, will retrace the area's history by enabling visitors to step into Mitcham Fair, rumoured to be the oldest fair in England.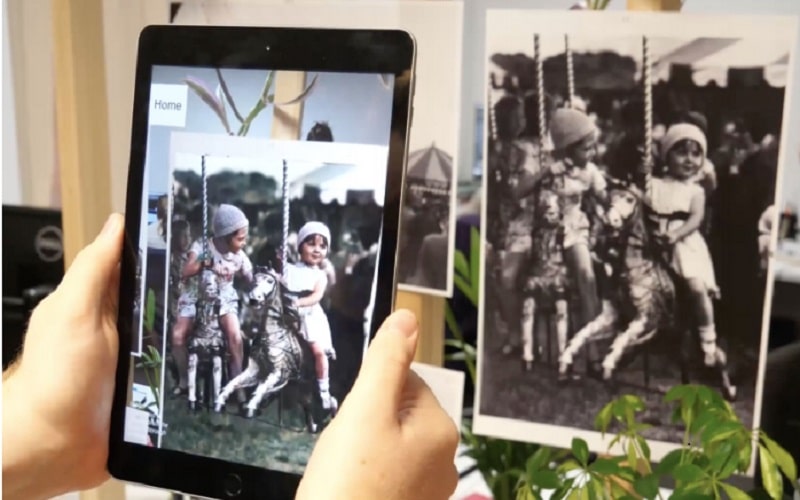 Ms Rakušanová has also curated four 360-degrees movies which explore the themes of environment, social issues, synesthesia and fantasy.
While the festival is a Merton initiative, famous names have been included: Dame Judi Dench invites the visitors into her garden for a poetic storytelling, actor Colin Farrell stars in the zombie-story Gloomy Eyes and Geraldine Chaplin (Charlie Chaplin's granddaughter) narrates the exploration of the Spanish cave of La Garma.
Ms Rakušanová said: "Usually the response is always incredibly positive.
"People love it because it is something very different, very novel, especially because VR allows you to be in the story, whether actively or passively but you are inside the story, it's a lot more personal."
Alongside the festival, four short films have been commissioned by FilmMerton from Merton filmmakers and will premiere on the day.
Just Delivered, by Rosie Gaunt-Mathieson, His Name is Gerry by Peter Lee Scott, The Streets That Shape Us by Matvi Khosho and The History of Wimbledon Football Club – As Told in Lego by Charlie Strank have all been produced in Merton and feature the community.
While VR and AR have been used by the gaming community very early, these immersive technologies have equally been used by the entertainment industry such as film, animation and visual effects, explained Ms Rakušanová.
"The gaming and entertainment industries are just one piece of the puzzle," she said.
"VR and AR can be seen as the new computing paradigm or the next thing we will be using next to our smartphone, and our laptops in everyday life.
"You might be talking to holograms in the future.
"It's already been widely adopted by the medical community as well, for training, for architects, for visualization, or the travel industry.
"It eliminates space and time, you can connect people, you are able to take them to places that they wouldn't go otherwise, like showing a future visualisation of a new building or showing a bacteria for example.
"I'm sure people will leave the festival inspired by the medium and actively seek out this new type of storytelling.
"Fostering curiosity is one thing we want to encourage."
Mitcham VR Festival will take place on Saturday 7 March, at The General Giles Social Club in Mitcham.
For more information, you can visit Mitcham VR Festival Website and tickets can be found on Eventbrite.
Featured image credits: Mitcham VR Festival