Kim Kardashian has carved out a niche by posting thousands of these bikini-clad poses, TOWIE's Lauren Goodger has churned out a number of pouty shots and the world went nuts for

that

Oscars photograph.
Of course we're talking about selfies.
We've all done it. A sultry pre-night out shot looking all glam, another one when you hit the wine and then a stream of near-identical pictures, with different filters, loitering on your phone the next day.
However one London blogger and self-proclaimed selfie queen has taken her love of the photography style to the next level by sharing her top tips on creating the best selfies, belfies and photobombs in a new book.
Carrie Barclay's The Selfie Book gives readers an insight into how to fine-tune your photo skills advising on how to perfect your duck pout, hot dog legs and bed-time selfie style.
"As a pretty prolific selfie taker myself I loved the way these simple little pictures were making such an impact across the globe," she explained.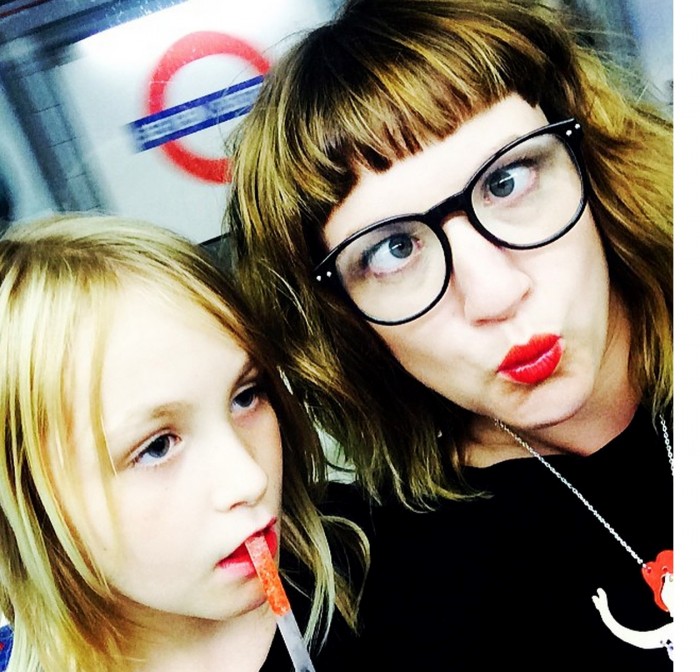 SPEC-TACULAR! Carrie sports a scarlet pout while larking about on the tube

"More than that, I became fascinated by the way that the selfie phenomenon offered a single platform accessible by all – from little old me to my mum, my boyfriend, my friends all the way to popes, presidents and princesses."
Some argue that the proliferation of these photographs has made us a more narcissistic society, however Carrie argues that by taking and sharing selfies people are more outward looking.
She said: "Seeing a selfie is a bit like seeing the human side of another person – sharing this platform of vanity is like sharing a commonality.
"Don't get me wrong there are far more important platforms we all, as humans, should be sharing but the selfie is just one way of feeling not only part of your world but part of the larger world.
The style and popular culture commentator explained that selfies can be incredibly empowering.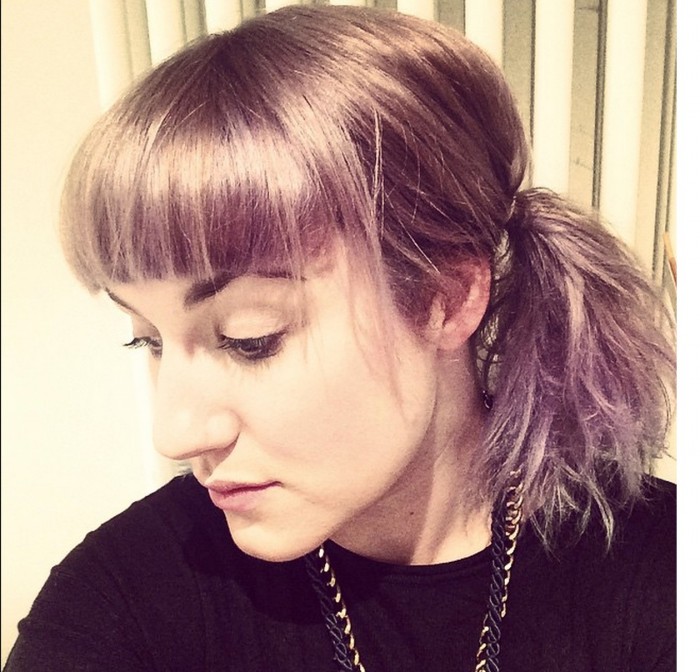 PENSIVE: Carrie showcases her softer side in this snap

"For me selfies are about owning your own vanity," she said.
"We all know by now that some simple angles, the right makeup and sympathetic lighting make the world of difference, and why shouldn't we use these to our advantage?
"I love it that I can take a picture of myself, all on my own, that I'm really pleased with.
"I don't think the selfie phenomenon has necessarily made us any vainer as a society, we're just taking photos instead of looking in the mirror."
Carrie explained that the beauty of the photographic style is the fact that you get the opportunity to capture that perfect shot over and over again.
"One thing I love is, if you've taken a few selfies, you know that it takes a few attempts to get it right.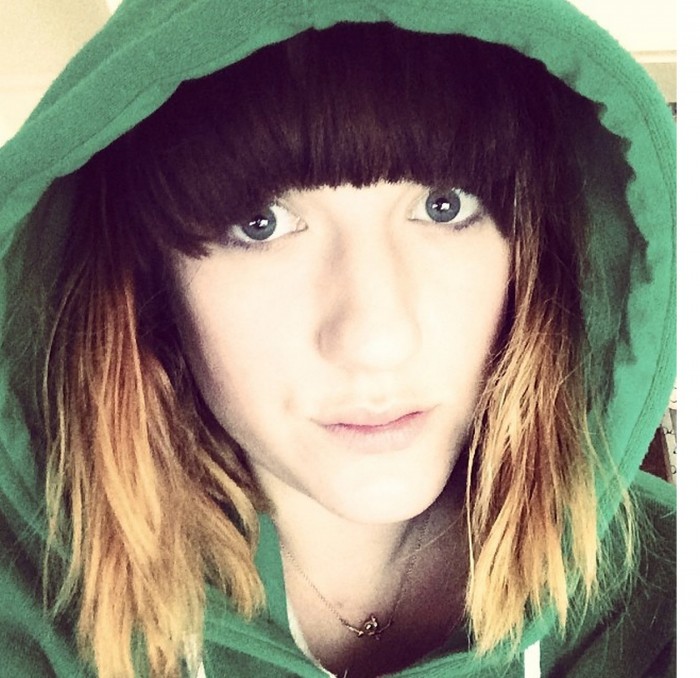 DIP DYE DELIGHT! Carrie shares her do with her legion of Instagram followers

"It's not a huge leap to realise that it's exactly the same for the celebrities we hold in such high regard.
"Imagining Kim Kardashian trying over and over to get that duck face just right makes her more real – she's just a human with a face. She's just like us really.
"Kim Kardashian's just like us really."
"That in my opinion makes the playing field just a bit more even and if us humble members of the public end up with just a touch more vanity (and sanity!) because of that, I'm not sure that's a bad thing."
The proliferation of the photo has spawned a whole new style of shots with belfies (bottom selfies), delfies (drunken selfies) and welfies (workout selfies) working their way into the English lexicon.
Although there has been some controversy surrounding certain types of selfies such as thinspiration, fitspiration and the bizarre American trend for 'bear selfies' (yes, some people are mad enough to want to pose near angry bears) Carrie explained it's important to remember that essentially it's about having fun.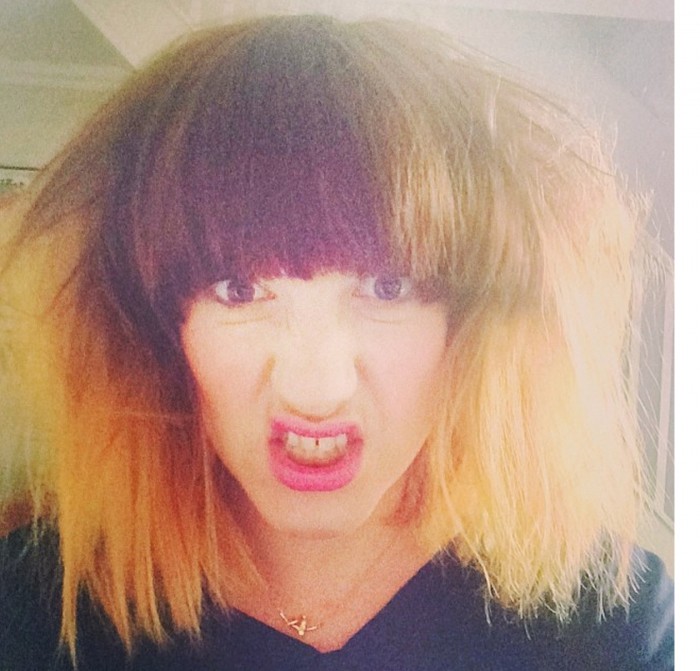 FIERCE! Carrie reveals her big hair and big personality in this candid snap
She said: "I think there's artistic merit in most things somewhere.
"I'm pretty sure that my day-to-day hair colour update selfies are hardly fodder for the Louvre, but there are times when a selfie can be artistic.
"Selfies transcend a lot of boundaries including age, gender, financial status, success, and popularity.
"In the end it's just a picture of your face – and we've all got one of those haven't we?
"Personally I think it's more about sharing a level of intimacy – it's about controlling your message as well as having fun!"
Carrie explained that bottom-baring reality star Kim Kardashian, who's set to release her own selfie book Selfish, has certainly mastered the art of self-promotion through the medium.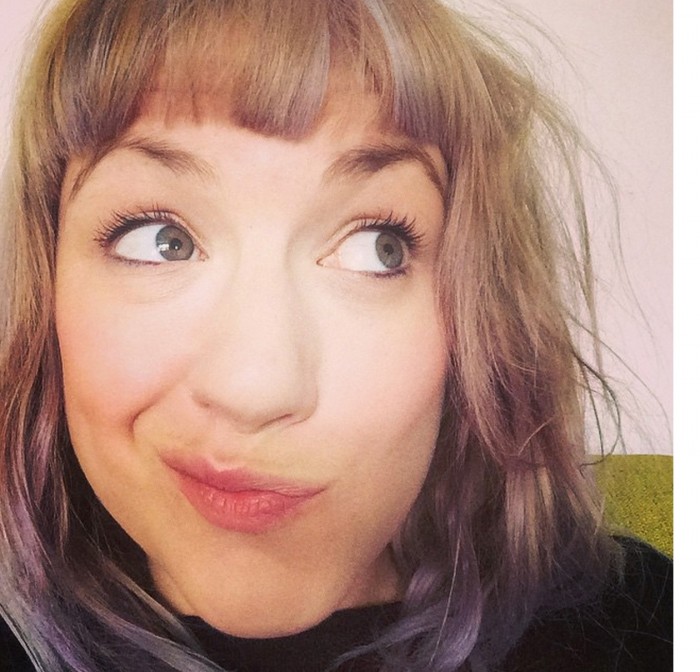 QUIRKY: Carrie gets up close and personal in this picture

She said: "She's definitely the queen of making the most out of the opportunities you're presented with.
"I don't know her as a person and haven't tracked her career closely, but she is what she is.
"She's a woman with a face, an ass, a very clear business model and a desire to be seen – I can't really criticise her for that.
"Her selfies do feature in the book but to be honest it's the more creative, spontaneous, honest selfies that really make my day."
See me in the @TMobile #ad!? SO CRAZY! More from my secret stash here 😉 http://t.co/MlNuIShs5F #KimsDataStash pic.twitter.com/mRKtikpHJx

— Kim Kardashian West (@KimKardashian) February 2, 2015
The introduction of selfie sticks has revolutionised the way in which people can take pictures meaning there's now an opportunity to capitalise on ussies (a group shot).
Carrie smiled: "Aww the humble selfie stick! Something that no doubt started as a joke is likely to become a genuinely useful tool once we get over the novelty.
"In The Selfie Book we recommend you try and involve the environment around you in your selfies, not just your face, and a selfie stick is a great way to achieve that.
"It helps tell a bigger story and you can get more people in your shot this way.
"Maybe if they'd been around during the Oscars they'd have managed to get poor Liza Minnelli in shot!"
You can check out Carrie's Instagram account here.
The Selfie Book by Carrie Barclay, and co-authored by Malcolm Croft, is available to buy now.