Wimbledon-based artist Jo Holdsworth looked cheery and relaxed as she welcomed visitors to her pop-up exhibition in Wimbledon today.
The art show is taking place until Sunday in a slightly unusual location: furniture store Neptune on The Broadway, where pieces are dotted about the sofas and show kitchens.
This is the biggest pop-up exhibition Jo has taken part in. She said: "Pop-ups seem to be getting more popular – artists and other creatives are often looking for interesting ways to display their work and make it more accessible."
Regarding the furniture store setting, she said: "The interesting thing for visitors is that they can see how paintings will look in a home setting. Clients can see the work not on a gallery wall but in a house setting with furniture around it. It's also fantastic for me to see how paintings would work in different spaces."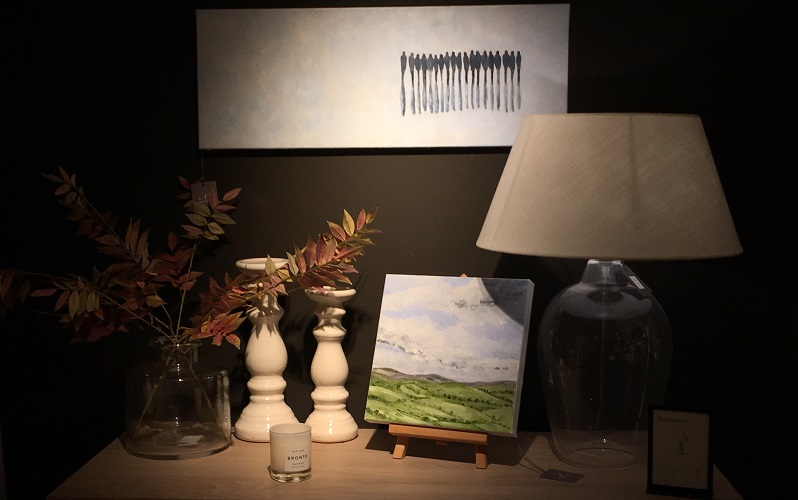 DIFFERENT PERSPECTIVE: The artworks on display in Neptune
Jo is very active in the Wimbledon art scene; she recently had another Wimbledon show in April, 'People and Places', that raised money for charity, and she has another solo show planned.
Her work is currently also on display at the APPI Pilates studio in Wimbledon Village and she is on the judging panel for Young Wimbledon Artists, an award scheme promoting young local artists.
Jo paints mainly using oil on canvas but also uses acrylic on paper, and she is known for panoramic landscapes and anonymous, abstract figures, which reviewers have described as 'striking' and 'eerie'.
She said: "I think there are echoes of Lowry in my work. Some of my figures are faceless and slightly strange, and they are often painted as seen from behind."
As well as these figures, pieces on display include sweeping landscapes, some of iconic London landmarks and local south west London scenes, such as Battersea power station.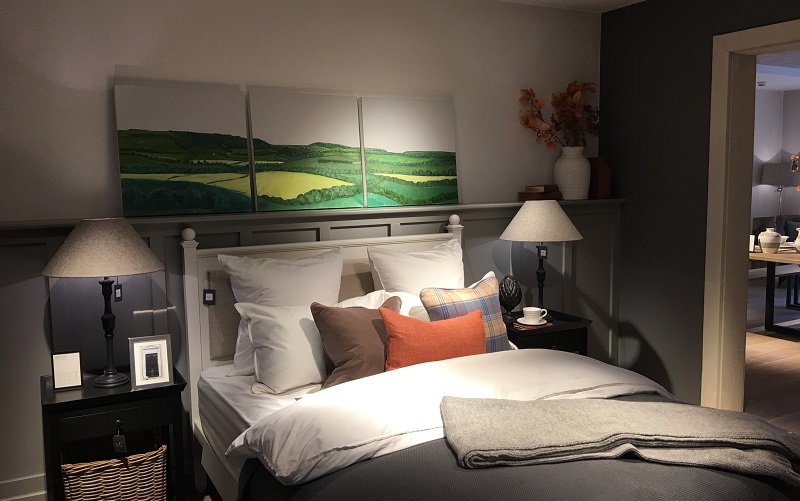 HOME COMFORTS: Buyers can get an idea of how the artworks would look in a home setting
The exhibition, which she said focuses a lot on transitional spaces, also includes time-lapse paintings, showing a landscape split into different times.
Jo said: "You are not always looking at one view on one day; you're looking at it through a period of time and capturing different moments in time and different weather conditions." 
Feature image shows Jo Holdsworth. The exhibition runs until Sunday at Neptune, 168-178 The Broadway