With summer coming to an end, people are bound to be looking for ideas on what to do with the little time remaining of their break.
One thing you could do is visit the Yun-Hyong Keun art exhibition currently showing at Hastings Contemporary.
Whether it be a simple day trip or a weekend in Hastings – learning both about the fascinating history of Hastings and the artist combined – it'll be worth your time and money. 
You don't need to be an art enthusiast already to visit – the artist's life story is enough to spike interest. Despite a series of misfortune during his youth, his passion for art never faltered.
A leading Korean post-war artist, Yun-Hyong Keun has started to attract interest internationally as result of his contribution to the Dansaekhwa movement. This is his first ever public gallery exhibition in the UK.
Dansaekhwa, which translates as 'monochrome painting' from Korean, was an art movement involving artists born between 1930 and 1940.
These artists rejected realism and formalism in favour of modernist abstraction, painting only in monochrome with a style that stressed the flatness of the canvas.
Born in 1928, Yun lived under Japanese occupation in Korea until it ended in 1945. 
He was scheduled to study Western painting at Seoul National University (SNU) in 1947, but was arrested and expelled that year due to his involvement in the student protests against the US Army's involvement in the university's establishment.
The protest was a demonstration of a left-wing movement and caused Yun much more trouble in years to come.
He was arrested again in 1950 during the outbreak of the Korean war as the South Korean government's Bodo League, an anti-communist organisation, began detaining and executing those suspected of harbouring left-wing tendencies.
Due to his prior arrest at SNU, Yun was detained and set to be executed by firing squad – but miraculously escaped execution by hiding in a forest.
His brief moment of relief was just a pause before his streak of bad luck continued as Yun was forced to work for the North Korean army in 1956, finding himself trapped in occupied Seoul.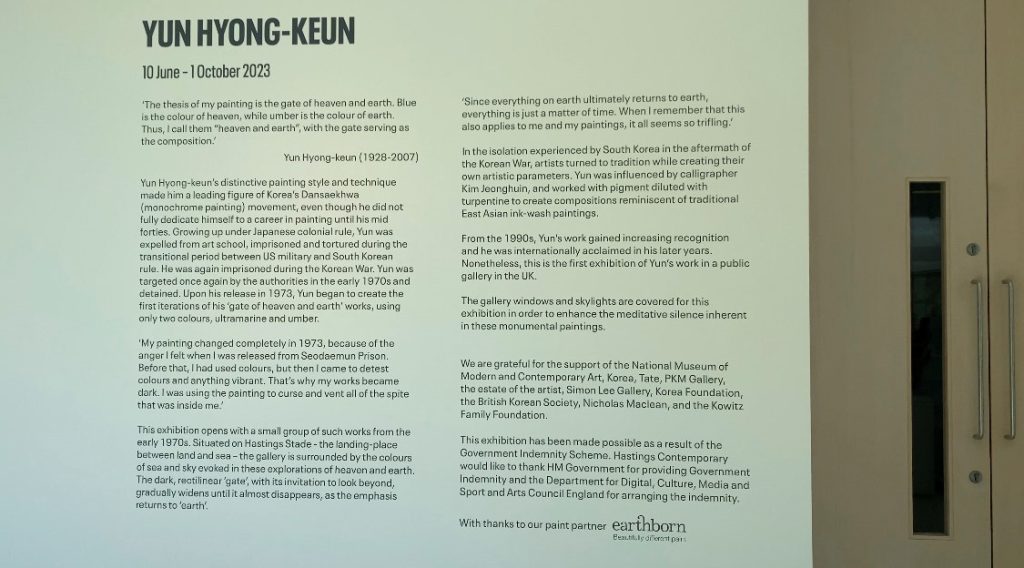 After the war ended, Yun experienced six months of imprisonment in 1973 on charges of engaging with communism.
He never gave up on his love for art and so began teaching art at a girl's high school – but finally was arrested for violating anti-communist laws whilst objecting the school's admission of an unqualified student with connections to the Korean Central Intelligence Agency. 
This final act of injustice upon Yun is what inspired him to completely dedicate himself to art at 45 years old.
His art became deeply personal in 1973 and responded to his recent imprisonment with his 'Gate of Heaven and Earth' painting series.
He released an artist statement which said: "Even though the period of youth during one's twenties should be great, I spent mine living in a nightmare. Thus, the warm and beautiful colours disappeared from my works and were replaced with dark and heavy hues."
Given the gallery's position, which overlooks the vast sky and sea in a variety of blue hues from the Old Town's Stade, the exhibition opening with a small group of umber and ultramarine works from the early 1970s is very fitting.
Liz Gilmore, Hastings Contemporary director, says: "The exhibition will focus on Yun's stunning and reflecting umber and ultramarine paintings, which makes a fitting juxtaposition with our location between land and sea."
Yun once explained: "The thesis of my painting is the gate of heaven and earth. Blue is the colour of heaven, while umber is the colour of earth. Thus, I call them 'heaven and earth', with the gate serving as the composition."
Eleven pieces by the minimalist, created between 1928 and 2007, are currently on display at Hastings Contemporary.
The exhibition has been running from 10 June and will continue till 1 October.
Hastings Contemporary is open from Wednesday to Sunday from 11am to 5pm.
The gallery has much to offer, holding three new exhibitions commencing 7 October and another on 18 November. Find out more information here: https://www.hastingscontemporary.org/events/
Direct trains run regularly to Hastings ranging between 45 minutes and two hours from London Victoria, London Charing Cross, Brighton and Ashford International. From Hastings Railway Station, it is approximately a 15-minute walk to the gallery.
The gallery is located just off the A259 for those driving and the nearest car parks to the gallery are on Rock-a-Nore Road, The Bourne and Pelham Place.