An army of bakers have united to create a whopping 6ft Grenadier Guard made entirely out of cake to mark the 100th anniversary of Armistice Day.
Rose Dummer of Rosie Cake-Diva was commissioned to create the imposing figure in just two weeks so issued a rallying cry to six other cake artists and bakers who helped her undertake the mammoth task.
The dashing creation named Gus, along with a naughty corgi caught cocking his leg, contained 45kg of Madeira cake, 14kg of white chocolate ganache and a teeth-itching 50kg of sugar paste and modelling chocolate all built around a metal frame.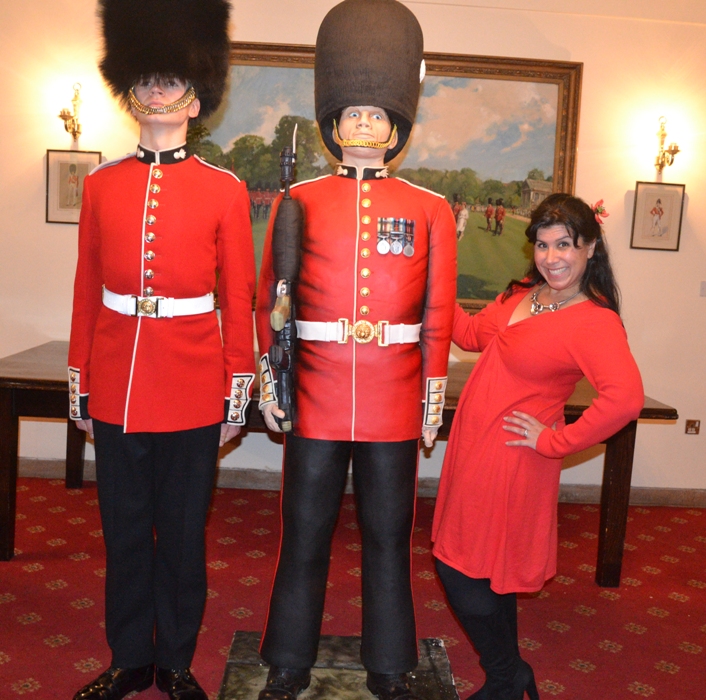 "This has been the most positive response I have ever seen for a cake," she said.
"I think the Great British public are so totally supportive of our troops and really get our motivation behind this project.
"I also think he has looked so life-like that the public are a bit in awe."
Rose explained that it was the short time scale that proved to be the trickiest part for the six-strong team and that at the finish he took more than 500 hours to make.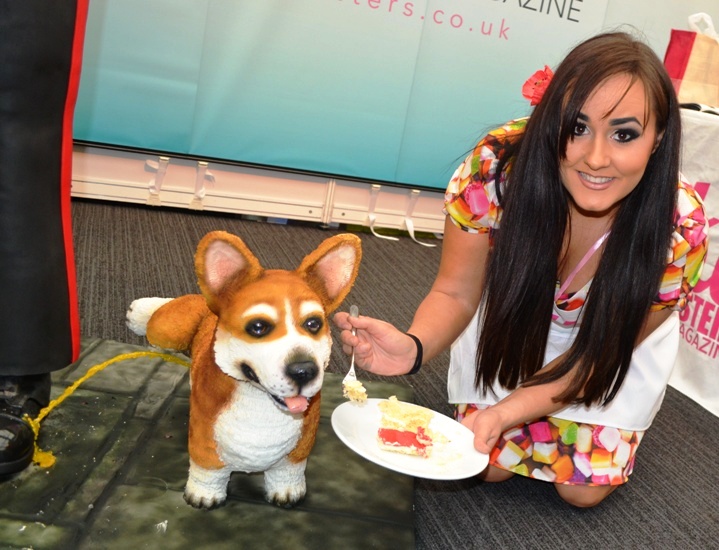 "Luckily they were unhinged enough to join me!" she laughed.
"Beth Mottershead from Cakes by Beth in Manchester made the SA80 rifle, Annabel de Vetten-Petersen from Conjurer's Kitchen did his beautiful face, Molly Robbins from Creative Cakes by Molly made Monty, the cheeky corgi, and Vicki Smith from Incredible Edibles made the buttons and medals.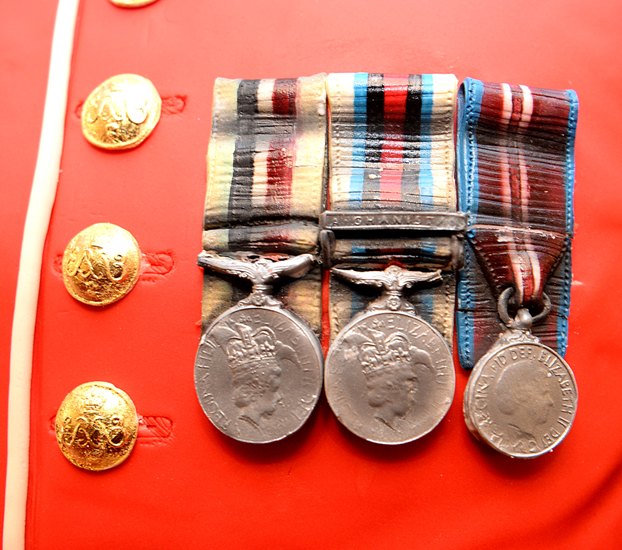 "It all helped enormously but my medal for valour goes to Lee Binch and Becca Ginley from the Pendle Cake Company in Colne who stayed in my kitchen, over and above the call of duty, helping me to stack and cover the giant cake."
Rose is a relative newcomer to the world of beating eggs and creaming butter having started life as the country's first female helicopter pilot in the British Forces.
But such has been her success that her company Facebook page now boasts more than one million likes.
She revealed that it was the opportunity to combine her two passions in life – the forces and cake baking – that despite the limited time frame made her eager to accept the challenge.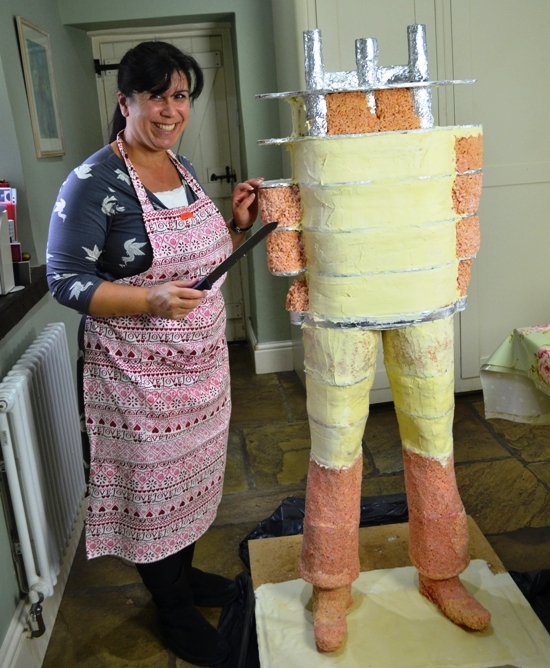 She explained: "I jumped on the military connection and the run-up to the 100th anniversary of Armistice Day.
"The Legion provides tremendous support for service personnel and their families and if we can help them with our fun cake, then all the better!"
Gus' first military engagement was at the BBC Good Food Bakes and Cakes Show in London where he impressed baking deities Mary Berry and Paul Hollywood.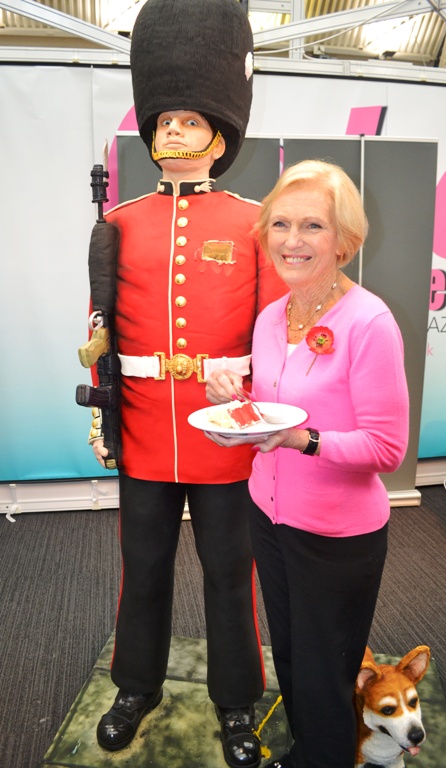 Rose said: "Mary Berry was truly in awe of Gus, she said he was 'very splendid' and even wore one of our special poppies that we had crafted by our colleague Calli Penman-Hopper from Callicious Cakes.
"Calli made a few of these so we could wear them and Mary liked them so much that she sent her daughter to ask for a few more – she put a large donation into the tin too – we love Mary!"
And this life size soldier all made from cake for the @PoppyLegion pic.twitter.com/0iVQVaPzyM

— Paul Hollywood (@PaulHollywood) October 26, 2014
But Gus' journey there wasn't without its fair share of GBBO-eque drama as Rose's car broke down just five miles away from the venue.
They had to wait three hours for a recovery vehicle which wouldn't require tipping the vehicle at a 45-degree angle and demolishing him in the process.
Gus then embarked on the next stage of his tour by popping in to visit his fellow guardsmen at Wellington Barracks who were all dressed ready for parade.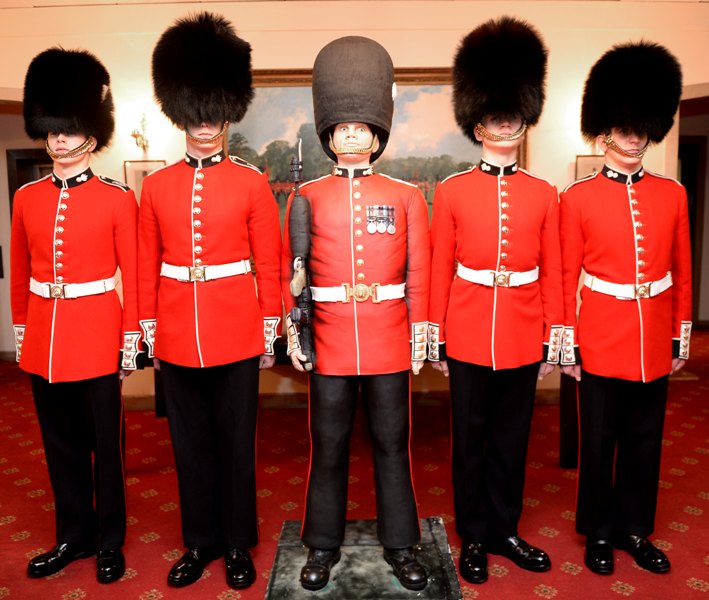 Those who stood with him are the same guards who will mount the Queen's guard on the 100th anniversary of Armistice Day on November 11.
They will observe a two-minute silence at the barracks before resuming their positions at Buckingham Palace.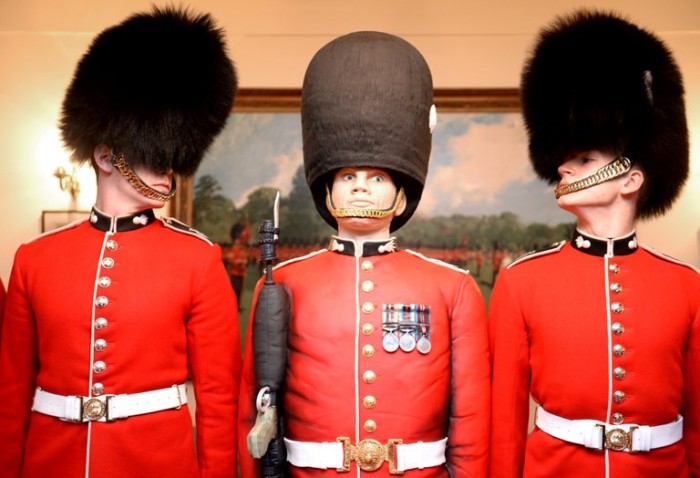 Despite standing to attention alongside Gus it wasn't long before those with an insatiable sweet tooth tucked into him and all that was left was the stand and metal frame.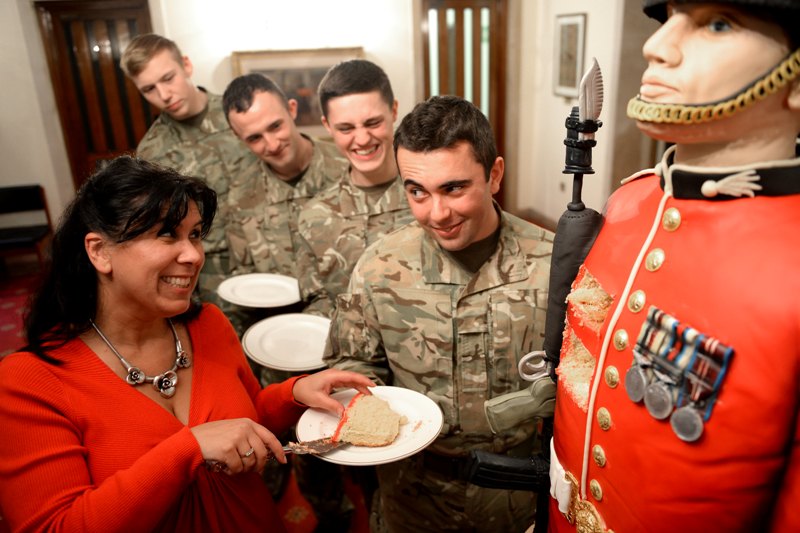 Now that the dust has settled on such a large-scale project, Rose is focusing on compering the Cake Masters Awards at the NEC and then is plotting her next cake creation move.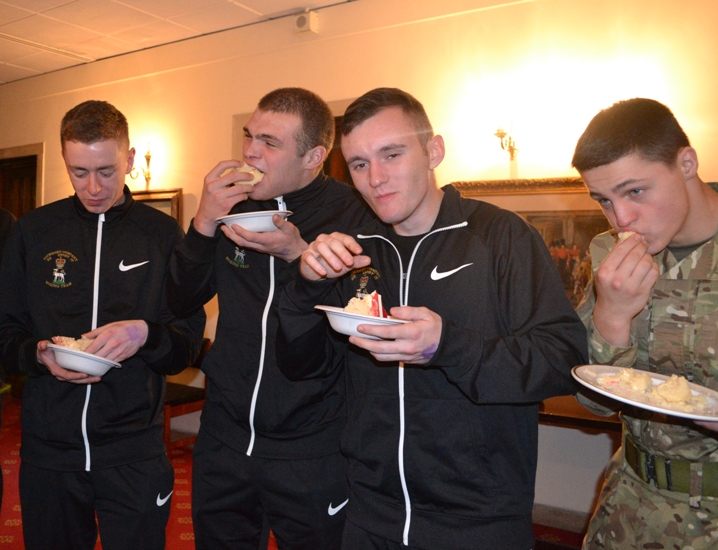 She said: "Who knows? We have plenty of mad ideas… I always think they're a bit too mad but then something actually makes me do them!"
Pictures courtesy of Sgt R Frere RLC MOD Crown Copyright and Rose Dummer, with thanks.
Video courtesy of Rose Dummer, Rosie Cake-Diva, with thanks