When you walk into your local pub you expect beer on tap, a selection of wines and perhaps a hearty meal.
That's your run-of-the-mill local and I can safely say that, nestled away in a quiet corner of Wimbledon Common, Youngs' newly re-furbished Hand in Hand is anything but.
On my journey, all six of the people I had to ask for directions knew exactly where it was. Which I took to be a good sign.
Once I had navigated my way through the throngs of eager patrons, introduced myself to Andrew Ford, the landlord, and safely secured myself a complimentary beer. I took a moment to appreciate the rustic charm of the establishment's interior. It now plays host to all the modern-day accoutrements of your finest gastropub and has not lost one drop of the history that makes it special.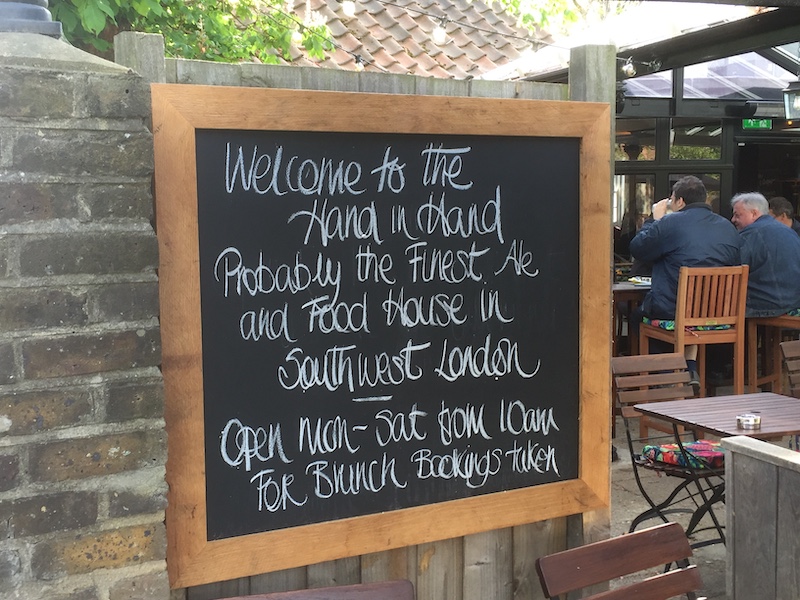 BRAGGING RIGHTS: More-ish pies and rustic charm make this a popular local.
Talking to the bar staff yielded pleasant conversation, good recommendations and some helpful local knowledge.
The guests came from all walks of life. The resident artist, the suburban intellectuals, the cigarette smokers, the brass section of the London Philharmonic and the large number of dogs made for quite the exciting atmosphere.
I can safely say the excitement peaked with the arrival of the pub's most unusual patron, 15-year-old miniature Shetland Pony, the Fantastic Mr. Fudge.
His main issue, apart from being underage, was that he couldn't reach the bar. Although I imagine his furry Jack Russell friend Milo would give him a little help.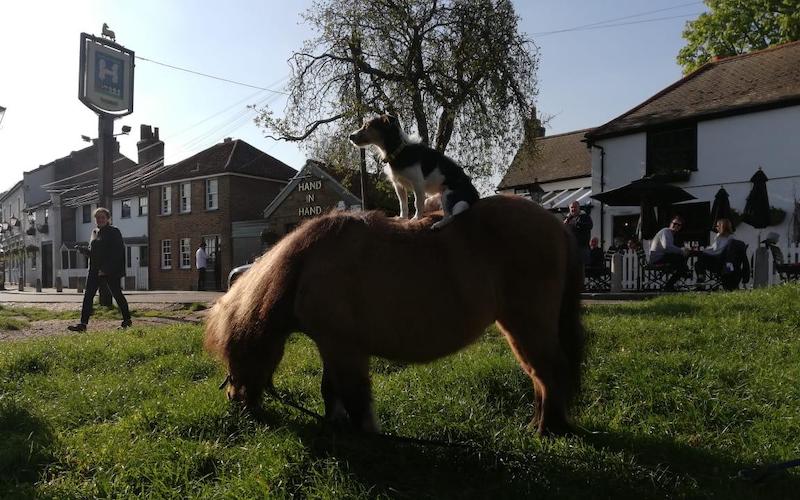 PINT-SIZED: Fantastic Mr. Fudge and Milo the Jack Russell.
Sitting down with Andrew the landlord, who will have been at the Hand in Hand for 12 years in May, revealed the passion that goes in to such an extraordinary establishment, and gave me the impression that any patron would be in very safe hands.
"We're here celebrating the longevity of an amazing community, local pub. They've done a wonderful job, but we still have a lovely lovely local pub," he said.
"The pub was a little bit run down when I first came here, we only had a small domestic kitchen, so I decided, after looking at the history of the pub to push the ale side and expand our menu."
Keen on supporting the local area, the pub has also been doing extensive charity work.
He said: "We raised over £20,000 for local charities last year, working with Age Merton UK, Merton Mencap and raising money for the horses when the Ridgeway stables closed down."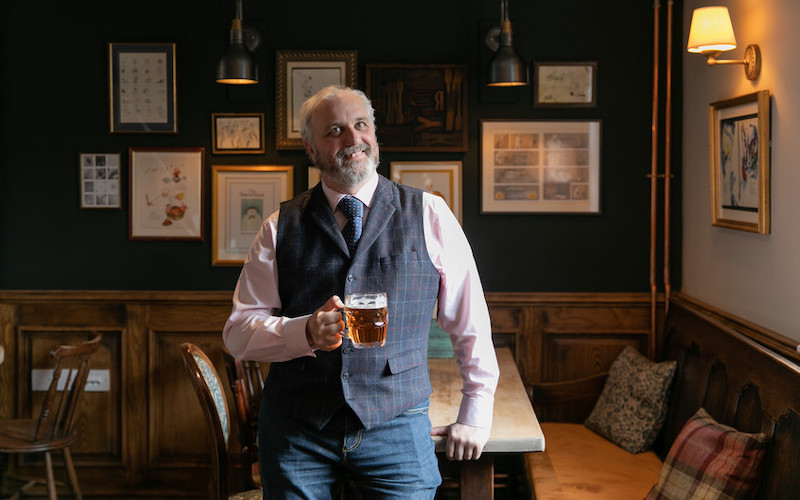 ALL SMILES: Andrew has been at the Hand in Hand for nearly 12 years.
Andrew, a big pie fan, claims that this is probably the finest ale and food pub in south west London.
His own personal favourite being the steak and ox kidney pie, made by his wife and head chef Elzie, the mastermind behind the new menu.
I attended one of her pie masterclasses where she discussed the ingredients and preparation of their pies as well as handing out some rather useful recipe cards. Elize also revealed that despite being a vegetarian, the chicken pie was her favourite.
I can safely say having tried both of their suggestions you are in safe hands. The pies were crisp until the perfect moment when they became moist and moreish.
Whilst chatting to some of the other patrons, I was delighted to get the chance to speak to 20-year-old Chiara King, New Malden local and Miss London 2018/19.
She stood out from the crowd in her sash and tiara, on what was her last public appearance before she is to surrender her crown.
A family affair, with her father Simon, 62, and grandfather Mike, 92, joining her in attendance.
"My Dad's been coming here since he was 15 and I've been coming here since I was about ten!" Chiara said.
"Before, when I first started coming with my dad for lunches, it was nice and old and cute, but I think they've kept that kind of not vintage but old school kind of vibes, it's not too modern, just more crisp."
"When I saw it for the first time I was like wow!"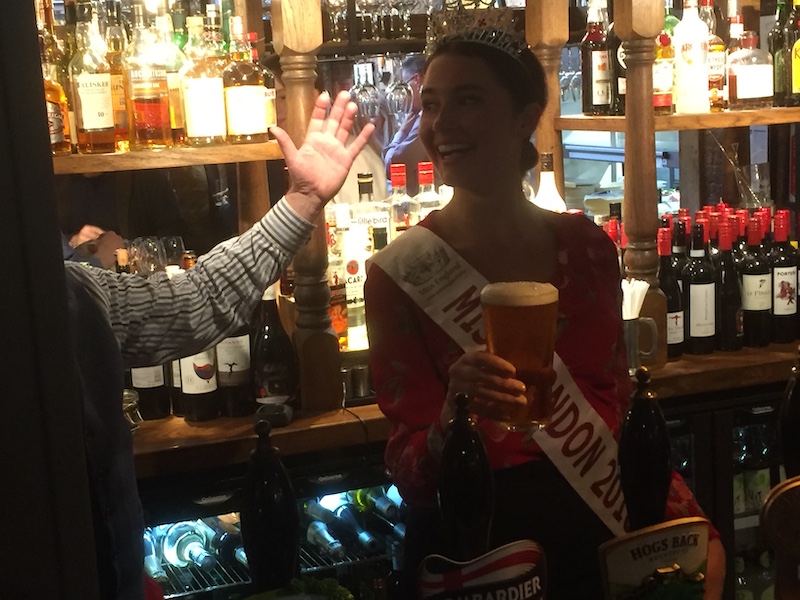 TOP MARKS: Chiara pulling her first pint with some admirable tuition from Andrew.
When it came time to depart the Hand in Hand on a glorious sunny afternoon, I found it hard to move my feet. Nothing to do with a belly full of beer and pie, rather a terrible fear of missing out on the community feeling that can be so rarely found in London pubs these days.
I heartily recommend for anyone in the area to visit the Hand in Hand, be it for a night with friends, good quality food or the newly-served brunch menu. There is something to offer both those local and those travelling from afar.
An absolute must for those who miss the traditional English pub.