Japanese restaurant Hiden Curry Lab is trying to stand out against more than 50 other new eateries at a popular shopping complex.
Hiden Japanese Curry Lab, Unit 114 Lower, Stable St, London N1C 4DR. Mains: £2.50 – £10.90; sides/toppings: £1.20 – £3.60
I should preface this review by stating that I'm a complete wimp when it comes to spice.
Not that I'm averse to it, I wouldn't want to preclude myself from experiencing any type of dish on account of my weak constitution, but I will say that 'mild' is my go-to when it comes to curry.
From most of the conversations I've had with curry fans, I'd say this places me thoroughly in the minority of people who regularly get typical Indian takeaways.
However, Hiden isn't a typical Indian, it's Japanese, and 'chicken mild curry' is their best-seller, and something I, as a connoisseur of mildness, was hugely excited to try.
Although, before I could try it, I had to spend some time wobbling around Coal Drops Yard, across the water from King's Cross Station, trying to actually find Hiden (pronounced hee-den) which incidentally means 'secret' in Japanese.
Coal Drops Yard opened in 2018 and is now home to more than 50 new and flashy-looking eateries housed in converted industrial buildings.
This makes it a challenging spot to open your doors in, especially if you're tucked away from the main foot traffic and have limited space for seating the way Hiden does.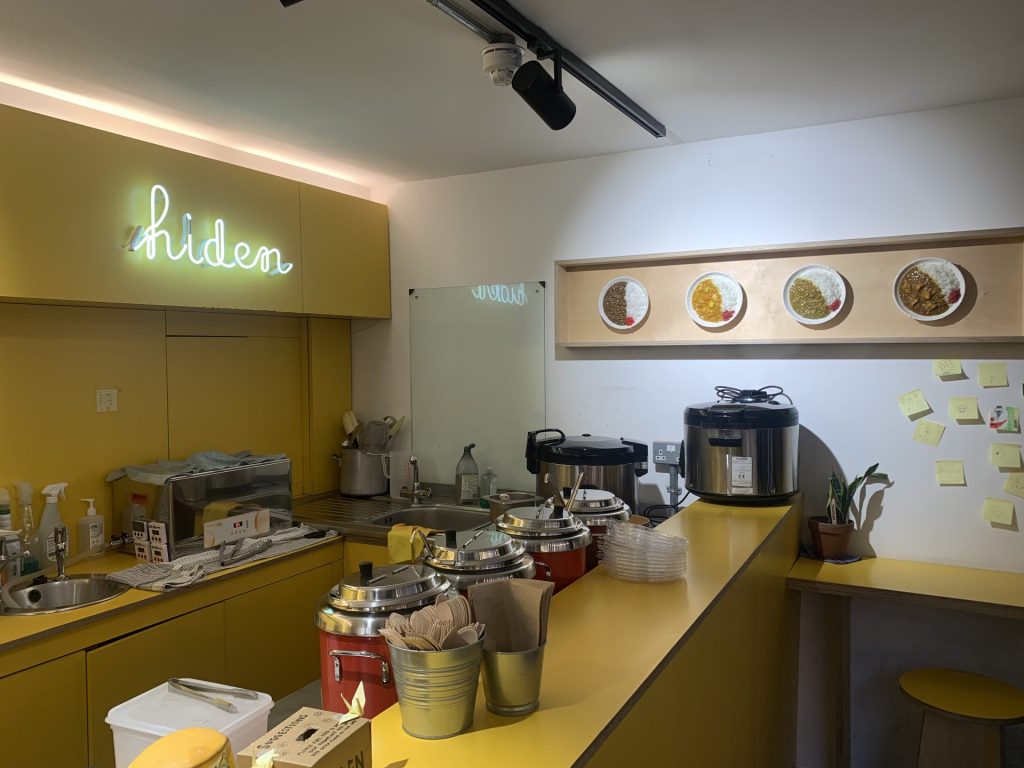 This isn't necessarily an issue for Hiden though as, according to their website, the restaurant is designed around shibui, a particular Japanese aesthetic of simple, subtle, and unobtrusive beauty, hence the limited seating, apparently.
In any case, Hiden's aesthetic is convincingly authentic and it's impressive how well they capture the look with the small space they have, with plastic models of the main dishes on the walls, neon signage, and hipster chic merchandise for sale.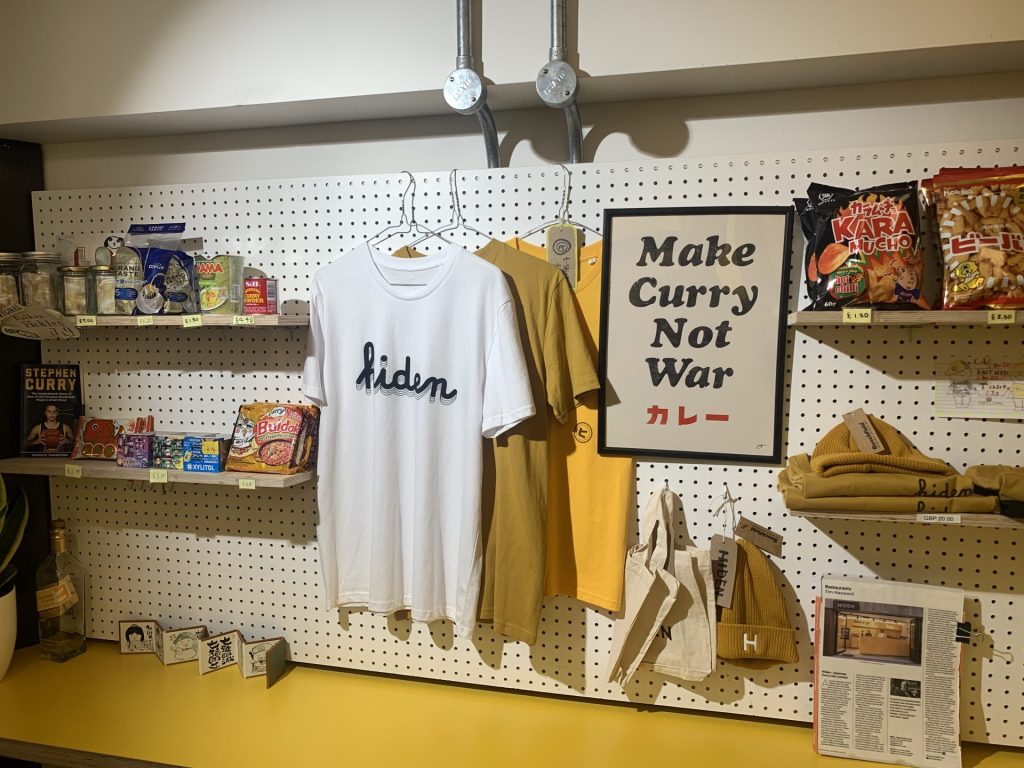 I very nearly bought the woolly hat.
The menu is simple and fairly cheap for London and even cheaper when compared to the other takeaways thereabout.
While I'm sure other Japanese curry houses offer more options, I still have a lot of respect for Hiden for focusing on doing what they do really well.
Again, according to Hiden's website, Japanese curries are typically sweeter and less hot than other Asian curries, so Hiden's chefs have upped the Scovilles to appeal to the British pallet.
You'd think this wouldn't gel with me being the big baby that I am, but I was pleasantly surprised by how much I enjoyed the kick in the 'chicken curry mild'.
First things first, the portion size was generous and the rice-to-sauce ratio was spot-on, so you get your money's worth in that sense.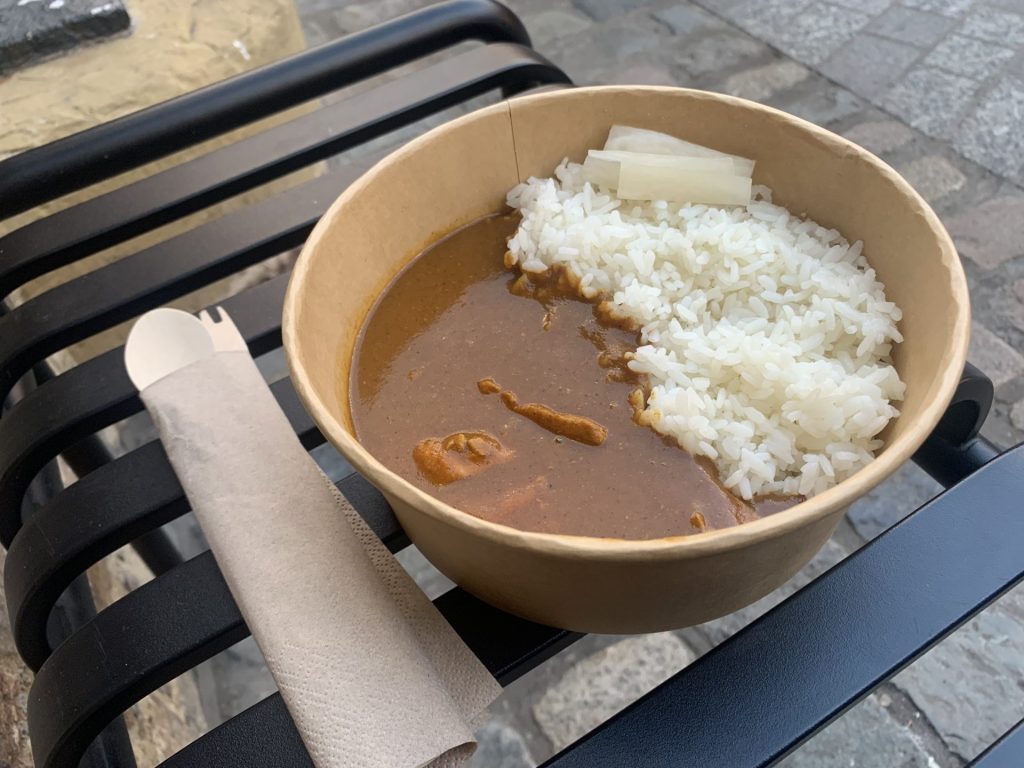 The curry itself was excellent.
It was rich and complex, the consistency was great, and the heat at the end from the spices was enjoyable without being overpowering.
The chicken was tender and juicy and soaked up the flavours of the curry perfectly.
The curry comes with optional toppings of egg, pickles, or cheese, or a side salad, edamame, or kimchi.
I had pickled radish to garnish mine, giving it a tang which complimented the richness of the sauce beautifully.
I honestly don't have anything negative to say about Hiden, save for one criticism which came to me while I sipped my can of oolong tea on the train home, which is that there are no locations in the south west yet.