A pub popular with celebrities faces a licence review after police say they found the venue allegedly breaching Covid-19 rules last year. 
The Cow in Notting Hill is well known for serving pints of Guinness & oysters to the West London community for 26 years with celebrity patrons including David Beckham, Tom Cruise and Cara Delevingne.
According to police reports available online, the owner Thomas Conran, 56, was found inside the pub with at least seven unidentified people at 6:50pm on 19 November 2020.
Conran, son of the late Conran Shop founder Sir Terrence Conran, denied trading inside the establishment but admitted to selling drinks from a hatch to customers outside earlier in the day. 
PC Nicholas Peach ordered guests to vacate and closed the venue in line with government covid restrictions.
In November last year, the government updated lockdown regulations with off-premises alcohol consumption, allowing venues to serve customers if drinks had been ordered in advance by phone, online or by post.
After receiving the news of the licensing hearing, The Cow took to social media breaking the news and urged regulars to help their cause.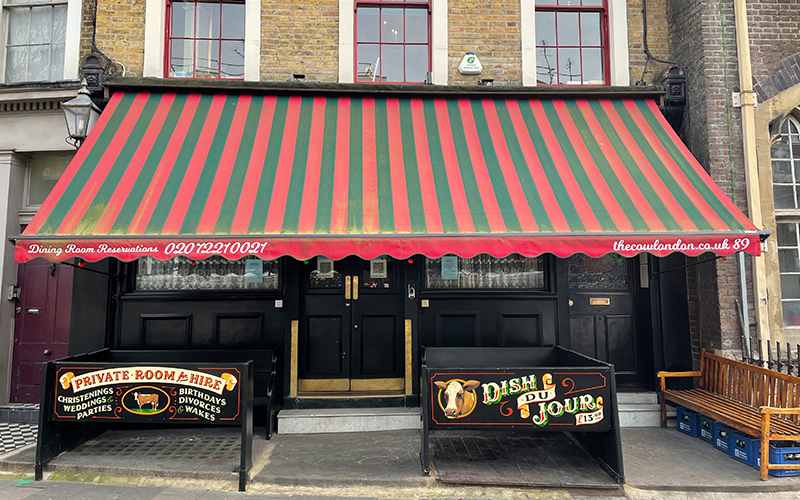 A post from their Instagram account reads: "The review has been sought on the grounds of prevention of public nuisance, public safety and the prevention of crime and disorder.
"We are personally reaching out to YOU for your support to share your sentiments in writing with Westminster City Council to help them understand why The Cow is an asset to the community."
Last month, more than 900 letters of support had been sent to the council justifying the importance of the venue to the area from customers.
A date for the licensing review was originally planned to be held in March 2021 but has been postponed to mid-April.
Westminster Licensing Team declined to comment.