An afternoon tea of dainty sandwiches and delicate cakes couldn't be more quintessentially English, and at Lancaster London this sumptuous snack is inspired by the hotel's own honey harvest.
Lancaster London sits on the edge of Hyde Park and has an illustrious history, The Italian Job was filmed there and The Beatles opened the Yellow Submarine nightclub there in 1968.
From Beatlemania to beehives, the hotel rooftops are now home to their buzz-iest staff, as around half a million honey-makers harvest pollen from Hyde Park trees.
We wandered over to sample the revamped afternoon tea for a particularly decadent time in the hotel lounge.
Walking into the Lancaster London is like gliding into a film set, the doorman politely nodded and staff behind a gleaming bronze counter guided us up to the first floor.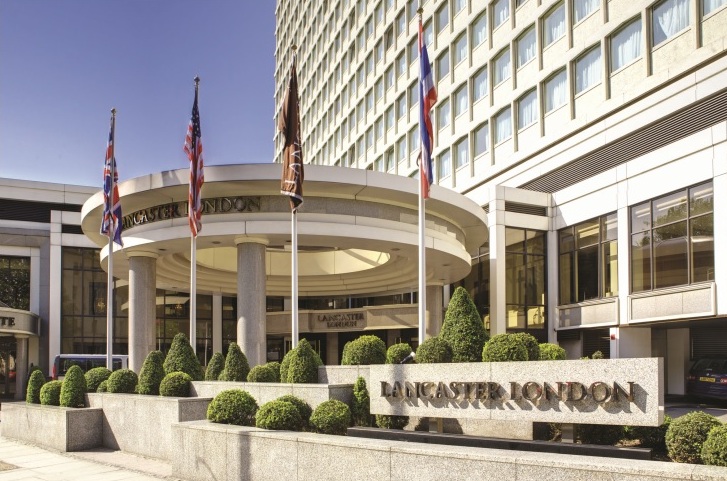 MAKING AN ENTRANCE: No red carpet but we felt like celebs
The plush lounge was unusually busy as a congregation of conference attendees mingled over drinks, but we were still met promptly by a friendly waitress who took the time to explain the exotic tea brands on offer.
Branching out from English Breakfast we decided to try a delicate white pear and ginger blend and a Pai Mu Tan, which is a pale golden tea apparently picked in the early morning mists of China.
We settled into the low-seated sofa behind a crisp white table cloth and perused the selection, we plumped for the champagne afternoon tea and sipped a flute of pink Laurent Perrier Rose while we waited for our sandwiches.
A three-tiered cake stand arrived, crowned with creative cakes and laden with finger sandwiches and savoury bites.
The sandwiches were classics – a quartet of ham and mustard, hummus and pepper, smoked salmon and cream cheese, and egg and cress.
The other savoury snacks were a curious coronation chicken mini tart, and a bite-sized Yorkshire pudding stuffed with roast beef and horseradish.
The mouth-sized morsels left us hungry for more and we were given the option of a second plate of sandwiches or freshly made scones, before we moved onto the cake selection.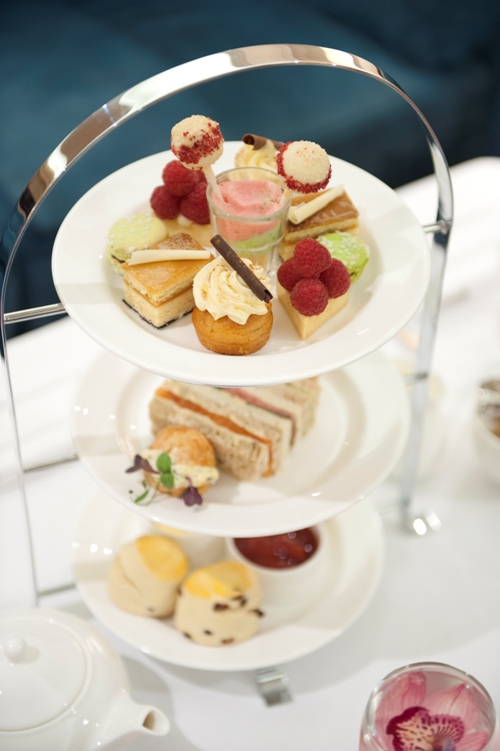 FINE DINING: Tempting and surprisingly filling
As the scones are made to order we were happy to keep supping the champers while the chefs whipped us up a batch of plain and raisin scones served hot from the oven alongside Cornish clotted cream and homemade strawberry jam.
These were a definite highlight, and although we were buzzing with a sugar overload by the end of our tea service and couldn't finish them, the friendly waitress returned to package up the remaining scones for us to take home.
The perfectly proportioned cakes would have be the pride of any Bake Off champ, little raspberries decorated in gold leaf perched on vanilla custard, and a diminutive pistachio and cherry slice was a sugary sweet mouthful.
Lancaster bees got their moment when their produce was showcased in a honey apple cupcake, which although we loved the cake the frosting was very rich.
A caramel-like, liquid honey centre in the hotel's signature chocolate pop was a delicious surprise as we greedily licked up the excess.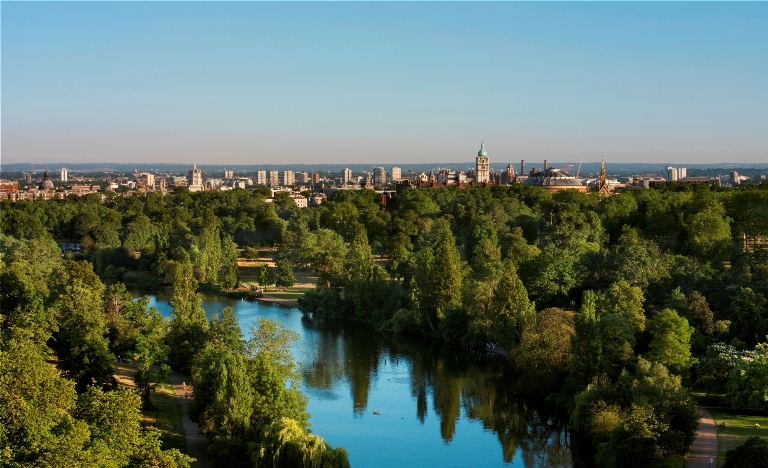 VIEW FROM THE ROOF: Lancaster London bees make their honey from Hyde Park tree pollen
There was nothing gluten-free or low calorie about the dessert selection, it was pure sugary indulgence, nicely complimented by the fragrant teas, and of course who can resist pink fizz!
Usually the lounge is a relaxing space with a pianist playing away accompanied by the tinkling of champagne flutes and teacups, we happened to visit on a particularly busy day but were never made to feel ignored or rushed.
For a lazy afternoon slowly nibbling a treats Willy Wonka would be proud of, the Lancaster London is a good bet.