Bat out of Hell The Musical is the latest addition to the fast-flowing conveyor belt of band-inspired musicals, and it might just be the best one yet.
Full of sing-a-long hits, energetic choreography and ground-breaking innovate use of video, Jim Steinman's effort stands out from the crowd as a musical that will leave you with your ears ringing and your foot tapping long after the curtain call.
Admittedly, the basic storyline – a love story set in an apocalyptic world far in the future – is nothing exceptional and reminds you of We Will Rock You, with a bit of Peter Pan thrown in.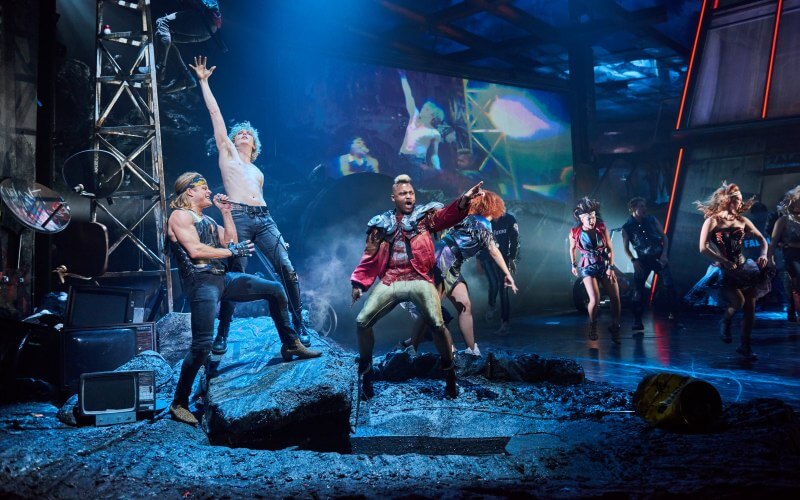 ROCK AND ROLL DREAMS COME TRUE: Bat Out of Hell is rock spectacular
But you don't go to these shows to be on the edge of your seat, you go there to be forced out of it and Bat Out of Hell certainly does that. So much so people were singing and dancing in the aisle's long after the final song.
Meatloaf hit after Meatloaf hit is belted out and the story weaves around it nicely. The highlights are predictable – Paradise by the Dashboard Light is an energetic romp (quite literally), Dead Ringer for Love will stay in your head for weeks and I Would Do Anything for Love has the whole cast engaged in an spectacular showstopper.
Lead actors Andrew Polec and Christina Bennington got more powerful and convincing as the night went on, but Danielle Steers and Dom Hartley-Harris stole the show as Zahara and Jagwire.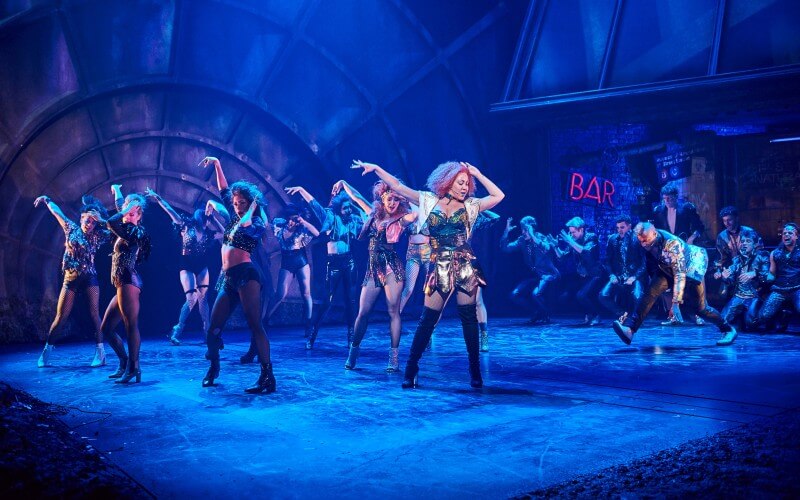 DEAD RINGERS FOR LOVE: Danielle Steers (front) and Dom Hartley-Harris (right)
Steers' powerful voice was complemented superbly by Hartley-Harris as the pair excelled in Two Out of Three Ain't Bad and Dead Ringer for Love.
It's not just the singing that grips you, the choreography throughout is exceptional. Sometimes it can get lost between everything else happening on stage but it is energetic and fun and makes for an incredible spectacle.
At times the costumes are downright weird – look out for the dancers dressed like candyfloss in Paradise by the Dashboard Light – but you are enjoying the song and the choreography so much that you don't care.
But what makes this show stand-out is its imaginative staging. Live and recorded video is beamed on to large screens around the stage allowing you to see the action close up.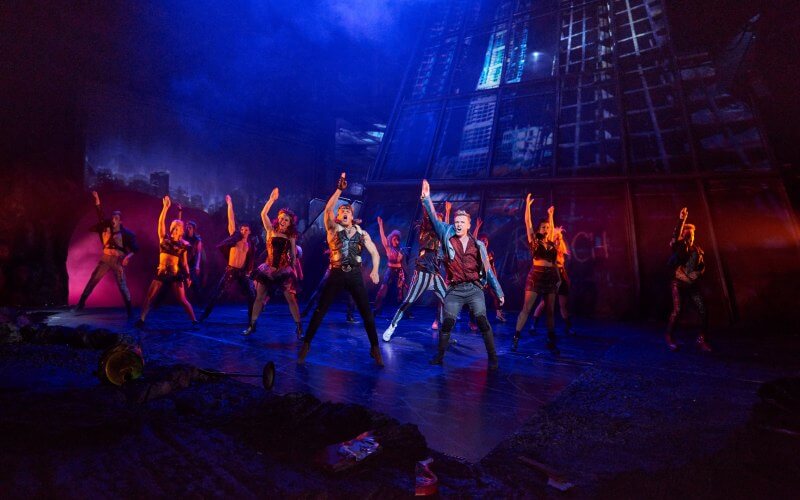 IT'S ALL COMING BACK TO ME NOW: The choreography wows throughout Bat Out of Hell
At first it takes a little getting used to because there is so much else going on at the same time your eyes don't know where to look, but you soon get tuned into it and it really adds something unique to the whole show.
The screens are also used for backdrops and graphics and one scene involving a motorbike made the whole crowd gasp.
The space around and below the stage is also used to full effect and even the orchestra get involved with their own comedic moment.
The show is imaginative, fast-paced and full of hit songs, there really is nothing not to like. And it leaves you asking one question – On a hot summer night, would you offer your throat to the wolf with the red roses?