J.K. Rowling and an American mom walk into a bar.
Their friend, a Men's Rights activist disguised as an SNP politician is, fittingly, holidaying in the highlands, and unable to attend.
Two parts of theatre trio Horseplay are here to talk about their show, in which they band together to staunch the rise of Milosz; the one-time Eurovision winner who is now the fascistic, de facto leader of the European Union. This is Witch Hunt, and clearly, there's a bit to unpack.
When not performing, the trio go by more conventional monikers. Kathy Manuira, 23, Derek Mitchell, 26, and the holidaying Alistair Inglis, 27, were brought together while studying at Oxford University, and have been performing their biting character comedy ever since.
Their latest show, Witch Hunt, has been tweaked and reiterated through trips to the Edinburgh Fringe and has now arrived in south west London, ready for shows in Barnes and Wimbledon.
The cast list – which extends to as many as six characters per person – and story suggest a script supercharged with political bite.
"In between our first script and our re-write, a lot happened," notes Kathy, putting it mildly.
Brexit, Trump, #MeToo and more have exploded onto the political scene in the last two-and-a-half years, making it unsurprising that the show at least nods towards these unfurling events. The focus, though, is on making people laugh.
"I don't think you come out of the show thinking 'I need to do X', or 'I've changed my position', it's more a case of 'well, isn't this ridiculous'," suggests Kathy, "It's meant to be fun, it's meant to be silly."
"What we do is less, direct commentary on issues as much as we're just really interested in conflicting ideological positions," explains Derek.
Accordingly, the characters chosen are taken to their nth degree. Witch Hunt's J.K Rowling is "very much a boozy, middle class twitter activist," explains Kathy, stemming more from the 'pashmina-wearing' women she has met than from the author herself.
Alistair's SNP politician, too, is only 'kind of' an impression of Nicola Sturgeon. This isn't the world as it is, but rather a world taken to its extremes.
The desire to stretch reality and laugh knowingly at the 'weird contradictions' we all have makes Witch Hunt an absurdist dream. If the show's actors are anything to go by, it promises to be astute, perceptive but above all hilarious.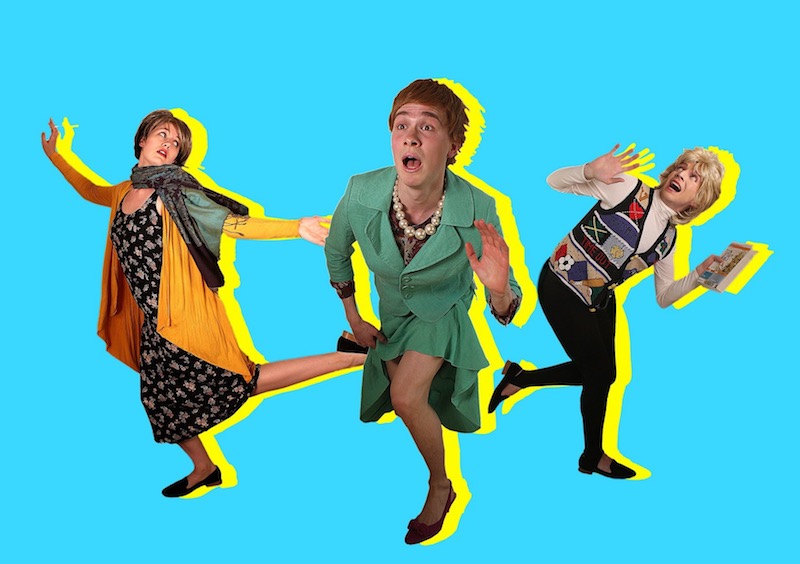 ABSURD: The trio aim to make people laugh, and reflect on the ridiculousness of the world.
Though missing the nominal 'uncle' of the group, Alistair, the pair present are able to dance between big themes and animated anecdotes with ease. They've clearly had fun shaping these characters, and they're confident that audiences will feel equally engaged.
The three members are alumni of the Oxford Revue, the institution which has provided, alongside the Cambridge Footlights, the fifty-year foundation upon which the British comedic establishment perches.
The group are mixed on the impact of this legacy, especially when relating it to their experiences of another comedic institution; the Edinburgh Fringe.
"Every generation of the Oxford Revue has the same experience. Yes, it will pull you audiences, it sells tickets, people trust the name. But, that being said, they may not be the audiences you necessarily want," states Kathy.
"What the Revue and Footlights always get is usually older people who will go and want to see Monty Python."
Though Witch Hunt may have an absurdist affinity with Python, the troupe look more readily to The Mighty Boosh and Catherine Tate as major influences. Derek, who was raised in the US, also cites a steady diet of Saturday Night Live and Seinfeld.
The pair are equally enthusiastic about the changing face of comedy not just in the UK, but internationally.
"There are so many exciting voices coming from places besides Oxford or Cambridge," muses Derek, "more than ever the comedy which people consume has an international character."
The rise of podcasting and streaming platforms have helped to democratise the medium, allowing newer voices to challenge the parameters of conventional comedy.
But what about the claims of political correctness gone mad, or the undue influence of the 'snowflake' generation?
The pair are optimistic about the way in which changing social rules have affected their own comedy.
"I think you have to work harder but it's not at all restrictive," Kathy suggests.
"When you look at twenty years ago and what passed for ok, thank god we're working harder now," adds Derek.
The pair detail an ill-fated trip to an open mic night where the performer started detailing his wife's misgivings.
Kathy laughs: "It's boring. Try harder. Take the piss out of your wife if you want but say something more interesting than 'she's a nag'."
You'd struggle to conclude that the members of Witch Hunt need to work harder. Their energetic show promises both a respite from day-to-day problems and an opportunity to laugh heartily at the big things, too.
For now, J.K. and her star-spangled friend have to flyer the people of Barnes.
Witch Hunt will be performed at the Barnes OSO Arts Centre on Friday 25 and Saturday 26 January. It will also be coming to the New Wimbledon Theatre on Friday 8 and Saturday 9 February. More details, including booking information, can be found on the group's Facebook page.