The tale of a nerdy florist shop assistant who nurtures an exotic plant by feeding it human flesh was brought creepily to life by X-Factor star Rhydian in Wimbledon last night.
The X-factor 2007 finalist stole the show with his portrayal of Orin Skrivello, a sadistic woman-beating dentist, who brilliantly sang about his obsession for causing pain to others.
He did a superb job of bringing the dark humour of his character to life with close connotations to the 1986 film version starring Steve Martin as Orin.
Rhydian went a step further by playing other smaller roles, after Orin is incapacitated by an incident involving laughing gas, which showed off his wide vocal range and his ability to diversify his acting skills.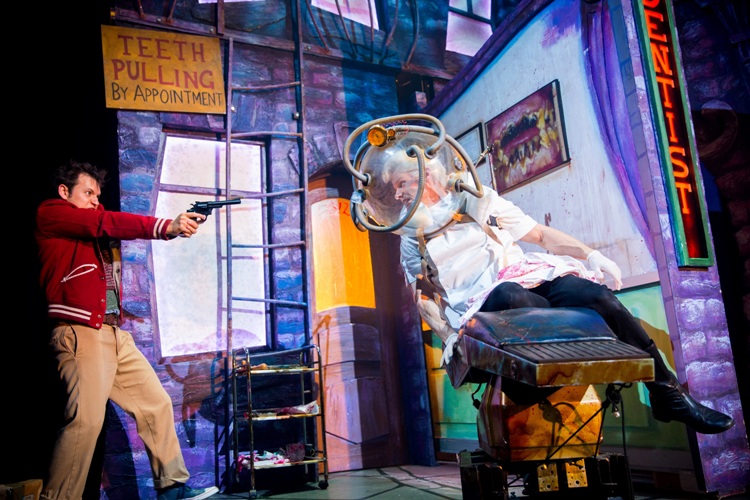 Rhydian's sadistic dentist faces off Sam Lupton's Seymour in the creepy, camp classic
The show opened with the classic song Little shop of Horrors sung by the chorus and immediately took us back to 1986 with the style of clothes, the hair and the colours.
The chorus did a superb job of conveying the story to the audience and allowed transitioning from scene-to-scene to be a smooth and natural process.
The main role of Seymour, played by Sam Lupton, managed to encapsulate the character's vulnerability as a young boy from the foster care system.
This created a sense of pity from the audience towards Seymour and we were instantly on his side wanting him to win the affections of the lead girl.
The girl in case, Audrey, played by Stephanie Clift, is a ditsy blonde with appalling taste in men.
Her character was very similar to the film version which limited her acting range, the role was more a pastiche of the movie and didn't allow room for a fresh interpretation or invention.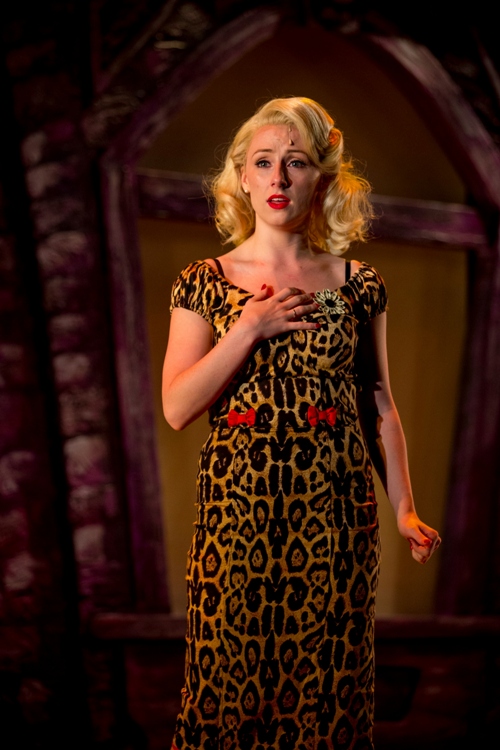 Unlucky-in-love Audrey meets her ghoulish namesake
There were undertones of Jewish humour from shop owner Mr Mushnik, played by Paul Kissaun, but relied too heavily on the caricature in order to gain laughs which at times were unsuccessful.
Traces of cultural stereotypes were depicted in small ways but this could have something to do with the date the original film was released in 1960 where cultural disparities were clashing with mainstream ideologies.
Little Shop of Horrors went down a storm at the New Wimbledon Theatre on August 23 ending with a huge standing ovation.
Pictures courtesy of Matt Martin / New Wimbledon Theatre, with thanks