When the organisers told me that this was a "tribute to" George Michael rather than a tribute act I was dubious, but my opinion of tribute acts has now been completely changed.
The George Michael Story is the ultimate tribute to the late best-selling artist. It is comprehensive, respectful and most importantly fun-filled. Going chronologically from Club Tropicana all the way to Amazing, you go on a George Michael journey through the ups and downs of his long career.
Steve Mitchell, the South Western Railway train guard who takes on the mantle of George Michael, sounds uncannily like him and the attention to detail is very noticeable.
For the big Faith solo he comes out wearing the famous Revenge leather jacket, light-wash blue jeans and earring and then mimics the music video to much cheering and whooping from the audience.

From the first song, Club Tropicana, people are already on the dance floor which for British people is unheard of. The numbers only swell as we progress through the Wham! period, with the dance floor heaving as people jive to Wake Me Up Before You Go Go. There is a real sense of joy as middle-aged mums, teenage children and thirty-something couples sing the hearts out under the disco lights.
But as we progress through George Michael's impressive discography there are real moments of reflection, and even sadness. Couples slow dance on the dance floor to A Different Corner and I see one set of female friends with their arms round each other crying to Jesus to a Child.
The show seems to be a form of catharsis for George Michael fans young and old. From those who grew up with Wham! to those who rocked out to Freedom! '90.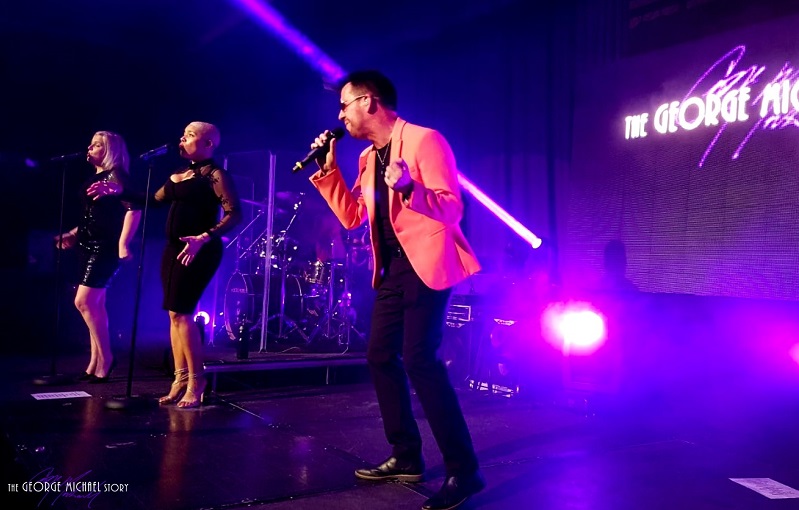 Steve Mitchell is obviously a huge fan and peppers the show with anecdotes about the artist showing that he really knows the source material and even holds a moment's silence for the artist before the encore.
Throughout the performance the screen at the back to the stage shows music videos, news segments and interviews with the artist, placing George Michael at the heart and centre of the show. 
There is also a dedication to the late Aretha Franklin when extremely talented and soulful backing singer Ray Estaire joins Steve to sing I Knew You Were Waiting For Me. The rest of the band also elevate the performance, with Sam Adams saxophone solo for Careless Whisper taking everyone's breath away.
A real celebration of his life if you are looking for a Flawless and Amazing George Michael experience then look no further.
For more information, go to: https://www.thegeorgemichaelstory.com/
Set List:
Club Tropicana
Wake Me Up Before You Go Go
A Different Corner
Edge of Heaven
Knew You Were Waiting For Me
Faith
Father Figure
Freedom 90
Too Funky
Jesus to a Child
Fast Love
Spin the Wheel
Amazing
Don't Let the Sun Go Down
Somebody to Love
Last Christmas