Comedian Mark Thomas's latest show at Battersea Arts Centre takes a deep dive into the NHS, exploring what's going right, what's going wrong and what the future holds.
Mark Thomas is 56 – that's 14 years younger than our National Health Service, which is due to celebrate its centenary in July 2048.
That is, if it's still here.
Checkup aims to generate conversations around the nature of health and healthcare, and speaking to Mr Thomas, he could not be more impassioned about the subject.
After spending a month on residency with four NHS hospitals in West London, he shadowed doctors, nurses and consultants to immerse himself in the unwieldy political beast of the NHS.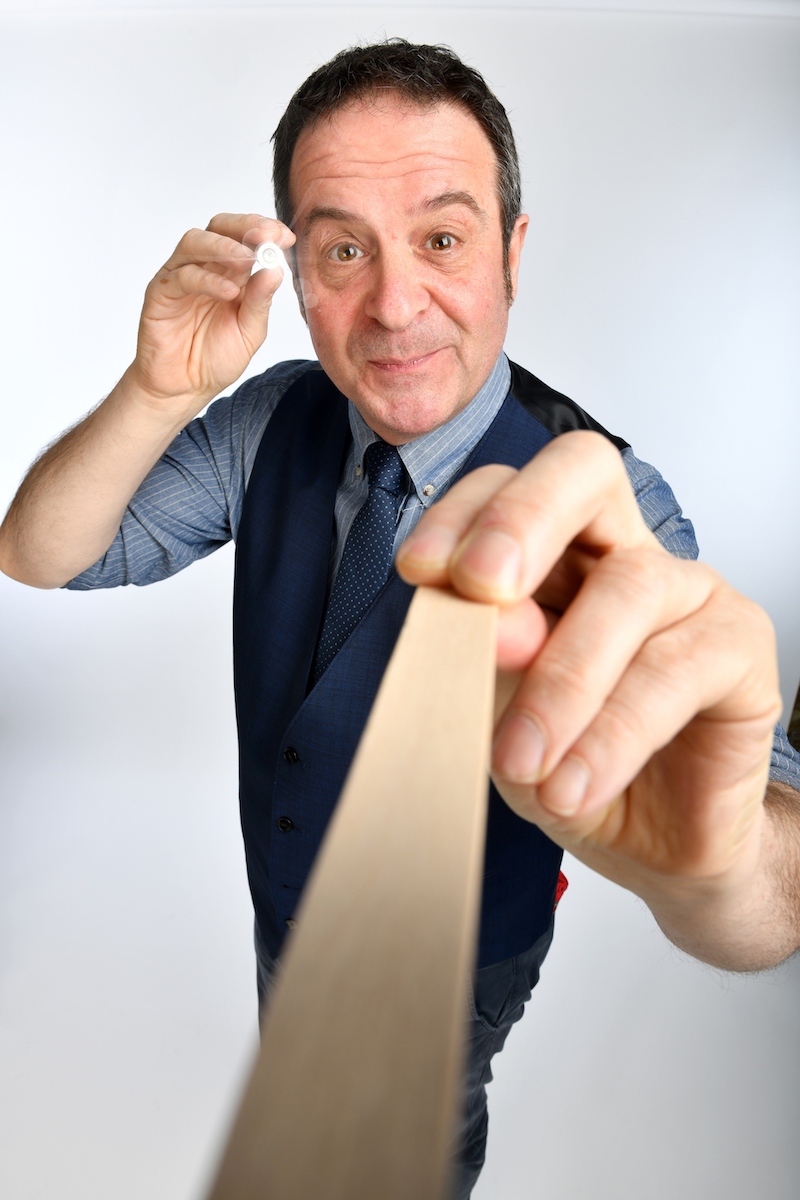 JUST WHAT THE DOCTOR ORDERED:  Mark Thomas's new show explores the NHS. Photo credit: STEVE ULLATHORN
He said: "I observed stuff from an evening in the major trauma unit through to spending quite a lot of time with the dementia team.
"You go from crisis driven moments when everyone is moving in this incredible machine to keep their fellow human beings alive, to witnessing an incredibly thoughtful and caring unit of nurses whose job it is to improve the quality of someone's life through every possible measure they have."
He added: "The dementia nurses are sort of my heroes really!"
He also undertook a series of public interviews with academics, practitioners and politicians about the state of the NHS.
First of all, Professor Michael Marmot – one of the world's leading experts on health differentials – explained why some people have good health and other people have bad health.
Mr Thomas said: "The whole thing was a massive learning experience. Bad housing, illiteracy, bad diet, unemployment, job insecurity and anxiety – I learnt these things can all determine our health and life expectancy."
And so, health inequalities exist outside of the NHS.
Such insights are interwoven within Mr Thomas's own state of demise; he spent an afternoon with a GP going through everything which could go wrong with him at this point in his life, and might send him into the arms of the NHS.
Aided by director Nicholas Kent, Checkup is above all a reflection of this meticulous research, the stories heard and an accurate immersion into the political reality of the NHS – which is currently short of 90,000 staff.
Mr Thomas said: "It's an overview of the NHS and I'm really, really proud of that. At one show we had 50 junior doctors in the audience; I spoke to their lecturer afterwards and she said thank you, it's really important they get to see an overview.
"That's the most exciting thing – meeting people who are in the NHS or have been in the NHS, and say the show is accurate. Our job is to reflect the state of the NHS and public health."
Mr Thomas recalls his grandmother telling him of life before the NHS, when their family would save a penny a week for funds for a doctor.
"We need to be seized of the magnitude of the work which the NHS does. We can no longer just think it will always be there – we actually have to fight to keep it," he said.
And it seems like people are taking notice.
Mr Thomas has been invited to perform Checkup in front of the Department of Health by the chief medical officer of England, Dame Sally Davies.
He added: "You won't have seen a show like it – it will move you, make you laugh, make you cry and make you think. It's got everything!"
Mark Thomas's Checkup: Our NHS @ 70 runs at Battersea Arts Centre from 23 April to 4 May.