Knowing very little about Epic Love and Pop Songs when I walked into the New Wimbledon Theatre Studio, I can't say I wasn't mildly taken aback as the cast burst into a rendition of Katy Perry's Firework at the end of the opening sequence.
I had been warned – a songlist including hits from Madonna, Sonny & Cher and of course Beyonce was tucked inside the programme. Plus, well, it was in the title. But it still somehow came as a shock.
First performed as part of the Edinburgh Fringe Festival, Epic Love and Pop Songs is a two-hander about teenagers Doll (Georgie Halford) and Ted (Roel Fox).
Doll is a disaffected schoolgirl and self-proclaimed freak who tells the audience the story of her friendship with Ted, an idiosyncratic and submissive boy still affected by a traumatic experience in his past.
No matter how involved Ted becomes in the narrative, Doll reminds us repeatedly that this is her story. But is it really?
Increasingly dramatic reveals underscore growing tensions and threaten to break apart the characters' friendship.
Written by Phoebe Eclair-Powell, the script packs a lot of story into a compact 70 minutes, making for an engaging show that never outstays its welcome and balances comedic and dramatic moments deftly.
This performance was staged by Tiny Wife Productions and directed by Samantha Robinson, who keeps what could easily have become a fairly static affair dynamic throughout.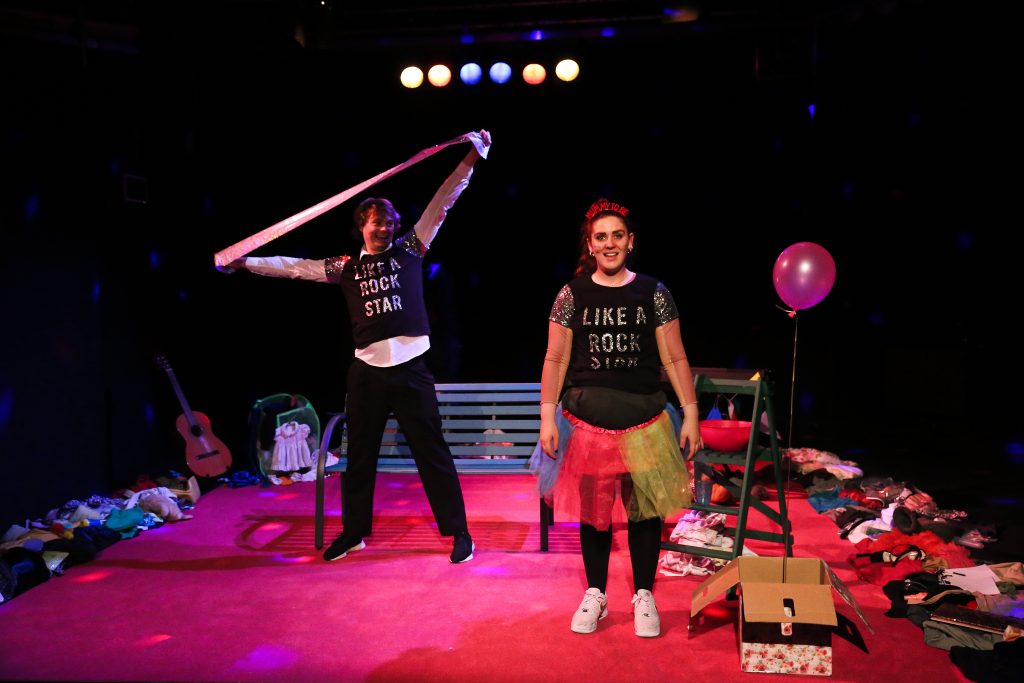 The story is almost entirely told through direct addresses to the audience, with Ted taking on other characters in Doll's story at her command. 
This does make the piece feel intimate, as the characters invite us in on their most scandalous secrets, but can occasionally lessen the dramatic effect.
The distance between Doll and Ted's past experiences and their present selves telling the story sometimes makes it hard to lose yourself in the most emotional beats.
Both actors are on stage together for the vast majority of the show and Halford as Doll is captivating and impressive in a challenging role.
Doll treads the line between sympathetic and petulant, with Halford's impeccable comic timing and convincing emotional range selling you on both.
However, it's Fox who's the real standout, making Ted an uneasy presence and keeping you on your toes. Is Ted quirky, pitiful or maybe even slyly dangerous?
It's these greys in Fox's performance which make it so enthralling, while his musical showmanship speaks for itself.
Jumping between instruments and utilising an impressive vocal range, Fox makes it all look easy, while the only original, and best song in the run, She's Gone, was his own composition. His is surely a serious talent to keep an eye on.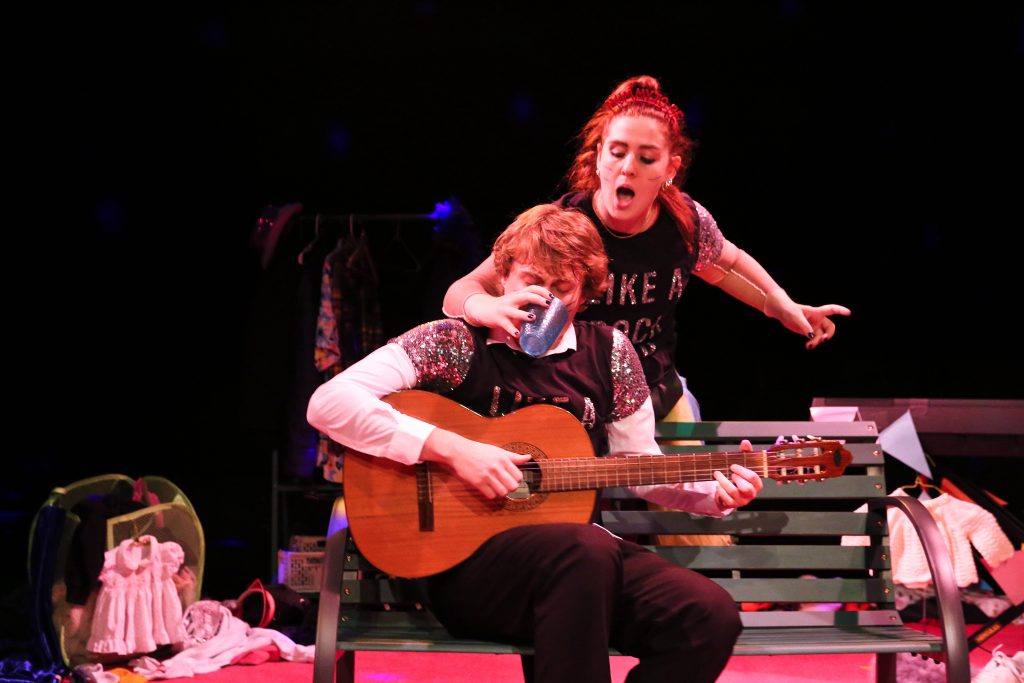 And so of course, we turn to the titular Pop Songs – there's no denying that the show must live or die on its riskiest gambit, one which in practice delivers mixed results.
For each song which feels like a natural bedfellow with the story beats and themes, illuminating them with warmly familiar refrains, another jars and diminishes otherwise impactful moments.
I Got You Babe and Titanium are particular highlights, with inspired, stripped back arrangements and efficient story placement. In contrast, Mika's Grace Kelly and Gotye's Somebody That I Used To Know fall somewhat flat.
The vocal performances are strong throughout, particularly considering how many of them are performed with only minimal backing, but despite what their name suggests, the inclusion of pop songs feels sure to be divisive.
It's not a difficult stretch to imagine these songs punctuating the emotional ups and downs of British teenagers as they try to make sense of the world, but any justification given to the inclusion of some of the songs can at times feel thin.
One element hugely working in this performance's favour is its space – it's hard to imagine anywhere better suited than the New Wimbledon Theatre Studio. A 50-80 seat black box theatre with bench seating, attending the show can feel like you're back at school, watching the most incredible and bizarre PSHE assembly ever delivered.
Stage dressing felt largely practical, with unexplained objects and clothing strewn across the stage seeming to mask the strategic placement of instruments.
It's only when Fox picks up the ukulele or sits behind the keyboard that you fully take note that they have been there all along.
A park bench in the centre of the stage is constructively utilised but occasionally feels incongruous, while teddy bears and baby clothes dotted around subtly yet effectively lay bare one of the key thematic and plot elements.
Epic Love and Pop Songs is an impressive and above all fun night at the theatre, a swing for the fences that doesn't always hit, but never fails to engage.
No matter your feeling about the pop songs or their placement, two powerhouse performances are sure to pull you in and leave you captivated throughout.
Epic Love and Pop Songs ends its five day run at the New Wimbledon Theatre Studio on 23 October, with its final performance starting at 7:45pm. You can get tickets and find out more here.
Featured image credit: Natalya Micic