A new production of Henry V promising war, authentic swords and fresh female perspectives opens tomorrow in Twickenham.
The play is being staged by the Richmond Shakespeare Society at the Mary Wallace Theatre.
Shakespeare's Henry V chronicles the English triumph at the Battle of Agincourt, exploring themes of war and kingship.
With King Charles III's coronation next month and the continued war in Ukraine, society chairman Simon Bartlett called the similarities coincidental.
Bartlett said: "War is back in Europe again; war is in the headlines and in our minds. It just shows how timeless these plays are."
However, the new production is far from jingoistic. Richmond Shakespeare Society has committed to using authentic swords, which are heavy and sharp.
The realistic fight scenes choreographed in rehearsal suggested no interest in romanticising conflict.
Women in war
This production also looks beyond the battlefield to explore the treatment of women.
Shakespeare added few female characters to the original play, but director Francesca Ellis divided the chorus lines among women.
Chorus member Deborah Campbell said: "we're giving extra insight into what it's like to be left behind in war, what it's like to be a bargaining chip in war."
Princess Catherine, originally a minor character, was added into more scenes as a silent figure.
Bartlett said: "A silent presence can be just as telling as a vocal presence. This is a patriarchal court and she's not given a role within it, which is quite telling in its own right."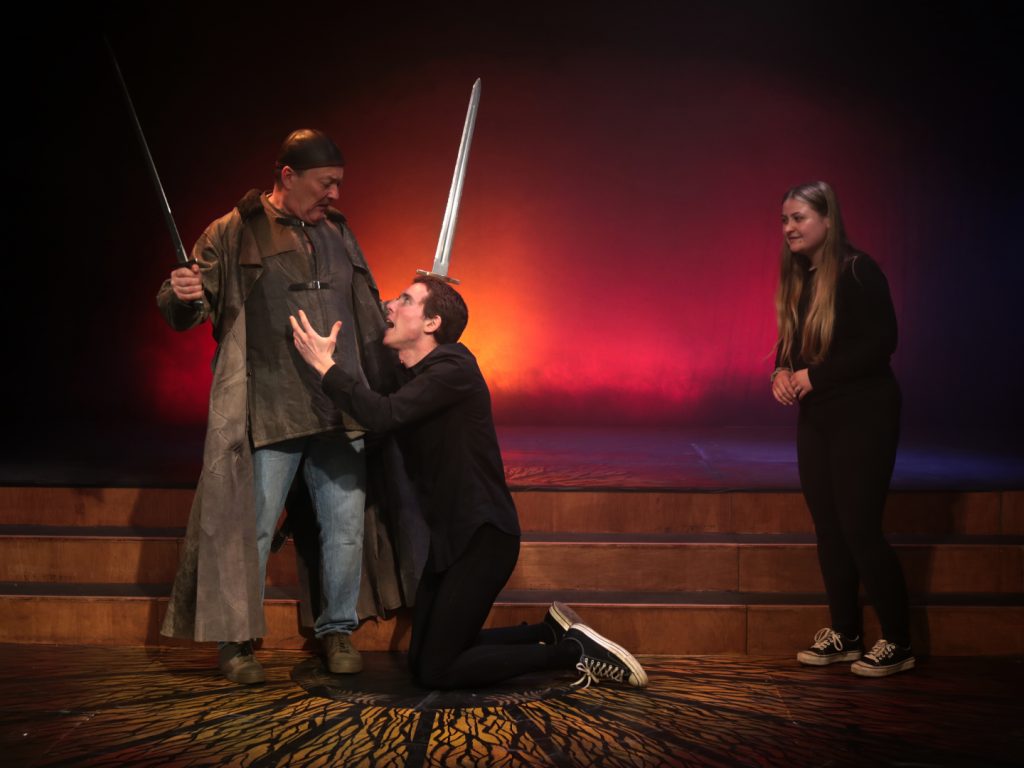 A history of reinvention
This is not the first time the Richmond Shakespeare Society has shown a knack for reinvention.
Founded in 1934, the society rescued what would become the Mary Wallace Theatre from demolition in the 1970s.
Having served as everything from a scout hall to a soup kitchen, the society breathed new life into the building. It was officially reopened by the future King Charles in 1981.
Henry V will run from Saturday 22 April to Saturday 29 April.
Tickets can be bought online, or by phoning the box office at 07484 927662.
Featured image credit: Photographer Pete Messum (C) Richmond Shakespeare Society