In a flourish of glitter, snow, song and dance, pantomime has returned to the stage in the form of Cinderella at Richmond Theatre.
After a year that could reasonably be described as pantomime-ish, it's refreshing to see the over the top theatrics, occasionally crass jokes and confusing parties kept to the stage.
And, in a year where it's been incredibly difficult to get into the Christmas spirit, a return to a British festive staple feels like just the answer.
I have to admit that I think I had seen a grand total of one pantomime in my life before this one (I blame my parents for this educational misstep).
So my expectations for the show were limited to the likes of "He's behind you!", a lot of slapstick and the typical fairy tale tropes.
Cinderella delivered on all fronts, but with a sparkling Anton du Beke making his panto debut as Buttons thrown in the mix, and a lot more modern references than I expected.
The Strictly Come Dancing nods are sprinkled throughout, starting off right from the start in the usual pre-show reminder not to use your phones, something Du Beke told us was "Strictly prohibited".
He then gives the audience some feedback on their "oohs" and "aahs" — we started off with a shiny gold 5 on the judge's paddle but quickly made our way up to a 10.
Admittedly, the audience's involvement throughout was probably closer to the 5 though, and at times it was clearly a struggle to get everyone involved.
Maybe that's because we've all forgotten how to interact with even people we do know, let alone hundreds of people in a full theatre.
However, the show seems to drag at moments, with the first half running a little long and the second rather rushed, and children and adults alike were prompted to be a bit more boisterous in our responses more than once.
On the whole, however, Du Beke shone with charisma and covered up some first show fluffed lines well.
His singing and acting are far from the best on stage, but he proves himself to be King of the Ballroom — I only wish he had more opportunities to lean into his Fred Astaire-esque charm in a few more big dance numbers.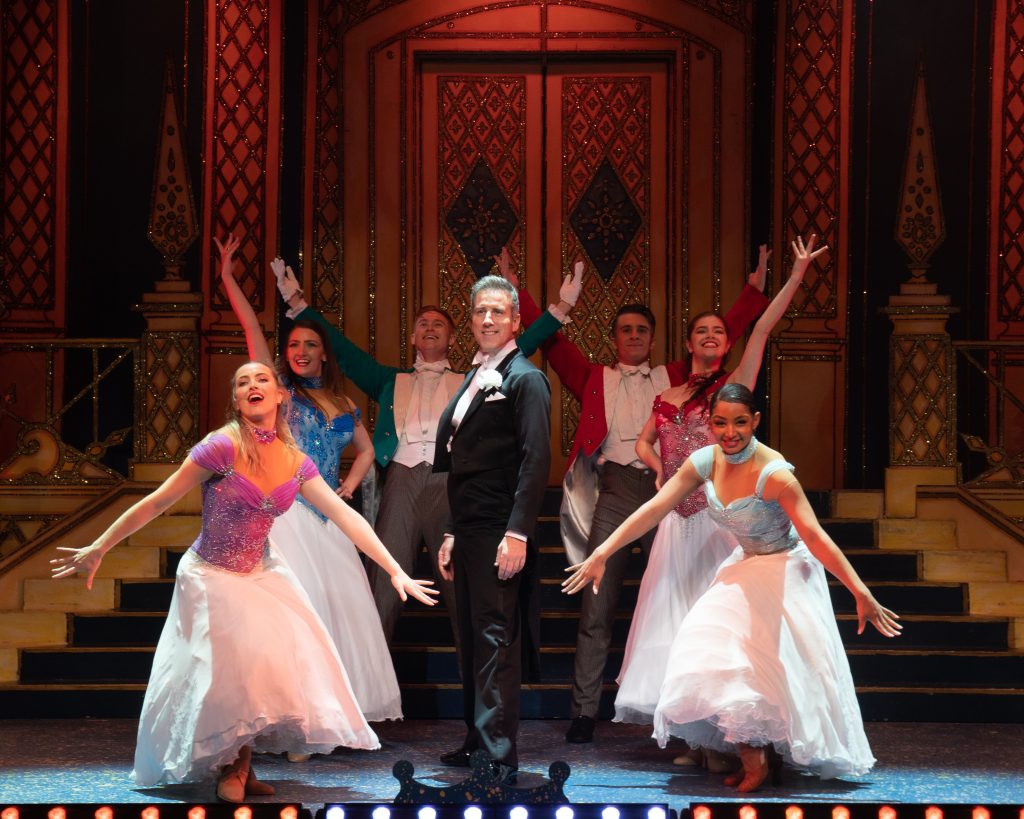 Stage legend Rosemary Ashe sparkles as The Fairy Godmother, complete with glittering gowns, operatic vocals and a mini explosion with every entrance.
Likewise, Oonagh Cox and Edward Chitticks perfectly fit the bill for a Disney-like Cinderella and Prince Charming.
Chitticks plays the part of dashing Prince well, with some classic boy band moments thrown in for good measure, but doesn't have quite the same chance to shine comedically as Jonny Weston does in the part of sidekick Dandini.
Cox sings and dances beautifully as the downtrodden Cinders, but I don't think she has a chance to fully show off, with no real backstory and the slower, sadder numbers.
The real stars of the show are undoubtedly the ugly stepsisters (who for some reason aren't called this in the show) Beatrice and Eugenie, played by Darren Bennett and Bobby Delaney.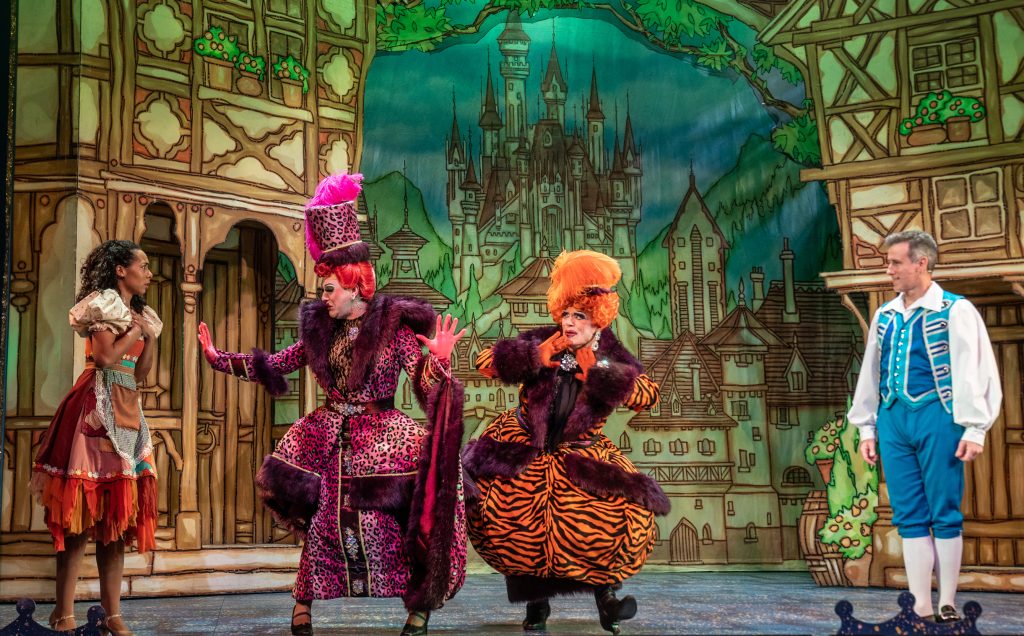 In lieu of an evil stepmother, the two have full comedic control of the show, in an incredible array of costumes courtesy of Costume Construction and Mike Coltman.
I counted at least seven costume changes throughout the show, each more extravagant and garish than the last, with hats that could rival the real Princesses'.
Their quick wit and humour outshine everyone else on the stage, particularly in a well executed 'Alexa' skit.
I'm not sure I needed to see Du Beke twerking to Salt-N-Pepa's 'Push It', but the rest of the rest is very clever and funny.
It has the whole audience laughing to a number of jokes interspersed between pop songs that are obvious enough to make the adults laugh but PC enough to keep the children happy too.
The ending of show is a bit rushed to get into some birthday shoutouts and a rendition of 'The Twelve Days of Christmas' that is funny until the five toilet rolls and then drags a bit, but is rife with enough Richmond references to keep the audience laughing.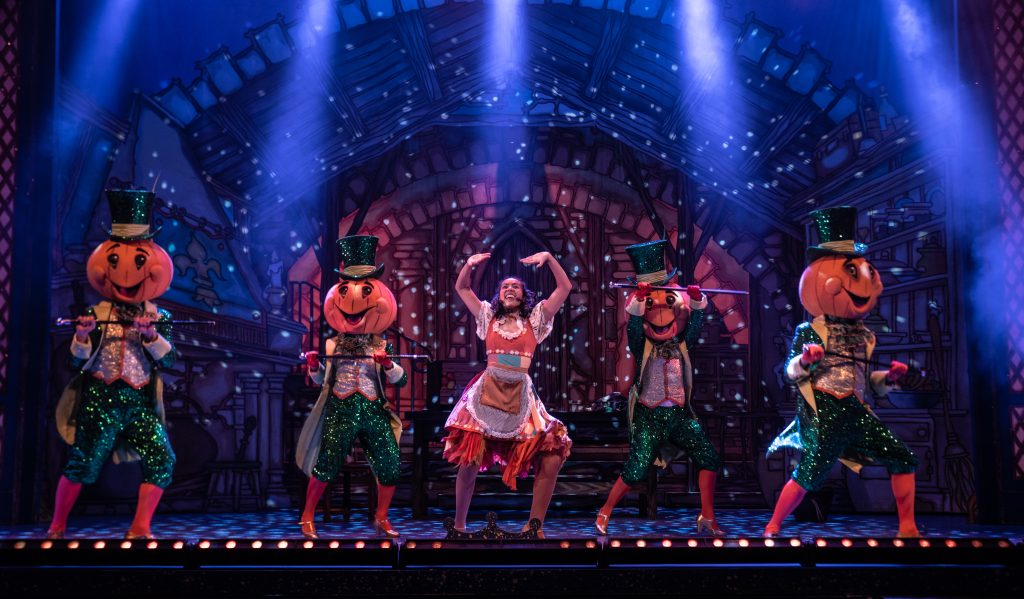 We then rush off to the ball for what should be a big wedding, but instead has the whole cast in one final costume change — for some reason, a vibrant orange — for the bows and nothing more.
This is a bit of a disappointment compared to the spectacular end to the first half, which features two live ponies on stage and snow falling over the audience.
More of this magic in the second half would have been the icing on the cake, but this by no means lessens the festive joy that comes along with this classic pantomime.
The show runs until 3 January 2022, with tickets from just £13 but with low availability across all dates, so don't wait to book your tickets here.
Photos courtesy of Craig Sudgen.