Inflatable lobsters, porn and vacuum cleaners all make an appearance in a rare exhibition of Jeff Koons artworks owned by British artist Damien Hirst, which opened in Vauxhall on Wednesday.
The show, Now, is at Mr Hirst's Newport Street Gallery and is the first UK solo exhibition by Jeff Koons, American artist and Lady Gaga collaborator, since 2009.
It includes two racy oil silkscreens from 61-year-old Mr Koon's explicit Made In Heaven series which feature him posing with his then wife, former Penthouse model Ilona Staller, aka La Cicciolina.
Mr Hirst, 50, said: "The thing I love about Jeff's work is that it's contemporary, it's here, it's today."
He added that he first saw Mr Koon's artworks as a student at Goldsmith's College and has loved them ever since.
The exhibition, which spans 35 years of Mr Koon's career, was curated by both artists and they said they feel their selection best reflects Mr Koon's career.
Among the 36 paintings, sculptures and paper works on display is Balloon Monkey (Blue), a towering work from Mr Koon's Balloon series, which famously includes Balloon Dog (Orange).
This artwork sold at Christie's, New York, for $58.4 million in 2013, making it the most expensive work by a living artist sold at auction.
Fouad Kanaan head of Murderme Collection – the 3,000 plus collection of art works which Hirst has acquired since the late 1980s – said: "I think Jeff has transformed the way people look at art."
"He's taken the everyday and made it into such a wonderful, beautiful thing to experience and look at," he added.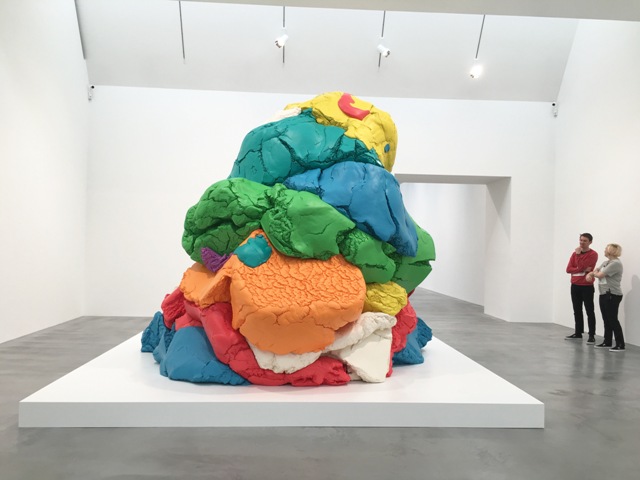 PLAY-DOH: Koon's oversized sculptures dwarf gallery visitors
Mr Hirst's Newport Street Gallery, a 37,000 square feet warehouse conversion designed by architects Caruso St John, opened in October to realise the artist's long-term ambition to share his art collection with the public.
He says that the decision to present long-running shows with free admission is inspired by his own experiences of visiting the original Saatchi gallery, formerly on Boundary Road, St John's Wood.
As a student, the artist would visit and revisit the Saatchi gallery over the duration of its displays – something he hopes students today will repeat at his own Newport Street Gallery.
Mr Kanaan said: "We're all very exciting about how well it's doing and how well it's been received by the public.
"The comments we hear from visitors on a daily basis is enough to make us proud. People are just happy that something of this scale is in Vauxhall, in south London."
"Admission to the gallery is free and the show runs for five months, people can come and enjoy it and return over and over again."
Jeff Koons, whose work was summarised by curator and critic Norman Rosenthal as 'manifestations of a joyful acceptance of American culture', was born in Pennsylvania, 1955. He now lives and works in New York.
In 2013, American pop singer Lady GaGa commissioned Mr Koons to make a nude sculpture of herself for the cover of her third studio album, ARTPOP.
The last major UK exhibition of Jeff Koon's work was Jeff Koons: Popeye Series at the Serpentine Gallery, 2009.
Mr Hirst, who first came to public attention in the 1990s as one of the YBA (Young British Artists), is best known for his artwork The Physical Impossibility of Death in the Mind of Someone Living – a 14-foot tiger shark immersed in formaldehyde.
In 2010 Sunday Times Rich List valued his wealth at £215m.
Jeff Koons Now is open from May 18 – Oct 16 2016 at Newport Street Gallery, Newport Street, London, SE11 6AJ.