A Wimbledon-based filmmaker is out to cause a little controversy with his latest release.
Director Matthew Tibbenham's Surviving Confession was released on major streaming platforms after nearly four years of seeking distribution and centres around a conflicted Catholic priest wrestling with faith.
It deals with difficult topics such as abortion, infidelity and the Catholic Church sexual abuse scandal with Father Morris, played by Clayton Nemrow, speaking openly to the camera and hearing confession from a number of unexpected characters.
Mr Tibbenham said: "I want you to leave the movie thinking 'did Father Morris make the right decision, what was his decision and what's going to happen afterwards?'
"The one thing I don't want is indifference. I wanted to make controversy one way or the other."
Production on the single-location comedy-drama film was completed in 2015, including a shooting schedule of just ten days in Los Angeles for an estimated budget of under $100,000.
The film was entered for festival exhibition but struggled to find success with major players such as Sundance and Tribeca.
It was eventually released to streaming platforms, and Mr Tibbenham said it should also be on its way to DVD and Blu-Ray.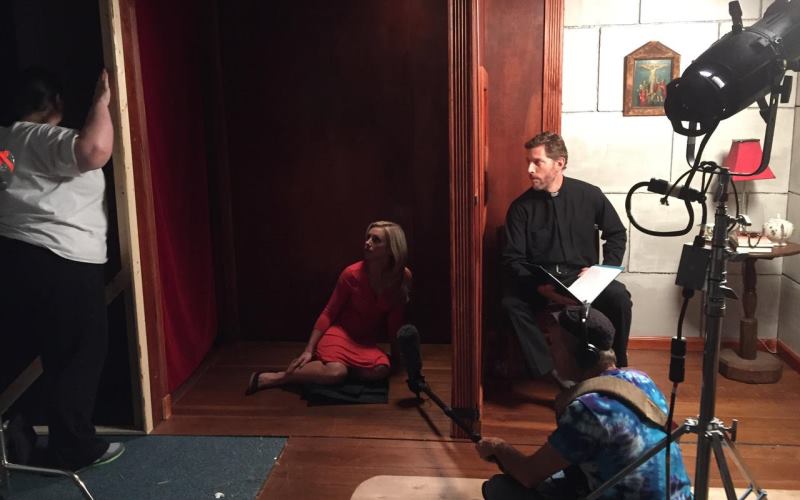 ACTION: Clayton Nemrow as Father Morris and Sarah Schreiber as Charlotte
The filmmaker began his career making independent shorts, and achieved professional success working as an assistant, second unit director and editor for Scott Derickson's horror film Sinister.
He added: "If you want to direct try to become a director's assistant.
"I was doing everything from getting coffee to going off to shoot the second unit and talking to Ethan Hawke!"
He has lived in Wimbledon for three years and plans to stay as he works on upcoming projects, including a war-horror influenced by Bridge Over the River Kwai and a Japanese horror written by Surviving Confession screenwriter Nathan Shane Miller.
Surviving Confession is available on Amazon Prime, iTunes and Google Play.