Polka theatre's current offering for younger children comes in the form of Jan Blake's In the Winter Wood – a masterful collection of stories grippingly and generously told.
The audience first meets Jan in the foyer of the theatre, where she coaxes children to the front of the group and gives a hint of how she will engross them for the next 50 minutes by leading the way in to the aptly named adventure theatre with the children hot on her heels.
The set is all stripped wood, paw prints and very (very!) realistic piles of poo. We're immediately transported to another land, with blankets handed out that we can snuggle under as we take our seats on the benches, and some clambering and climbing to make sure everyone can fit.
Jan tells the story of a group of farmyard animals who escape to the woods on realising they are going to be eaten for Christmas. We hear the story of how they build their new home, and are treated to the stories that hare tells them each night at the end of their work.
There are stories within the story, and within the story again, often offering gentle morals for the families present to dwell on and take away – such as the 'smile and the world smiles with you' message in the story of brave little possum.
But the audience are involved as well. There are call and response songs, and at one point we put on masks to become a pack of wolves.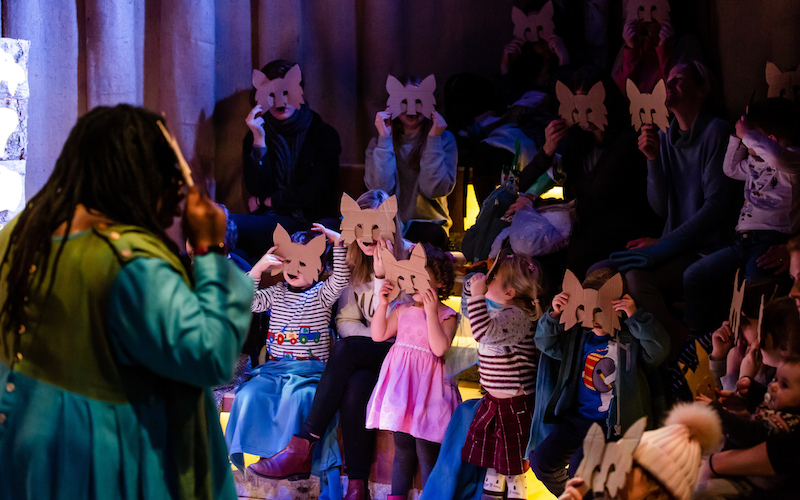 FACE IN THE CROWD: The audience is involved in the action. Photo credit: The Other Richard
We are in the action and essential to it, and even though we are taking on the role of the wolves – the baddies – it's clear that everyone is enjoying playing their own part in this adventure.
The design is beautiful and effective, with lights conjuring up the trickle of water and gentle snowfall. The whole of the set is used by Jan as an instrument as she goes about her rhythmic, entrancing storytelling.
The show is aimed at 3-6 year olds. Borrow someone else's child if you want to, but there's no need because this show really has something for everyone.
In the Winter Wood is on until 17 February. More information and tickets here.
Feature image credit: The Other Richard.