A professional quartet who play 19th-century instruments and wear Victorian clothing have raised nearly £2000 to get a free concert into care homes and hospitals.
Richmond resident and founder of Queen Victoria's Consort, Andrew Kershaw, 38, is accompanied by fellow professional musicians Robert Vanryne, Jeremy West and Sue Addison.
They all hope the streaming of the concert will encourage those separated from family members in care homes to watch it together via Zoom.
The hour long concert entitled 'Brass from the Past' features specially arranged versions of songs such as Rule Britannia as well as poetry and dance from the era.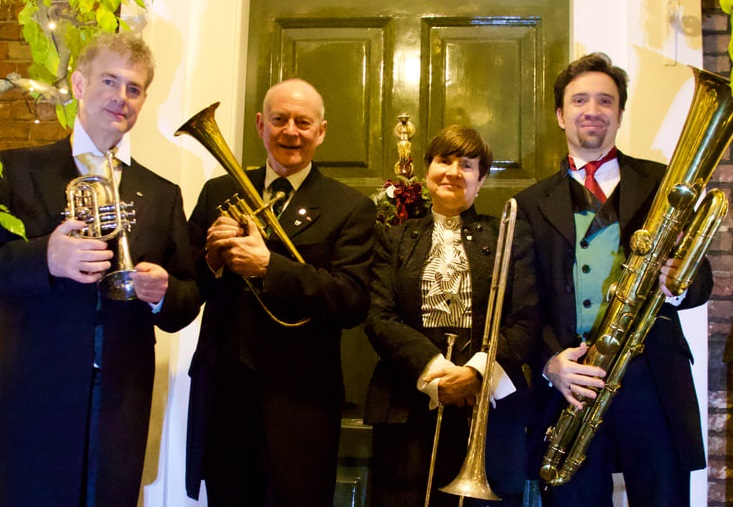 After being out of work and unable to receive government funding throughout the pandemic, the quartet brought their skillsets together and learnt how to record and edit audio all whilst maintaining two metres social distancing.
The quartet have had to rely on the generosity of others through fundraising site GoFundMe to pay for venue hire, filming equipment and travelling costs in order to make the concert free of charge.
Andrew said: "There are a lot of unbelievably good recordings of London orchestras who have brilliant brass sections.
"We try to do that, but also try to bring in the history, innovation, and the quirky nature.
"Some people are less interested by the music but they have never seen the instruments before, and this is why it translates to online viewing so well; we put on the costumes as it allows people to go back in time with you."
Having personal experience of a family member in care, Andrew is keenly aware of the positive effect music can have, encouraging those watching to sing along if they remember the words.
Consultant old-age psychiatrist Dr Benjamin Underwood commented: "Music is a really powerful medium for communicating with people living with dementia.
"Initiatives like singing for the brain from the Alzheimer's Society are beginning to reveal the benefits of singing together and we are currently researching the benefits of music therapy.
"This project gives those in care and their loved ones a way of still being able to enjoy music and is highly likely to bring benefits to their mental health.
"Andrew and his talented colleagues should be commended for having the imagination and drive to put this together."
The quartet now set their sights on receiving more funding to make future concerts, this time handing over the filming and editing to more seasoned professionals.
The concert is available to watch for free now and can be accessed through Queen Victoria's Consort website.
Featured image credit: Andrew Kershaw