Andrew Lloyd Webber's record-breaking 2015 Olivier award-nominated musical Cats is coming to New Wimbledon Theatre for one week only.
Based on TS Eliot's 'Old Possum's Book of Practical Cats' the mesmerising musical will grace New Wimbledon's stage with its legendary fusion of music, dance and songs from November 7-12.
One of the longest-running shows in the West End and on Broadway the legendary production is now embarking on a new tour into 2017 following its second return to stage last year.
Marianne Benedict, who plays Grizabella in the hit show, said: "The show is absolutely fantastic and I think it is in the best shape it has ever been in.
"I know it sounds cheesy but it really is an honour and a privilege to be a part of and even cast in such an iconic production."
Marianne joined the cast as the infamous ragged, old cat in May 2016 and has been on the heavily demanding tour with the aspirational team ever since.
"The cast work permanently hard and we do a minimum of eight shows a week plus rehearsals – it really takes over your life but in a good way because you have to live and breathe it," said the performer.
"Unlike other shows the make-up can take more than an hour sometimes to do so that is another hour you have to be in before rehearsals but it's worth it and incredibly rewarding."
The original creative team – director Trevor Nunn, associate director and choreographer Gillian Lynne, designer John Napier and composer Lloyd Webber – have reunited for the productions return.
"I knew the team and when the audition came through, I thought why not, I will pop in and say hello and sing my song but I never thought I was going to get it," said the singer.
"When I got the phone call to say I had got the job I was over the moon – it was a proper jump up and down phone my mum moment."
To some, playing another character and singing on stage is an incredibly daunting and difficult prospect but to play a cat on stage and convince the audience as well is another level.
"How to play a cat – now that is a good question. For me I was the most human-like cat because I wear those high heels and stand quite upright, but for the dancers – they really researched into how cats move," Marianne said.
"We all spent a lot of time with cats and looked at the nature of how they moved but to be honest it's more of a feeling, a belief and committing to it.
"You have to genuinely believe and completely invest yourself in it otherwise it would be a joke and the audience would see it as a joke."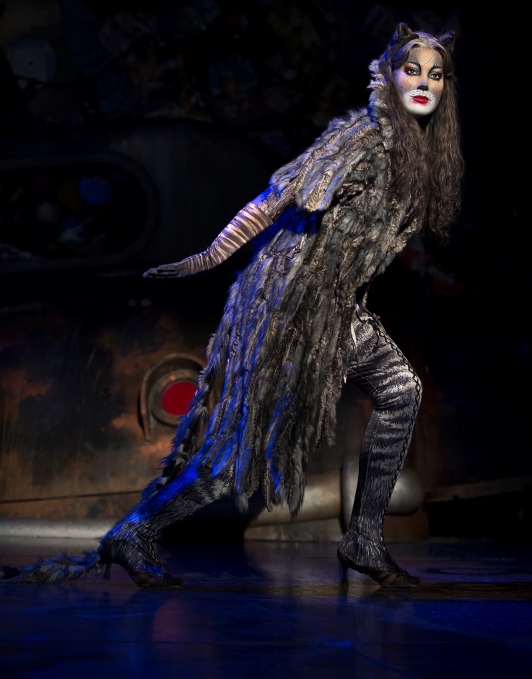 PAW-SOME: Marianne channeling her inner-cat
Among the captivating dancing and gripping song lyrics there is a story still to be told about forgiveness and acceptance.
Grizabella – an outcast after she left the Jellicle Tribe many years ago – spends her days lost in her memories of when she was young and adored reflecting on her 'memory' of a happier time.
"I was chatting to my husband last night and playing Grizabella is really one of the most high-pressure jobs I have done because of that song," Marianne said speaking of her solo song Memory.
"There are so many wonderful and talented actresses who have delivered that iconic song perfectly over the years that those are some pretty high heels to fill.
"It is such a gifted song to sing and I love it but those are some big old notes you have to nail and for some it is the song they came to see – for some it isn't just their favourite song in Cats but their favourite song."
The actress's mother deemed the starlet to be destined for the stage since before she could walk – putting on shows at home, dressing up and teaching herself how to play the piano.
"I think I was an annoying child really, always singing and dancing, but it's all I wanted to do and I absolutely loved it," said the Cats star.
"I joined all the singing, dancing and acting classes as a child before going to musical theatre at 17 when it got really serious."
Marianne graduated from the Arts Educational School of Musical Theatre in London with the Hammersmith Award for 'Most Outstanding Student of the Year' and has gone on to enjoy a very successful career.
With performances in The Wizard of Oz, We Will Rock You, Chicago and many more roles in various shows over the country the vocalist is looking forward to spending her first Christmas in ten years at home.
"I have just moved house with my husband and whilst enjoying an unusual week off I am still covered in paint – far away from the glamorous life," the performer said.
"I think is incredibly important to keep a healthy work-life balance and I know it sounds incredibly cheesy again but I really am blessed and happy to be in this profession."
Not one to gloat the memory singer has never set her heart on a particular part or a particular play but has just enjoyed the incredible luck she has had and opportunities she has been given.
"Meeting Andrew Lloyd Webber was incredible it was like I was living a dream from when I was a little girl but honestly I am a performer and if I am performing then I am happy no matter where the stage," Marianne said.
"It is so important not to set your heart on anything because in this industry you just get knocked back so easily and there are so many unemployed actresses out there."
Image of Marianne Benedict courtesy of Paul Coltas, with thanks
Featured image courtesy of Alessandro Pinna, with thanks