Alexander McCall Smith CBE is a literary legend for readers of a certain age, judging by the packed tent at Wimbledon BookFest's opening night on Friday.
The Scottish storyteller was on stage in conversation with journalist Jennifer Cox for the opening event and spent an hour making the rapt audience laugh.
The festival was founded by Fiona Razvi and Tony Kane in 2006 to bring literature to the community through not-for-profit talks and events.
"I've got quite fine antennae for pushy mothers and I felt, as I approached Wimbledon we were getting into twitching territory," the writer of The No. 1 Ladies' Detective Agency series wisecracked.
Mr McCall Smith used self deprecating jokes and witty anecdotes to modestly discuss his illustrious career and some of his much-loved characters.
It was the excessively pushy mothers of Edinburgh who inspired Irene Pollack, the mother of six year old Bertie, in his 44 Scotland Street series.
A Daily Express journalist suggested that Isabel Dalhousie, from The Sunday Philosophy Club series, should have an affair with her niece's much younger ex-boyfriend Jamie.
"She said it would be very empowering for your lady readers over 40," he remembered.
"So it happened and indeed I have a number of letters from my lady readers over 40 saying they were indeed empowered."
Mr McCall Smith's most popular books affectionately chronicle the everyday adventures of meddlers from Britain to Botswana, acting as welcome relief from life's harsh realities.
"There are an awful lot of people leading decent lives, leading constructive lives, feeling happy about themselves as well," he said.
"I think there's room for these more positive interpretations of the world as well as those that are bleaker."
The phenomenal success of The No. 1 Ladies' Detective Agency series shocked the novelist because it was only intended to be a short story.
The 14 volumes revolve around sassy agency owner Mma Precious Ramotswe's life in Botswana, and have sold millions of copies worldwide and been adapted for TV.
Mr McCall Smith passionately extolled the African country's virtues and said that its democracy and extraordinary moral tone had struck and intrigued him.
"I've never made any pretence of these books being anything other than a love letter to the country. I admire and love that country," he explained.
The writer co-founded and taught Law at the University of Botswana during the 1980s, co-wrote the country's only legal book and has visited annually for 30 years.
His latest book, Emma, part of a project to adapt Jane Austen's classics for modern readers, is out next month and he described it as a treat to write.
"I did think about transferring the whole thing to Scotland and putting it in Tobermory on the Island of Mull," he said.
"But I decided not to do that because I thought that would be an act of cultural misappropriation as Jane Austen is essentially a very English story."
It is set in 21st century Norfolk but McCall Smith was careful not to disrespect the original text as he believes Austen's stories are seminal in our culture.
By all accounts, the talk was a roaring success and even those dragged along by partners and friends were converted or at least intrigued by the author's charisma.
"I just love his books and I just thought he was brilliant. He's got a lovely sense of humour," said Frances Beale, a festival volunteer.
Her friend Tricia Wombell agreed and added: "He's writing quite light hearted books about a middle class community that actually does exist in places throughout the continent [Africa] and I think it's nice that he tells those stories."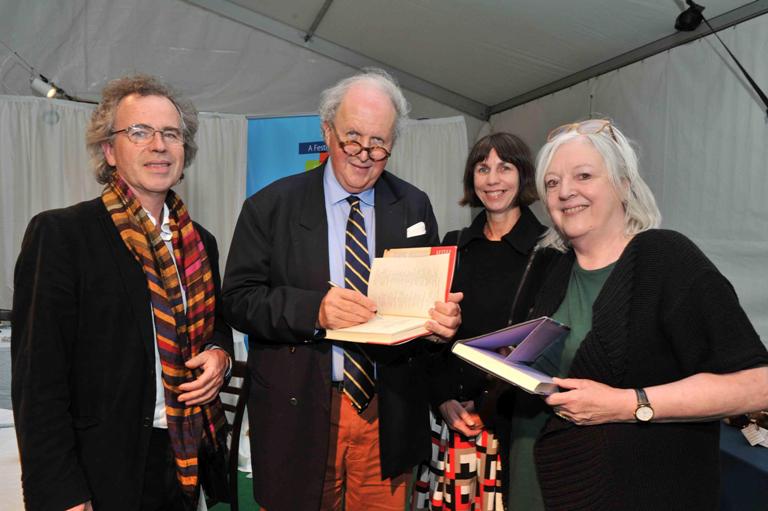 Like all great speakers, McCall Smith left his audience wanting more and happily signed books and met fans afterwards.
Festival Director Fiona Razvi said:  'I can't think of a better way to open than with Alexander McCall Smith.  He captivated the audience with his humour, storytelling and intelligence."
She continued: "This year our line-up is broader in scope with events for all tastes and we couldn't be happier with the way audiences are reacting."
The largely volunteer run project has grown from 1,000 visitors to over 7,500 and 6,000 school children attended last year.
Clare Balding and David Starkey will also be speaking at this year's Wimbledon BookFest, which runs until October 12 on Wimbledon Common and at other locations.
Visit http://www.wimbledonbookfest.org/ to find out more.
Pictures courtesy of Wimbledon BookFest, with thanks