Christmas arrived at the New Wimbledon Theatre with a unique performance of one of Charles Dickens' most renowned novels, A Christmas Carol.
The Dickens Theatre Company's rendition of this all-time Christmas classic, directed by Eric Richard, was sensational.
The superb cast consisted of just two actors, however their lack of performers was certainly not reflected in the quality of the production.
Both actors, Louise Faulkner and Ryan Philpott, aided the audiences understanding of the plot by switching seamlessly from characters to narrators, fully immersing the audience within the story by establishing a more light-hearted, conversational tone.
The company brought a sense of authenticity to the story by casting Louise Faulkner as Ebenezer Scrooge.
Despite this not being the typical appearance of Scrooge, Faulkner's countenance and performance did not falter as she delivered each line with a fixed frown on her face which could only belong to the notorious humbug character of Scrooge.
The physical transition of Faulkner's facial features after switching roles from the narrator back to Ebenezer Scrooge was enough to send a bleak chill around The Studio stage at Wimbledon.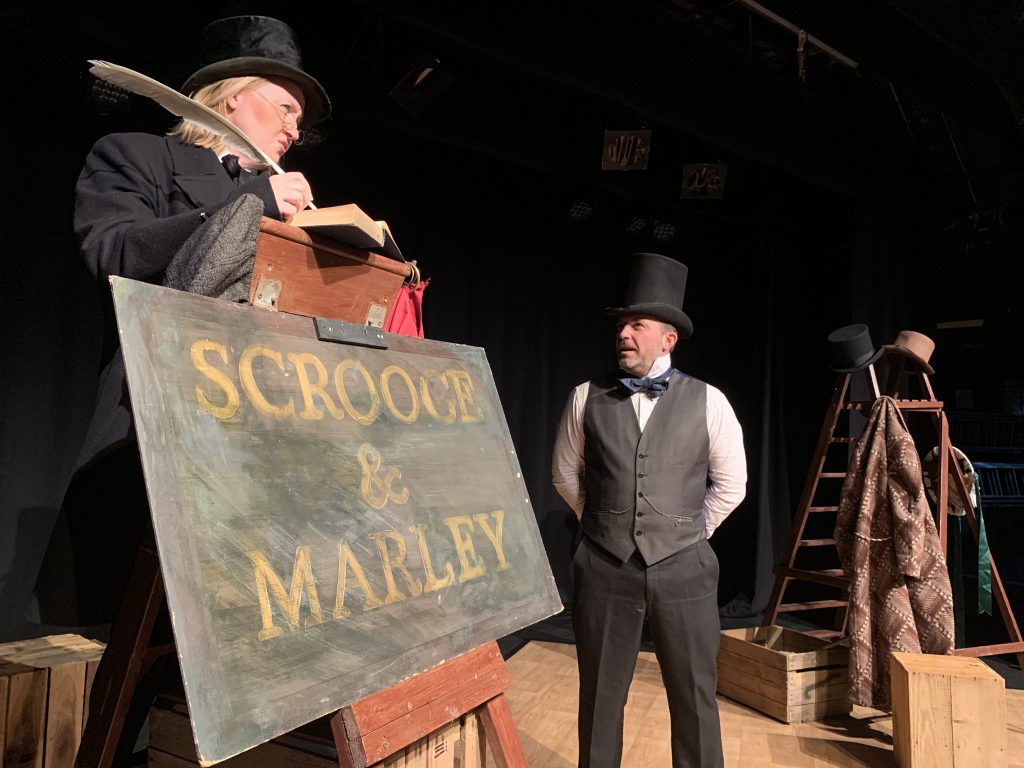 Philpott's ability to jump from character to character with no loss of quality or enthusiasm was awe-inspiring.
He was able to assume the roles of some of the most celebrated characters such as Bob Cratchit and all four of the ghosts, switching from one to the other using simple costume transitions such as the change of a hat or a coat.
Philpott's portrayal of Scrooge's nephew Fred as a generous and humble young man in the prime of his life provided the audience with the perfect character foil for the ruthless and stingy Ebenezer Scrooge.
The lighting in this production operated as a perfect accompaniment to the dramatic and suspenseful ambience of the play as it amplified the intensity of each scene.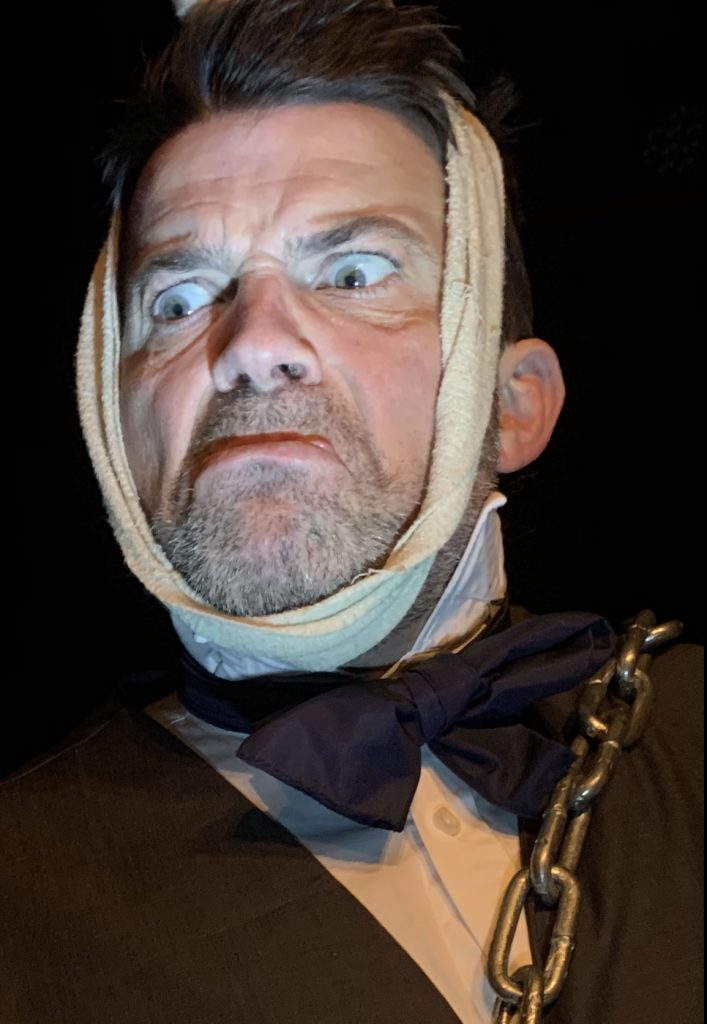 Blue and green lighting shone upon the face of Philpott as he assumed the role of the ghosts, as well as footlights glaring into the horror-struck face of Faulkner as she beholds the woeful visage of Jacob Marley.
In contrast, the lighting became bright and warm with hints of red and orange during Fezziwig's Christmas party scene which was also accompanied by a jovial Christmas melody, causing a wave of overwhelming festivity to flood the audience.
A Christmas Carol is a story that has been adapted numerous times throughout the past century and is absolutely intrinsic with the festive season.
The Dickens Theatre Company's adaptation of A Christmas Carol brings to life this festive tale of redemption in true Dickensian style. 
Review: 4/5 ☆☆☆☆
Featured image by Mel Banner