Cirque Alfonse are currently performing their daring and risqué new show, Barbu, to audiences at the London Wonderground at The Southbank Centre, and it does not disappoint.
If you're looking for a relaxing evening Barbu may not be your cup of tea, but if you're looking for death defying stunts combined with bizarre comedy, and a complete absence of political correctness, this is definitely for you!
Barbu translates as 'bearded' in French, reflecting the five main male performers with their striking beards, though not as impressive as their circus skills.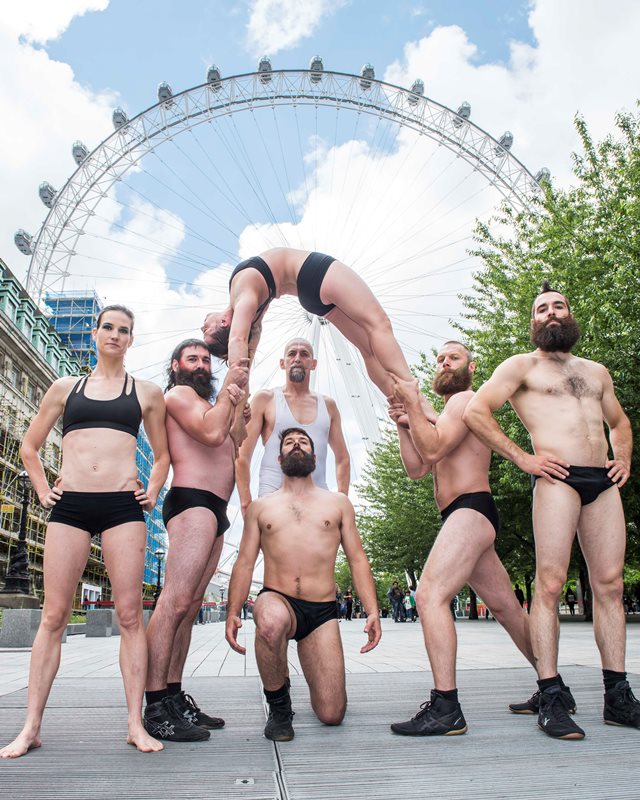 STRIKING: The group left the audience with their hearts in their mouths 
Performances take place within the mirrored Paradiso Spiegeltent, providing the feel of a fairground in Montreal at the turn of the 19th century.
The audience, seated around the circular stage, are just inches away from intense stunts such as the 'headbanger' performed on roller-skates.
The endless spins, flips, and jumps were impressive to watch and paired with the live audio and video backdrop had the audience mesmerised.
The stunts were broken up by the unnerving magician Lucas Jolly, further fuelling the madness.
Highlights included beer keg throwing above a human pyramid, and front flips off see-saws that were so huge it looked as though the performers might crash through the roof of the tent itself!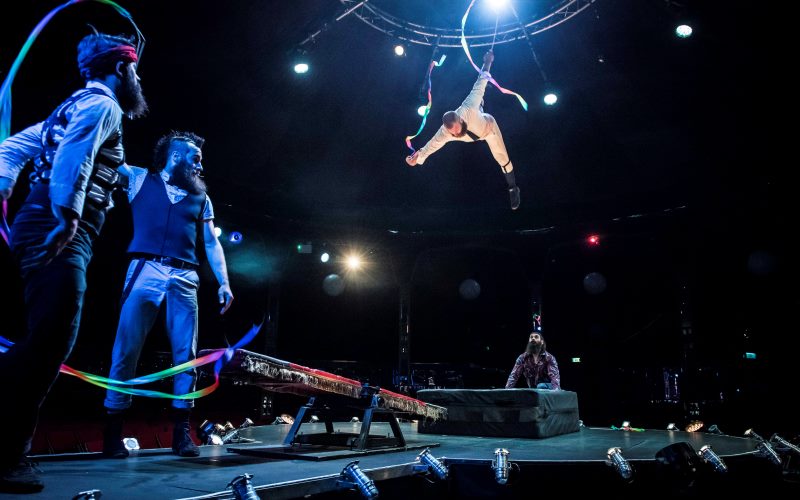 JAW-DROPPING: The whole performance was breathtaking 
While the male performers are the focus of the show, aerialist Geneviève Morin has her turn in the spotlight when she spins in a hoop through the air at dizzying speeds.
The performers were clearly having fun which was infectious and really set this show apart.
Director Alain Francoeur said: "The essence of the circus remains the same, it fulfils a need to witness things that are larger than life or that help us to escape from life's realities.
"There's a human being behind every performer and there's a feeling of profound human ecstasy behind every spectator."
As well as the main Spiegeltent, London Wonderground has bars, street food vendors and a thrilling ride, the Stargazer, which offers great views of London.
You can catch a performance of Barbu until September 25.
Images courtesy of Cornershop PR, with thanks