Almost two-thirds of adults in Lambeth do not feel proud to be English, a new study has found.
The nationwide survey by YouGov and the BBC found that just 38% of Lambeth's residents are proud to be English, ranking it the second lowest of all England's local authorities when it came to English pride.
It also revealed that one in four residents thought the area was getting worse, while two-thirds felt they had little or no influence over local decision making; however, these results were both below their respective national averages.
On the fact that Lambeth was the London borough with the most Remain voters in the EU referendum, Adam McDonnell, YouGov's political research manager, said: "What we found for England overall is that those who voted Remain in the EU referendum were far less likely to be proud of being English than those voting Leave," he said.
"It could be that those people already had this pride ingrained or it could be that those who voted Remain are now feeling less proud to be English than they did before the referendum result."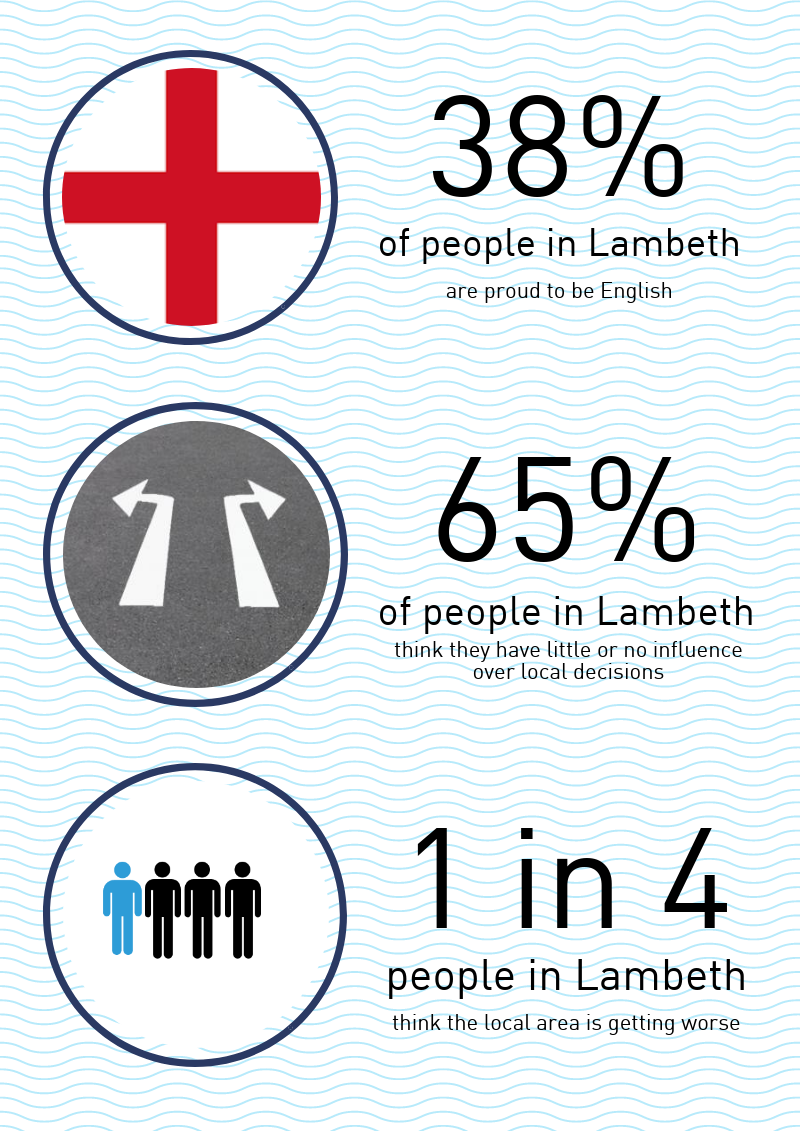 Mr McDonnell added that Lambeth's population could have an influence over residents' attitudes.
He said: "Some of the reasons could be the demographics within Lambeth. Lambeth is a lot younger than some local authorities elsewhere in the country. Additionally, we found that it was local authorities within London that were lower down on the list."
Tristan Barlow, 28, of Lambeth, said there was a difference in attitudes towards nationalism in London and the rest of England.
"London accepts people and there is a general feeling that the rest of England doesn't really like Londoners whether they're English or not," he said.
"It's really separated from the rest of the country. My relationship to England is as a European country. That makes it feel like there is a sort of bitterness that makes me want to distance myself from Englishness and I think a lot of English people feel that way too."
Brixton resident Nick, 27, said he felt proud to be English.
He said: "Despite what's going on at the moment I've always grown up thinking that being English is being accepting of others.
"I think that's an element, especially in London with multiculturalism, which I think is great, and that's always been my view of being English – and also things like the self-deprecation which goes with it."
However, he added that he thought the political climate was making people feel less proud of their national identity.
"With the real divide post-Brexit and inter-generationally, I don't think there's a lot to be proud of right now," he said.
"What people see on the right is national pride I guess people think they have to be anti-that if they have opposing views."
Agi Katzbarlow, 39, who has lived in Brixton for 15 years, said she felt that the EU referendum had 'upset and divided' people.
"I definitely think that this country is very divided in a similar way that America is at the moment," she said.
"I've lived in London since 1999, and my feeling is that it has changed. There used to be more of a sense of unity, and it is a big shame and a big worry for everyone."
Councillor Lib Peck, Lambeth council leader, said: "These polls are always interesting and can highlight emerging trends.
"In that context Lambeth bucks the national average, with significantly more people viewing their area as improving; and the proportion of people in Lambeth feeling involved and able to influence decision making locally is significantly higher than elsewhere across the country.
"I have never found a lack of pride in England here, but there is also a huge sense of pride in our communities, and in being Londoners. There is also a clear passion for belonging to Europe, hence 79% of our residents voting to remain in the EU."