South Kensington bookshop owners sold out of their copies of Charlie Hebdo within an hour this morning and revealed their delight at British support.
Crowds formed from just after 12am at The French Bookshop on Bute Street, with the queue stretching around two corners before the 8.15am opening time and the last copy changing hands an hour later.
Queuing round the corner, and round another corner, for #CharlieHebdo at the French Bookshop, South Ken https://t.co/mWTQtM8WJ5

— Patrick Fletcher (@paddyfletch) January 16, 2015
Hundreds more waited outside the nearby Librarie La Page on Harrington Street which already had a reservation list of 400 but a supply of just 360 copies.
And here's the line for the nearby Librarie La Page, also with stock. Media everywhere. #CharlieHebdo #jesuischarlie pic.twitter.com/8vIXqlbjCb — Patrick Fletcher (@paddyfletch) January 16, 2015
"We didn't expect anything like this, it has just been amazing," said one La Page employee, who preferred not to be named. "It is really nice that so many British people want to show their support. We have a blackboard outside and people have left great messages."
The message board outside La Page, where they have been bowled over by British solidarity. #jesuischarlie pic.twitter.com/lC1FlsQGLH

— Patrick Fletcher (@paddyfletch) January 16, 2015
The French Bookshop and Librarie La Page were among a few places in London selling the latest issue of the French satirical magazine – the first since last week's terror attack at its Paris offices where 12 employees were killed.
Glendower Place. Queue starting to move! #frenchbookshop #charliehebdo pic.twitter.com/mZ0fxJQfaN — Patrick Fletcher (@paddyfletch) January 16, 2015
"I'm here to stand up for what I believe in, which is freedom of expression," said Liam Morrison, 32, who joined the queue outside the French Bookshop at 3.30am. "There have been plenty of songs and chants going through the night, and I'm starting to get the coffee shakes now!"
And also croissants! Yep, this savvy boulanger didn't miss a trick… #charliehebdo #frenchbookshop pic.twitter.com/5nRfG4RlgC — Patrick Fletcher (@paddyfletch) January 16, 2015
Despite the sensitive debate surrounding Charlie Hebdo's depictions of the Prophet Muhammad, La Page had no hesitation over whether to stock the latest issue.
"We were not worried at all when we ordered the copies," said the employee. "We don't feel we have anything to be afraid of."
Demand has been sky high for the magazine, each shop receiving thousands of enquiries over the past few days, and has comfortably outstripped the supply of between 1,000 and 2,000 copies delivered to the UK.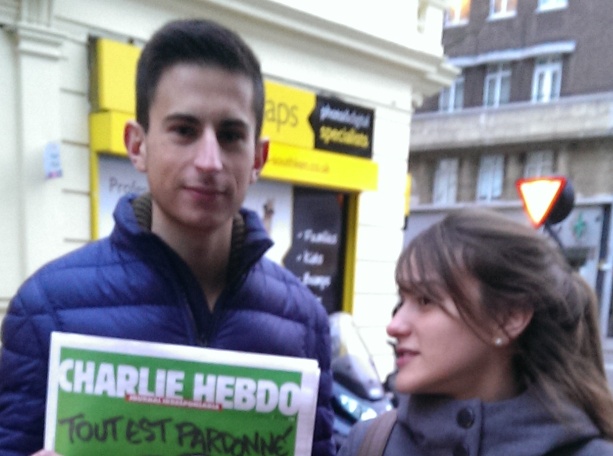 NOUS SOMMES CHARLIE! Two people who managed to get a copy today
After the three million copies printed in France sold out instantly, the magazine's publishers decided to increase the print run to 5m and both shops are hopeful they'll have more copies next week.
The front cover depicts the prophet Muhammad holding a #JeSuisCharlie placard – the slogan popularised in the aftermath of the attack – with a tear dripping down his face along with the caption, 'tout est pardonné' (all is forgiven).
It was drawn by Luz, or Renald Luzier, who avoided the massacre thanks to a birthday lie-in and a trip to the patisserie for a celebratory cake for the office.