The memories of Merton's Dementia Hub users will be transformed into a play by a charity-funded youth theatre group.
The charity, Wimbledon Civic Theatre Trust (WCTT) runs a free Young Actors Company at New Wimbledon Theatre and hope current project 'Bridging the Gap' will bring together South West London's older and younger generations.
Actors, in school years nine and 10, interviewed Merton Dementia Hub residents in May and created improvisations to inform director and writer, Katie Turner-Halliday's script, which she shared with the class last Sunday.
Creative Director, Andy Alty, accompanied the teenager's visit to Merton Dementia Hub and said: "The young actors learned a lot. History lessons don't give you any sense of what is was like to be young in 1942 or '66 or '75, or what the world was like for a young person then.
"These two generations often view each other with some mistrust. They rarely communicate so make assumptions about each other, which as this project has proved, are generally incorrect. The truth is while times change, people fundamentally don't."
After their initial visit Andy returned to Merton Dementia Hub several times to gain more detail on the stories as the company are dedicated to presenting them truthfully.
During rehearsals, two young actors expressed the value of learning from those of a different generation and suffering with dementia.
Calum Thorne said: "You get a first-hand experience of things you only read about in text books. It's really interesting."
Joseph Walsh added: "Even through dementia being a horrible thing, it's like they are living back then so you kind of get the stories as they were experienced. That's the interesting thing about working with dementia."
'Bridging the Gap' script writer Katie stressed the importance of becoming dementia-friendly, as research shows one in three people born today will develop dementia.
Alzheimer's Research UK's Dementia Hub statistics show the amount of people living with dementia in South West London constituencies.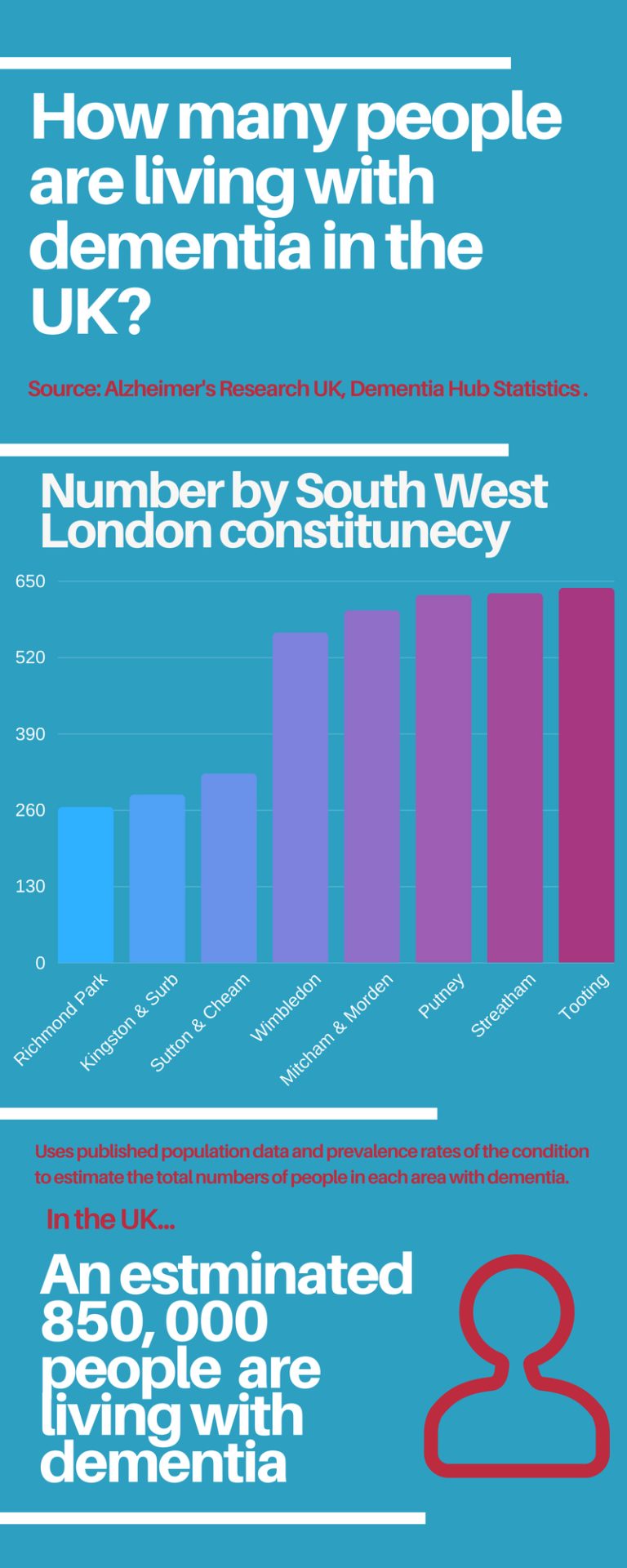 During the project, Katie learnt simple to help make an environment more dementia-friendly, site issues such as avoiding a white light switch and a white wall and social skills like giving dementia sufferers time to find the words to express themselves.
Katie believes the project will give young people a greater awareness of dementia and the lives of their elders.
She said: "To bring together two different generations, separated by sixty-seventy years sometimes, is so important for us to learn about ourselves, about the world and about how the world used to be."
The joint project between WCTT, the Young Actors Company, Goldsmiths Company and the New Wimbledon Theatre aims to deepen young people's understanding of dementia and to encourage businesses to become better educated on how to accommodate dementia sufferers.
Shortly before delivering her script to the class, Katie joked: "At the minute, we are just looking at the script and hopefully in about three weeks' time we will have a full play for everyone to do."
The teenage actors will deliver their unique dementia friendly experience at New Wimbledon Theatre on July 1.