Heavily congested Brixton Road has already exceeded its annual pollution limits just five days into 2017.
The Lambeth road is the first in London to breach annual levels of traffic fumes for the entire year – just 120 hours into the New Year.
Brompton Road and Putney High Street – who took this 'crown' last year – are also expected to breach their limits shortly.
A monitor on Brixton Road has already recorded more than 20 hourly readings when concentrations of toxic nitrogen dioxide exceeded 200 micrograms per cubic metre since midnight on January 1.
Under EU law people should not be exposed to such high levels of N02 more than 18 times in an entire year.
The World Health Organisation recommends no one is ever exposed to this level of pollution.
Green Party London Assembly Member Caroline Russell said: "Just a week into the new year and residents in Brixton are already being exposed to illegal levels of air pollution.
"It's a public health catastrophe and needs an urgent response.
"Too many people have had their lives shortened, their asthma and other respiratory problems worsened and their quality of life reduced as a result of weak Mayoral policies and Government inaction."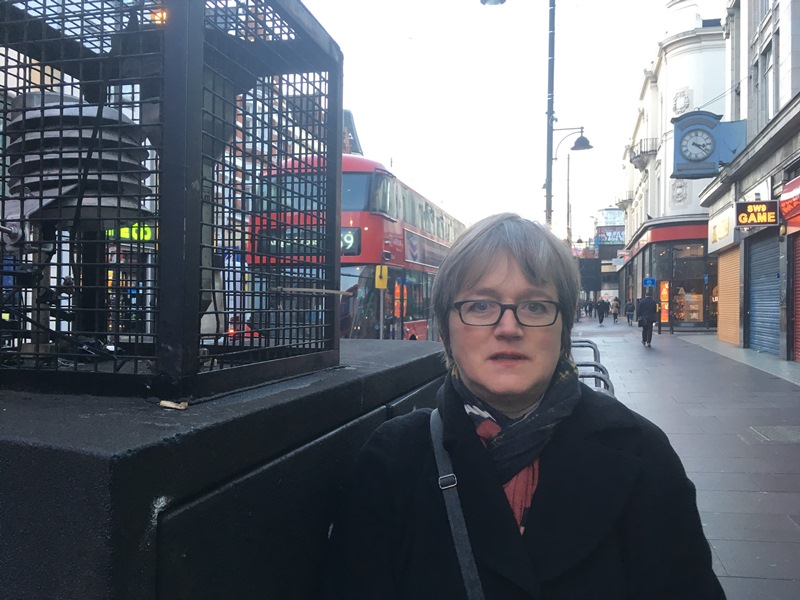 LIMIT REACHED: Caroline Russell with the air quality monitor in Brixton 
Nitrogen Dioxide pollution is produced by road traffic and has been linked to causing childhood asthma, dementia and a whole host of health problems for Londoners.
Ms Russell added: "The Mayor promised to restore London's air quality to legal and safe limits, he has a lot of work to do to turn around his predecessor's hopeless record on air pollution and come up with new measures to reduce Londoners' exposure to polluted air."
Environmental group, Friends of the Earth, also called on urgent action by the London Mayor to phase out diesel vehicles in London by 2025 – a similar model to cities such as Paris, Madrid and Mexico City.
Friends of the Earth campaigner Sophie Neuberg said: "Air pollution is a major health threat, particularly to children and other vulnerable people, contributing to almost 10,000 premature deaths every year in London."
Kings College London, who run the air quality monitoring stations, say that some London streets have the highest levels of NO2 exposure in the world.
A spokesperson for the Mayor said: "The fact that Brixton Road has exceeded the legal safe levels of nitrogen dioxide in the first six days of the year underscores why urgent action is needed to improve air quality across London.
"Just today, the Mayor has announced ten additional Low Emission Bus Zones to help tackle some of our most polluted hotspots as part of a broader plan to transform our bus fleet.
"One of these zones will run through Brixton Road, ensuring that only the greenest buses are used on the capital's most polluted routes."
Featured image courtesy of The Academy of Urbanism via Flickr, with thanks